What is a self-development objective? As a part of our culture at 15Five, we encourage our team members to reach their highest potential both in and out of the workplace. And how is a self-development objective different from other objective types? Traditional OKRs are focused around aligning the whole company to hit business objectives. Self-development objectives are created by an individual and aren't associated with business outcomes or aligned to other objectives.
One way we "Find the Leverage" around creating and monitoring objectives is through our Core Values of Cultivate Health & Vitality, Keep Things Simple, Always Be Learning and Growing, Maximize Our Zone of Genius, and Dare to Dream. You can read more on our Core Values here.
How do I create a self-development objective? 
1. Click on the 'Objectives' tab in your top navigation bar.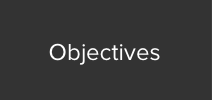 2. Click on the 'Create a new objective' button.

3. Name your objective.

4. Choose an objective owner. 

5. Under 'Who is this objective for?', select 'A Person'.

6. Under 'What type of objective is this?', select Self-development.

7. Create key results to measure your Objective under the 'What are your key results?' section. Key results can be measured in percentage, dollar, number, or completed/not completed. Other currencies can be found by clicking '...' .

NOTE ✏️: Make sure to give your key results a title or else your objective will not save. 
8. Add your privacy settings; Public, 15Five permissions, or Specific-people (always includes you + your manager, as well as anyone else you choose). For more information on these settings, see this article. 

9. You may see a question titled 'Who can update and edit this objective?'. This option, if enabled, allows you to add groups or people as editors for the objective. Adding people in this section will allow the selected people and/or groups to edit, manage, update, and delete your objective. Use cases for this option: team objectives, objectives being worked on cross collaterally, objectives managed by two teammates.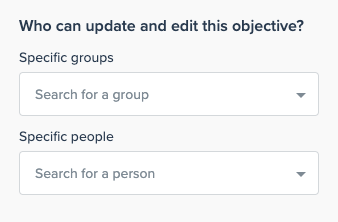 NOTE ✏️: Objectives that you have been given access to edit will not appear on your 15Five. You will not receive a notification that you have been added as an editor. The objectives you are able to edit will need to be accessed through the 'All objectives' page. The same goes for giving access to other people/groups.
10. Finish your objective by clicking the 'Create objective' button. 

NOTE ✏️ : Self-development objectives are not private objectives by default. You still need to choose your visibility settings when creating your self-development goal.