OK, you accepted a peer nomination, or two, or four. What comes next? It is time to write the actual review and submit it. Your job as a peer is to include information about your coworker's development, including constructive feedback to help them increase performance and goal orientation. To learn more about giving effective feedback, see this article. 
If you are looking to nominate yourself as someone else's peer, also known as peer initiated peer reviews, see this article. Depending on the option that your review admin(s) took when creating the cycle, the peer reviews will either be participant driven (you nominating teammates as peers) or peer driven (teammates writing peer reviews of you without any nomination process).
Peer reviews after accepting a nomination(s) 
You have accepted peer nominations and now it is time to write your peer reviews. 
Complete your peer reviews and remember to submit. 
The peer's manager will receive a notification that you have completed a peer review. 
The peer's manager will look over your peer review and can remove items that are not constructive.
Depending on the review cycle's settings, this peer's manager may or may not be able to see the peer review author (you).
Your peer reviews will not be shared with the co-worker you reviewed until their manager shares the results. This usually is the very last step in the review cycle. 

On the flip side:

Your peers will complete their review of you during this same window. When your manager decides to 'Share results', you will be able to see the peer reviews that were written about you. 
To complete your peer review(s)
1. You will go into your 'Reviews' tab in 15Five.

2. Click on the active cycle that applies.

3. From the 'Overview' tab, you will see a button labeled 'Write peer reviews'. Click that button to complete your peer reviews.

4. You can get back to the peer review screen anytime during the cycle by clicking the 'Peer nominations' tab.

Then click 'Go to peer review'.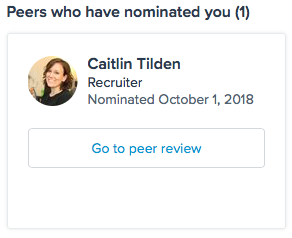 5. From within the peer review, you will be able to see if the review is anonymous or transparent; meaning can the peer you are writing about see who wrote what or is it anonymous?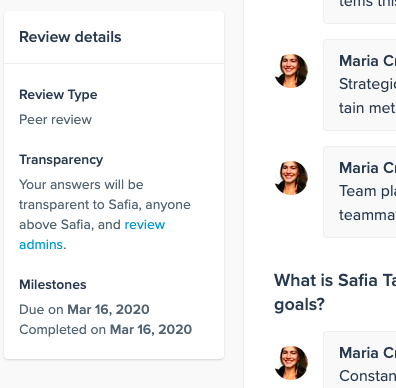 6. You can also view all reviews that you are responsible for writing through the 'Write reviews' tab.