The 'Company's results' pages within a review cycle allows review admins to view and report on questions & answers right in the application. Managers have a similar view called 'Team's results'. However, managers can only see their immediate direct reports or their hierarchy, where review admins can see all participants.
You, as a review admin, can see how many times each question has been answered for the cycle, filter by type of question (Growth & development, Private manager assessment, Company values, etc), read all the answers for a specific question, and/or or dive into how one person answered a specific question, all within the application itself. As soon as reviews are submitted and the answers become visible, you will be able to analyze them from the 'Company's results' page.
On the contrary, if you would like a full report of all questions, answers, managers, peers, submission time stamps, etc, you will want to download the full CSV progress report.
---
Analyze review questions & answers
1. Click on Best-Self Review® in 15Five's main, left-hand navigation bar.

2. Click on the name of the review cycle you want to run a report on.

3. Find the 'Company's results' tab on your individual cycle page. It is at the top of your page, to the right of Overview, Peer nominations, etc.

Note
Only review admins will see the 'Company's results' tab. Managers who are not review admins will see a 'Team's results' tab.
Tip
If you would like to see your own results, click 'My results'.
4. In the first section, under your company name and the 'Download' option, click on 'Questions & Answers'.

5. If desired, select a question type to filter by using the 'Question type' drop-down menu.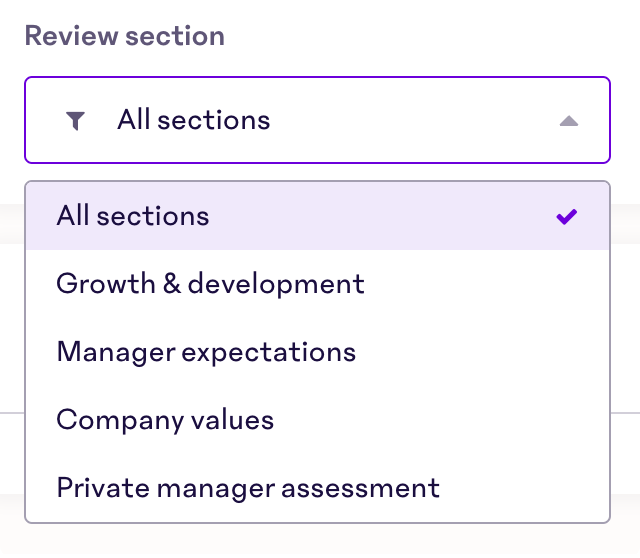 Tip
If you would like to download ALL answers to ALL questions, leave the 'Review section' filter as All questions, click on 'Download' up and to the right of that filter, and click 'Download CSV/XLSX'. This report will contain all answers for all question types on all submitted reviews. Filter and sort as desired once the report has been downloaded.
6. To search for a specific question, use the search bar and the results will appear in real time. This search is a "contains search", which means we will search for all questions that contain your search word(s).

7. You have a few options once you find the question you're looking for.
Click on '78 answers' to view all 78 answers given to the question in a list format.

Click on ... and 'View all answers' to again view all answers to the question or to 'Download as CSV/XLSX'.

8. While viewing all answers to a specific question, you can search for a participant's name to see their response(s) to that question.
9. If you choose to download all answers as a CSV, the included columns are: First name, Last name, Employee email, Manager first name, Manager last name, Manager email, Group name, Respondent first name, Respondent last name, Review type, Question, Answer, Optional text answer, Date submitted, Review cycle name, Competency, Competency Score
Are you looking to report on Private Manager Assessment answers? Check out "Private Manage Assessment reporting" Help Center article.