1-on-1 meetings are most effective when held regularly. Scheduling your 1-on-1s in advance ensures that the meetings are taking place at a regular cadence. Setting a date for your 1-on-1 meeting is a good first step, but adding in a time and a static link via a calendar invite for the meeting helps level up the accountability. Below are the steps to scheduling a 1-on-1 meeting.
__________________________________________________________________________
Schedule a 1-on-1 (with or without Google Calendar integration)
1. Click on 1-on-1s from the left navigation.

2. You'll land on your 'My 1-on-1s' page where you'll automatically see a list of your direct reports (if you have direct reports) and a list of all people that you have held a 1-on-1 with previously.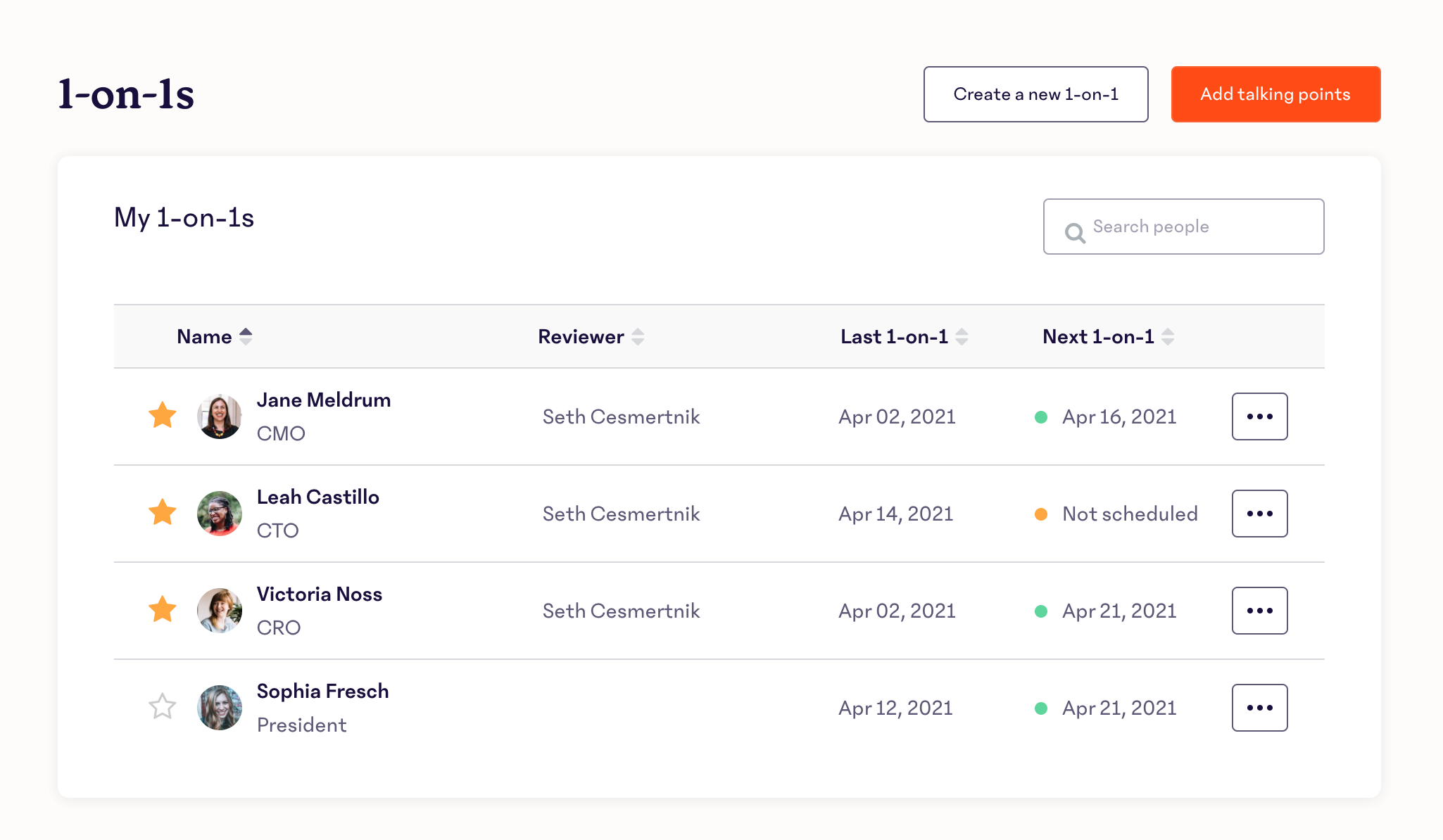 3. Click into the 1-on-1 that needs an action item added to it. If you don't have a 1-on-1 open with the person, create a new 1-on-1.

4. In the 'Details for this 1-on-1' box, click the Schedule 1-on-1 button.
5. A pop-up window will appear, asking you to schedule your 1-on-1.
***If you're not using the Google Calendar integration, please proceed to step #10.
***If you are using the Google Calendar integration and this is your first time scheduling a 1-on-1 since the Google Calendar integration was enabled, you will need to connect your calendar. Once you have connected your calendar, steps 6-9 will no longer apply for any future scheduling.
6. Click Connect your calendar.
7. Allow 15Five access to your Google calendar through the authentication pop-up that appears.
8. After authenticating your Google Calendar, you can go back into the 1-on-1 you are trying to schedule and follow the remaining steps.
9. Click on Schedule 1-on-1 from within the agenda you are trying to schedule.
10. Add in a date for your 1-on-1 meeting. This is a one-time meeting and will not be recurring.
Start and end times are optional and will only appear if you are integrated with Google Calendar. Be mindful of the time you are scheduling your 1-on-1 for. We include all times in the scheduler to accommodate customers outside of your current time zone, specifically in other countries.
If you leave the time fields blank, Google Calendar will not send an invite.
If you are not using the Google Calendar integration, you will not be asked to select a time.
Tip
If you do not want to send a Google meeting notification to the other person, but still want to set a time for the meeting, uncheck the 'Send invitation to .....' box. If that box is unchecked, Google calendar will not send an invite.
11. Remember to Save your date and time.
12. Add a static 1-on-1 link to your calendar invite to give both people one-click access to the current 1-on-1. The link will always be valid and will always take both people to the current 1-on-1.
__________________________________________________________________________
Notes about the Google Calendar integration and 1-on-1s
For now, this integration is a one-way street. If you adjust the date and/or time of the meeting from within Google Calendar, the information will not update in 15Five. Similarly, if you schedule a 1-on-1 meeting from within your Google Calendar, it will not transfer over to 15Five.
All invite notices, like accept/decline alerts, will be managed through Google Calendar (just like all your other meeting requests).
Scheduling recurring 1-on-1s is not an option...yet. We are continually working on this functionality and hope to have additional enhancements in the near future.