Connect with Sapling using 15Five's HRIS Connector!
We are no longer supporting the legacy Sapling Onboarding from Kallidus integration. Customers can now integrate with Sapling using 15Five's HRIS Connector. With a simple setup and configuration, visibility around what data is coming over, and automatic sync every 24 hours, it's never been easier to ensure accurate, up-to-date employee data across your platforms. Get started now!
Sapling Onboarding from Kallidus provides incredible onboarding and offboarding experiences, creating a unique and engaging experience for your employees. With our legacy Kallidus SCIM integration, you can manage the employees at your company, from hiring and time off, to when they leave the company. You can use the integration to import and update employee information, including management structure, versus having to create each individual profile in 15Five one by one.
Access and availability
⛔️ Required access to integration settings.
👥 This article is relevant to 15Five Account admins who are also Sapling admins.
📦 This feature is available in all pricing packages.
---
Set up the Kallidus integration
We are no longer supporting the legacy Sapling Onboarding from Kallidus integration. To quickly and easily integrate with Sapling, please follow the steps in our HRIS Connector article.
---
What attributes can be synced from Kallidus to 15Five?
For organizations using the legacy Sapling integration, syncs between Kallidus and 15Five are completed automatically. For the fields to sync correctly, the naming conventions must match between Kallidus and 15Five.
The following fields sync from Kallidus to 15Five using the legacy integration:
To sync managers, make sure the option to sync managers on your '15Five SCIM settings' page is checked: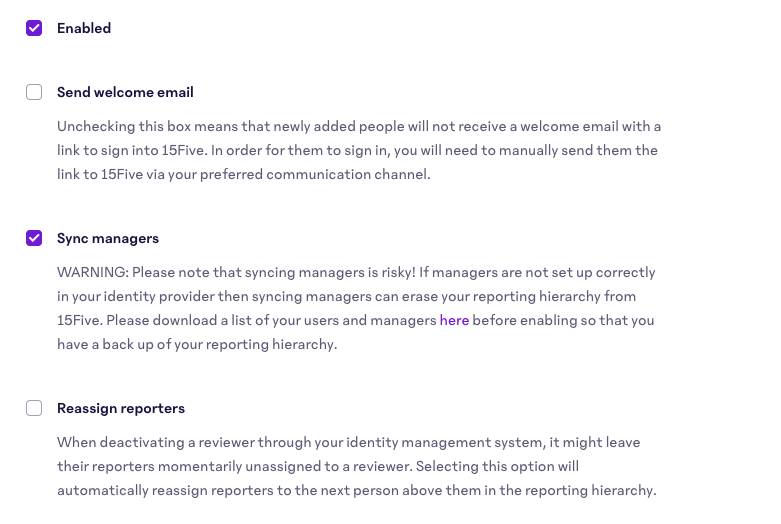 ---
How to Disconnect
Disconnecting the Kallidus integration with 15Five takes place within Kallidus. Go to the Kallidus 'Home' page. Go to the 'Integrations' page and toggle the 15Five integration OFF. Data will stop syncing from Kallidus to 15Five.

---
Legacy integration troubleshooting and FAQs
I just hired a new employee why aren't they showing up in 15Five?
Employees have to complete their assigned preboarding flow and any documents before Kallidus sends data to create a new profile in 15Five. Once this is complete, they will show up in 15Five.
Can I update employee information like email or name in 15Five?
You should make these changes in Kallidus, as if you make a change in 15Five that does not match Kallidus's information. Your changes will be reverted back during the next sync.
If SCIM is on can I still add people on a one-off basis?
No, if SCIM is on you cannot manually add individuals via the 'Manage people' page or the team 15Five page. Importing new individuals via CSV is an option if SCIM is enabled for your organization. Please reach out to Support at support@15Five.com.
Can SCIM update custom attributes in 15Five?
No, not at this time. You can update them using bulk imports or by manually updating the employee's profile. The bulk import option is not automatically turned on for companies that use SCIM. If you would like this turned on, email support@15Five.com.
---