The Sapling + 15Five integration links a company's performance management software with their human resource information software (HRIS). 
In just a few short steps inside the 15Five application, an account administrative can link your two accounts (Sapling and 15Five) and import the company's employees and management structure into 15Five. 
Features
Prerequisites
Configuration Steps
The Sapling integration syncs automatically, so that the two systems are updated with the latest employment changes.
Features
Automatic User Provisioning is supported for the 15Five application.
This enables Sapling to:
Create a new employee in 15Five when you onboard someone in Sapling
Keep their details up to date based on changes in Sapling
Deactivate employees in 15Five when they are offboarded in Sapling
Delete employees in 15Five if employees are deleted in Sapling
NOTE ✏️: In V1 of this integration, existing employees already in 15Five will NOT have their data synced back and forth from Sapling (only new employees onboarded through Sapling). V2 of the Sapling <> 15Five integration that will release this feature is scheduled for Q3 2020.
Prerequisites
Before you configure provisioning for 15Five: 
Make sure you have configured the General Settings and any Sign-On Options for the 15Five app in Sapling.
Enable SCIM in your 15Five account and generate an Access Token.
NOTE ✏️: Your company must first have the SCIM integration setting enabled. If you do not see a SCIM option from your Integrations page, reach out to your Customer Success Manager or support@15five.com.
Attribute mapping- what data syncs?
Configuration Steps
IN 15FIVE
1. Click on your avatar at the top right of your 15Five account.

2. Click 'Manage features'.

3. Scroll down and find the 'Integrations' option on the left side. 

4. Scroll down to SCIM 2.0, and click 'Configure' to the far right.

5. Select the checkbox and the 'Save' to enable the SCIM integration.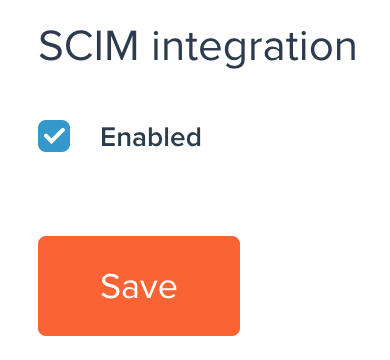 6. Click 'Generate OAuth token'.

7. You'll be given two pieces of information that you'll need to put into Sapling. Below are some fictional examples:
SCIM 2.0 base URL: https://my.staging.15five.com/scim/v2/
Access token: 1TrPVXXsXBDJOdat4AD321jKYXXXHH8W4rYF 

IN SAPLING
In your Sapling account, navigate from Home > Integrations. Turn the toggle on for the 15Five integration, and add your URL and Access token.
Next, select what Employee Group and Employment Status apply when creating and syncing 15Five profiles with Sapling (for ex: only certain departments, locations, or employment type).
And that's it! Data will now flow seamlessly between 15Five <> Sapling.