Sapling Onboarding from Kallidus provides incredible onboarding and offboarding experiences, creating a unique and engaging experience for your employees. With our Kallidus integration, you can manage the employees at your company, from hiring and time off, to when they leave the company. You can use the integration to import and update employee information, including management structure, versus having to create each individual profile in 15Five one by one.
What you'll find in this article:
How to set up the Kallidus integration
Syncing
How to disconnect
Troubleshooting and FAQs
---
Set up the Kallidus integration
1. Set up Single Sign-On first to get your subdomain locked in. Here are instructions on how to set SSO up for your company. Once completed, move on to the next step.
2. Click on your Settings menu at the top right of your 15Five account and then click 'Features'.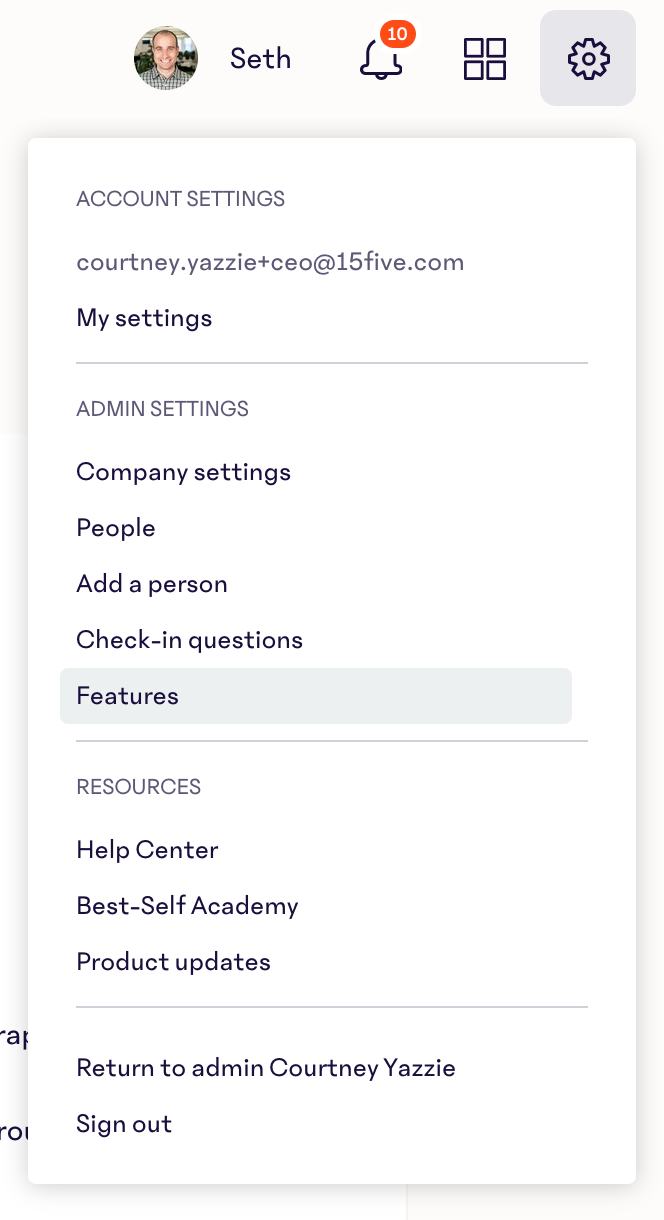 3. Last, click on 'Integrations'.


4. Click Enable to the right of the SCIM 2.0 option.

5. Check the 'Enabled' checkbox. Then click Save. After saving, you will temporarily see a success message at the top right of your page.

6. Now that you enabled SCIM, you'll be on the 'SCIM integration settings' page. Check it out!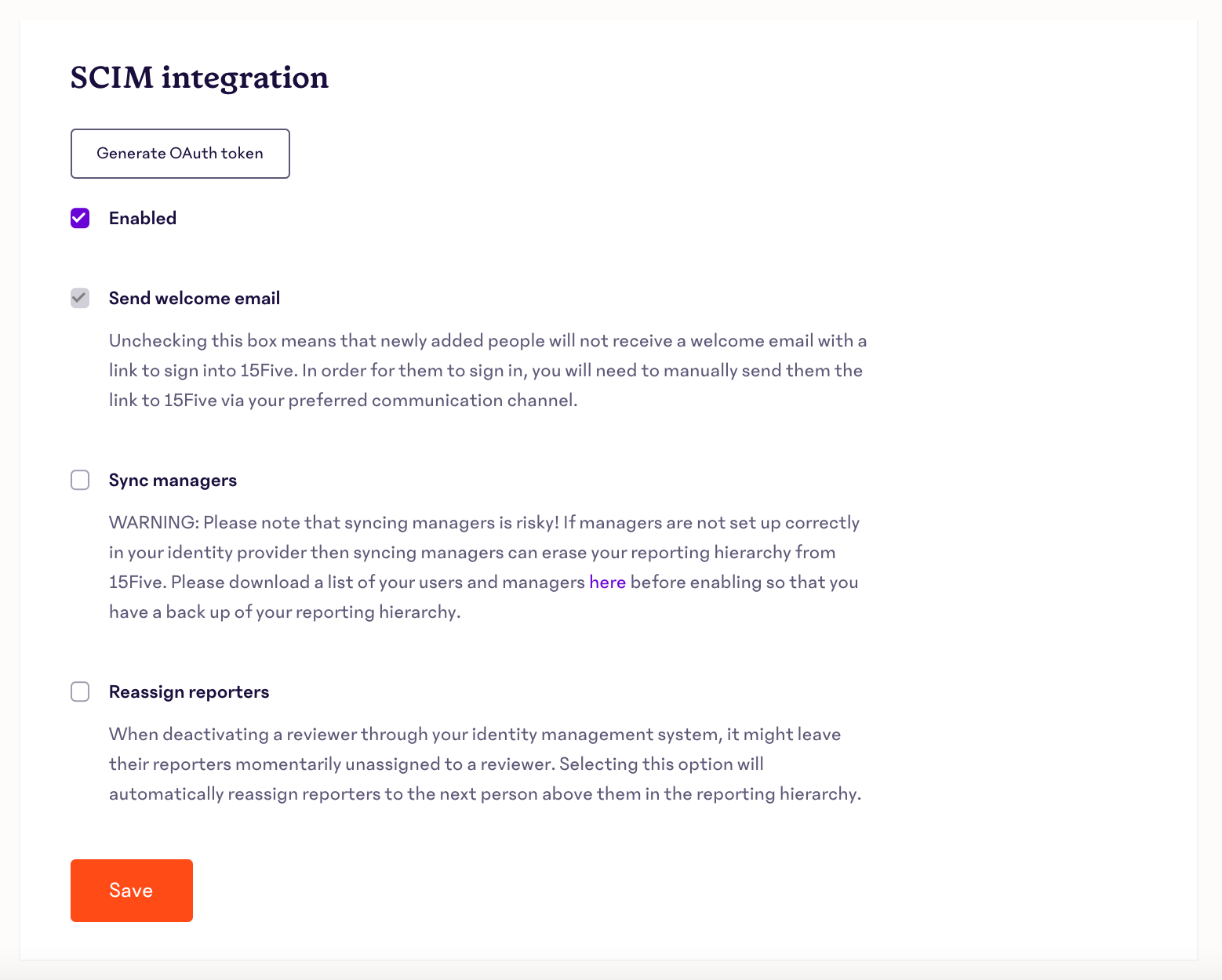 7. Alright—It's time to generate an access token by clicking the button labeled Generate OAuth token.

8. Now the 'SCIM integration settings' page will look like this.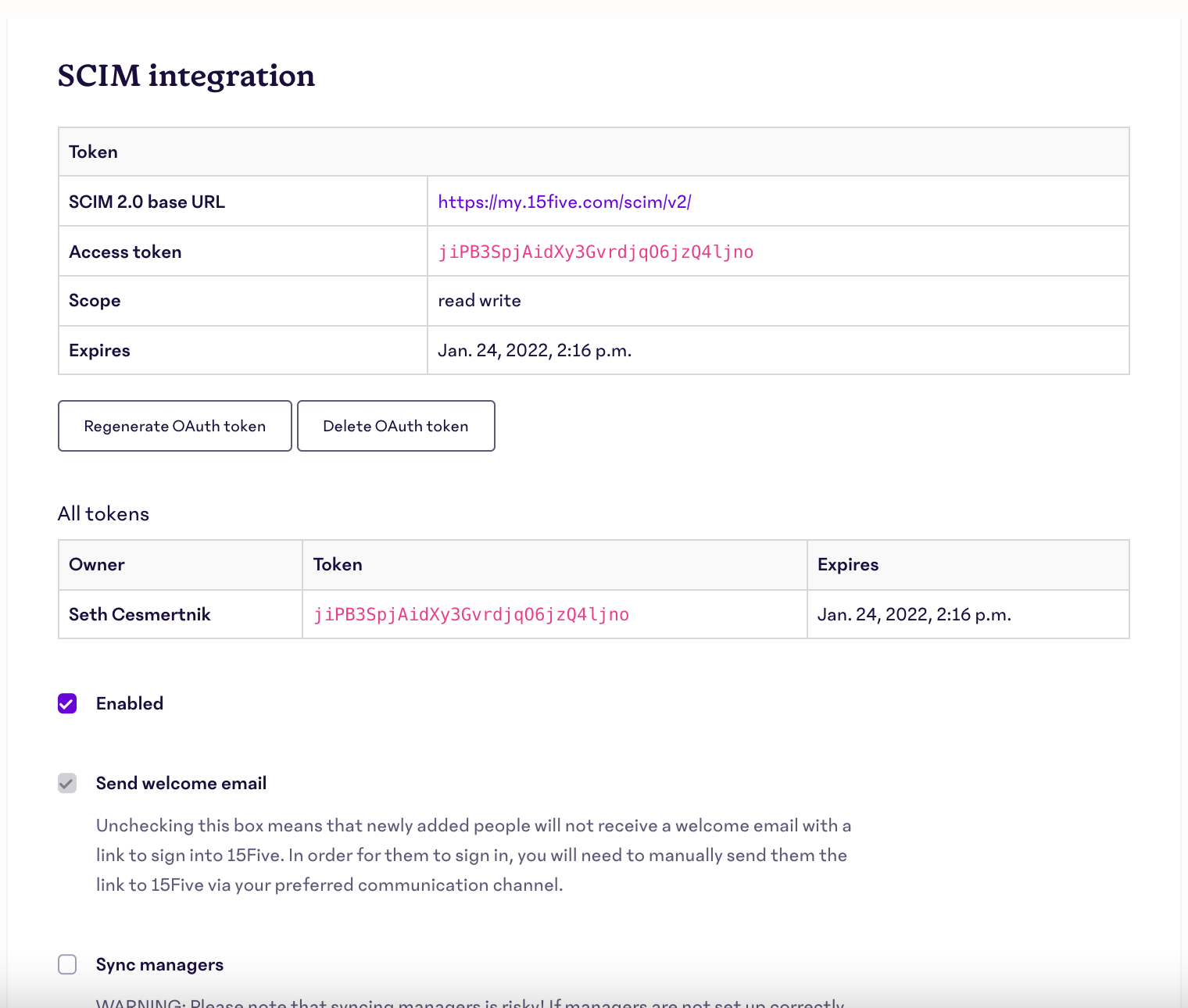 9. Next up, choose your SCIM settings.
Send welcome email: sends employees a welcome email when they are created in 15Five. Make sure your company-wide invite setting matches this setting, as it can cause emails to not go out if the two are contradicting each other.
Sync managers: means that 15Five syncs the managers of imported employees. We do not update managers during a review cycle, so if you are seeing a delay in a manager change in 15Five, confirm that there is not an active review cycle.
Reassign reporters: reassigns employees to their manager's manager if their current manager is deactivated.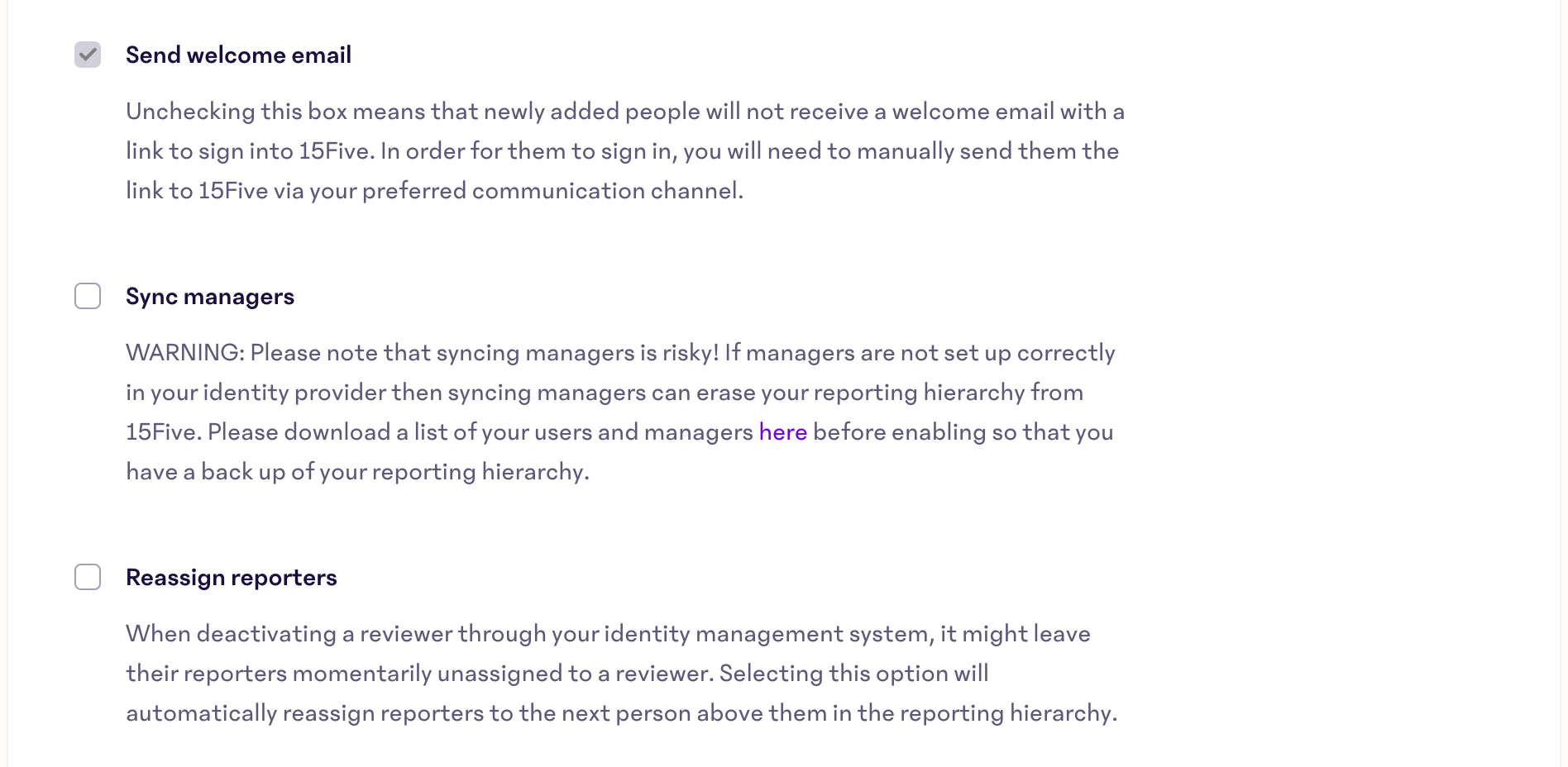 Note
Your company must first have the SCIM integration setting enabled. If you do not see a SCIM option from your main 'Integrations' page, reach out to your Customer Success Manager or support@15five.com.
10. It's time to go into Kallidus now! From your Kallidus 'Home' page, click the Integrations icon in the left navigation.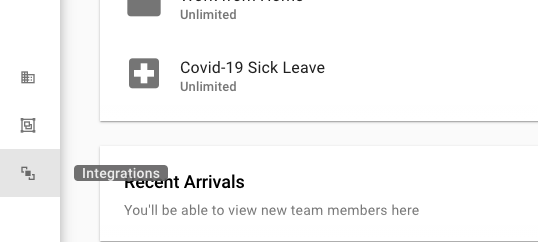 11. Under the 'Performance Management' section, flip the toggle to ON for the 15Five application.

12. Add your 15Five subdomain without the "https://" and access token into the pop-up screen. The subdomain and access token can be found on your SCIM settings page in 15Five.
Note
The subdomain must not contain the leading "https://" (https://xn--evg/) and should show as yoursubdomain.15Five.com to ensure proper syncing.
13. If needed, add filters. You can designate certain employees to be synced over to 15Five while excluding others. Select any locations, departments, or statues that you would like to filter by.
14. Confirm your settings in Kallidus including what to do when a team member is deleted in Kallidus. Choose whether or not you want them deleted in 15Five. Once done, click Next.
15. Confirm that everything looks good and click Activate.
16. Kallidus only pushes new employees to 15Five, but will sync existing employees after a bulk import. Complete an initial CSV bulk import to get your existing employees into 15Five.
Note
Make sure to check your 'Company's settings' page, specifically the 'Invite settings' option and pay attention to the check box regarding email invites when completing a bulk import. Disabling invites in either of these places will cause the invite email to not go out.
---
Syncing
Syncs between Kallidus and 15Five are completed automatically, so you don't have to think about it or manually complete the process! To ensure a consistent data flow, once you activate this integration SKallidus attempts to match all existing employees between Kallidus and 15Five. For the fields to sync correctly, the naming conventions must match between Kallidus and 15Five.
The following fields sync from Kallidus to 15Five:
To sync managers, make sure the option to sync managers on your '15Five SCIM settings' page is checked: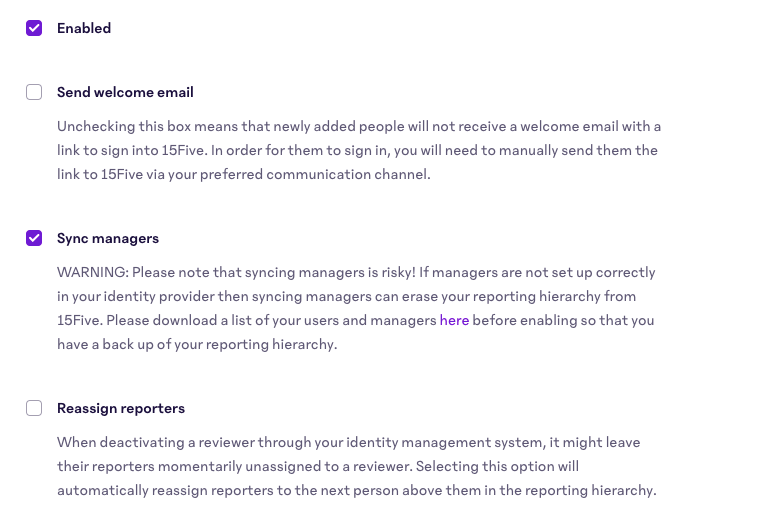 ---
How to Disconnect
Disconnecting the Kallidus integration with 15Five takes place within Kallidus. Go to the Kallidus 'Home' page. Go to the 'Integrations' page and toggle the 15Five integration OFF. Data will stop syncing from Kallidus to 15Five.

---
Troubleshooting and FAQs
Q: I have just hired a new employee, why are they not showing up in 15Five?
A: Employees have to complete their assigned preboarding flow and any documents before Kallidus sends data to create a new profile in 15Five. Once this is complete, they will show up in 15Five.

Q: Can I update employee information like email or name in 15Five?
A: You should make these changes in Kallidus, as if you make a change in 15Five that does not match Kallidus's information. Your changes will be reverted back during the next sync.

Q: If SCIM is on can I still add people on a one-off basis?
A: No, if SCIM is on you cannot manually add individuals via the 'Manage people' page or the team 15Five page. Importing new individuals via CSV is an option if SCIM is enabled for your organization. Please reach out to Support at support@15Five.com.

Q: Can SCIM update custom attributes in 15Five?
A: No, not at this time. You can update them using bulk imports or by manually updating the employee's profile. The bulk import option is not automatically turned on for companies that use SCIM. If you would like this turned on, email support@15Five.com.