15Five's Best-Self Kickoff is a strategically-guided meeting that aims to uncover what an individual needs to do their best work and how managers can support them in their career path. The Best-Self Kickoff aims to create psychological safety in organizations by using a strategic, evidence-based approach to employee onboarding by accelerating the 'get to know you' process. This meeting is ideally held at the very beginning of the manager/employee (direct manager/direct report in 15Five) relationship, but could also take place after a promotion, role change, or to reset with existing direct reports.
Best-Self Kickoff is comprised of two parts: relationship building (individual and interpersonal expectations) and role clarity. The evidence-based, two part meeting facilitates a conversation about work style, feedback (how to give/receive it), and other general questions about both people, leading to a stronger and more successful relationship between manager and employee.
In this article, you will learn...
Check out these additional resources ⬇️
---
Complete your Best-Self Kickoff
Anytime a new work relationship is established, a promotion happens, or when managers and their direct reports need to level set, we recommend completing the Best-Self Kickoff process. Part 1, which is available inside of 15Five, is all about relationship-building and can be initiated by a direct report or their manager.
1. Managers and direct reports first should fill out all of the questions on their respective 'About' pages.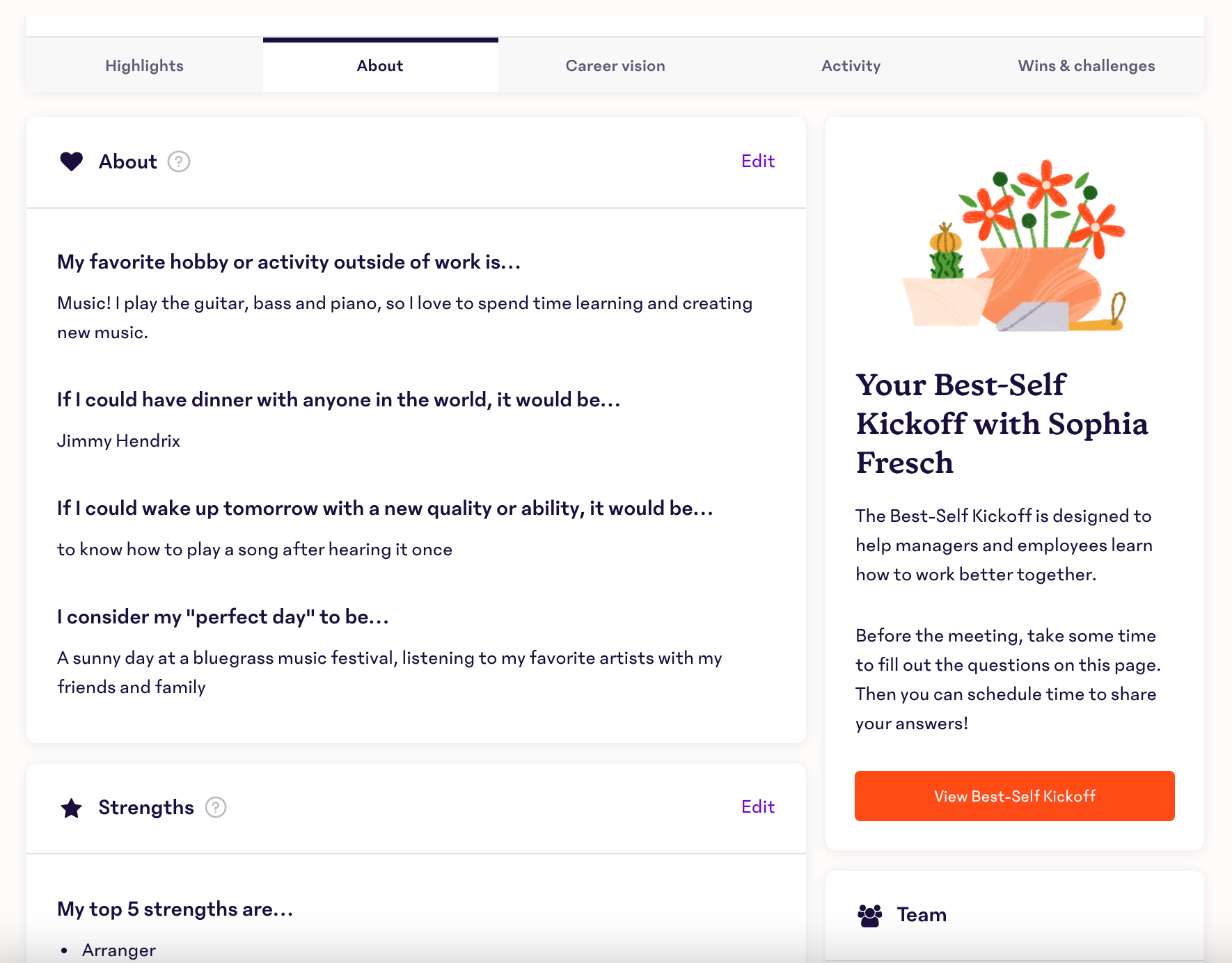 This is the relationship-building component of a Best-Self Kickoff. If the answers are sensitive, the direct report can make their answer private to only their immediate manager. Once both roles have answered the About questions, the Best-Self Kickoff can happen. The About questions should guide the Best-Self Kickoff meeting agenda.
2. Set up your Best-Self Kickoff meeting using the scheduling app of your choice. Some general guidelines about the Best-Self Kickoff Process:
The meeting itself usually takes about two hours. If desired, you can schedule a "part 1" and a "part 2" to go over answers.
The meeting should be scheduled within the first week of the employee or manager's new role and should take place within the first month.
It is encouraged to capture additional notes and comments that come up during the discussion to ensure that there is 100% clarity and documentation on all expectations
3. When it comes time to meet, go to your direct report's profile, click on the 'About' tab, and then click the orange View Best-Self Kickoff button to the right.
4. After clicking View Best-Self Kickoff, you will be redirected to the Best-Self Kickoff. Click on Get started. After getting started, all About questions and answers will appear.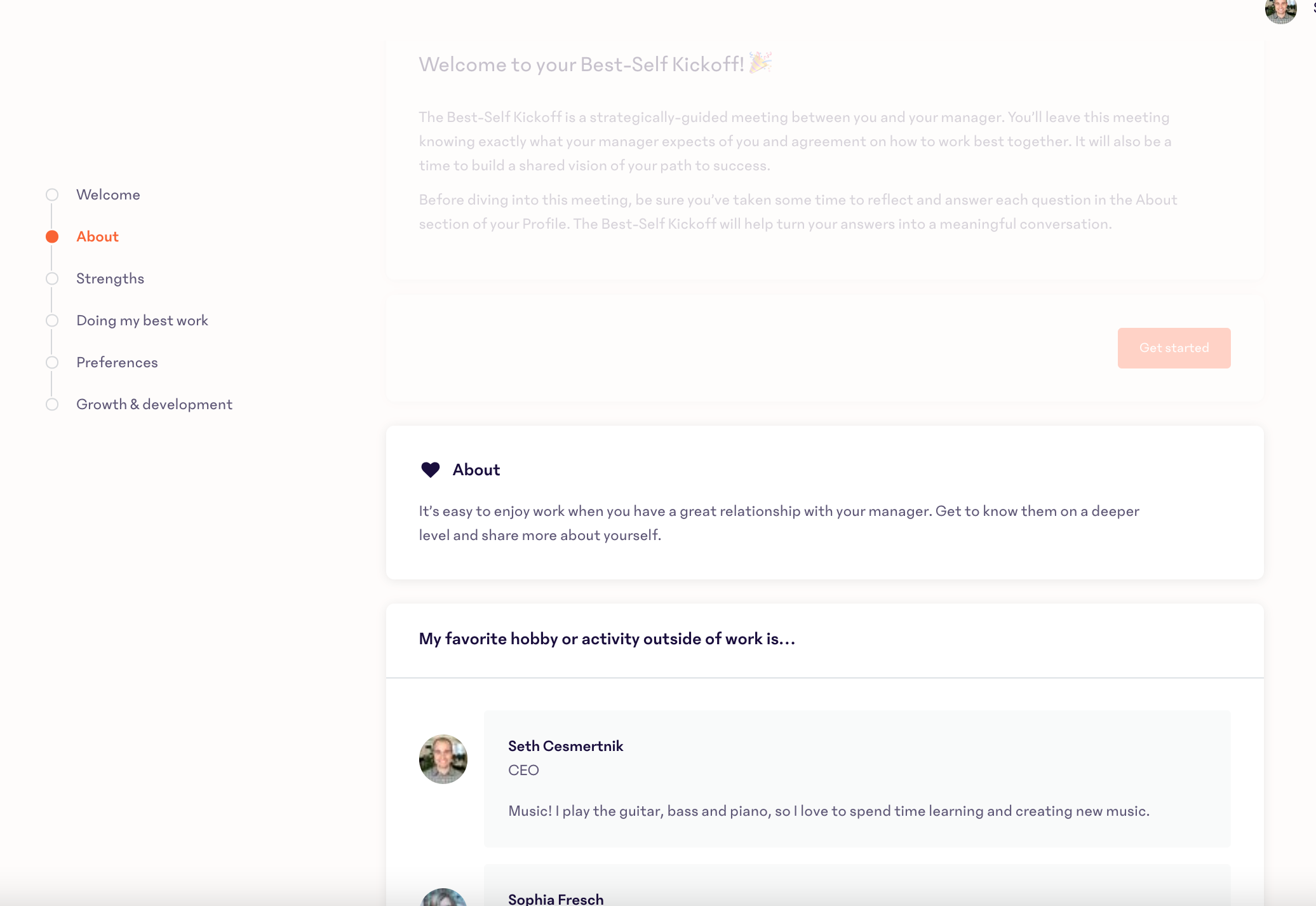 Note
Managers will want to share screen during this meeting or the direct report can access this same page from their computer by going in app to their profile and clicking the same View Best-Self Kickoff button.
Tip
If either the manager or direct report wants to take notes, we recommend doing so via the 1-on-1 feature by creating an agenda centered around Best-Self Kickoff.
5. Once all questions and answers have been discussed, click the orange Got it! button and you'll get an alert like this.... ⬇️
Currently, we do not offer Best-Self Kickoff reporting or visible timestamps acknowledging that the meeting took place. Again, using a 1-on-1 agenda to have this conversation will create documentation to refer back to and a paper trail of this meeting.
Tip
What's next? After completing the About questions and holding a Best-Self Kickoff meeting, it is time to move into part 2: a role clarity conversation. Check out this PDF for more information on next steps!