If you have a large staff, 15Five can help you keep your individuals organized by creating groups. Some companies have the need for different types of groups, other than just 'Groups' or 'Departments'. For example, you might have Squads, Divisions, Locations, Teams, etc. These subsets of your company should be created as 'Group types'.
Within each of those group types, you will create groups. For example, you might have an 'R&D' group under the group type 'Squads', a 'North America' group under the type 'Divisions', a 'New York' group under the type 'Locations', etc. Below are the steps to create group types and groups.
If you would like to learn more about the group permissions and visibility, please read this article. If you are a reviewer would like your team to be automatically added/removed to a group, read more about Smart Groups.
---
Create a group and/or group type
1. Click on Settings from the left navigation.
2. Click on 'People' to expand the people settings.
3. Last, click on 'Manage groups'.

4. You will see two default Group types- 'Groups' and 'Departments'. If those two groups suffice for your company structure, you can skip ahead to step 7. If you need to create additional group types, progress to steps 5 & 6.
Note
Only account administrators can create 'Group types'. Account administrators and reviewers can create groups.
If you are a reviewer, you can also skip ahead to step 7.

Note
Groups' is a default group type that cannot be edited or deleted. Objectives cannot be created for 'Groups'. The group type 'Groups' is best when used as a placeholder until the groups within are moved into their respective group types.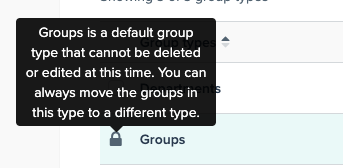 'Departments' is the other default group type. Feel free to rename 'Departments' to a group type title that is applicable for your company.
5. Create an additional group type by clicking the Create a new group type button. Again, this functionality is only available to account administrators.

6. Name your group type and Save.

7. After your group types look acceptable, you can create a new group. Click on the name of the group type for which you need to add a group to.

8. Click the Create a new group button.

9. Name your group.

10. Double check that the group is being created under the correct group type.

11. Select a group administrator. (This field is optional.)
Note
Group administrators can be any account administrator or any reviewer. If no group admin is chosen, any account administrator, the group's creator, or any reviewer can edit the group.

12. Add group members.
Note
Account administrators can add anyone as a member. Reviewers can add anyone they have the ability to manage as a member. Check your 'Manage people' page to see who you can add to a group.

13. Choose the settings for your group.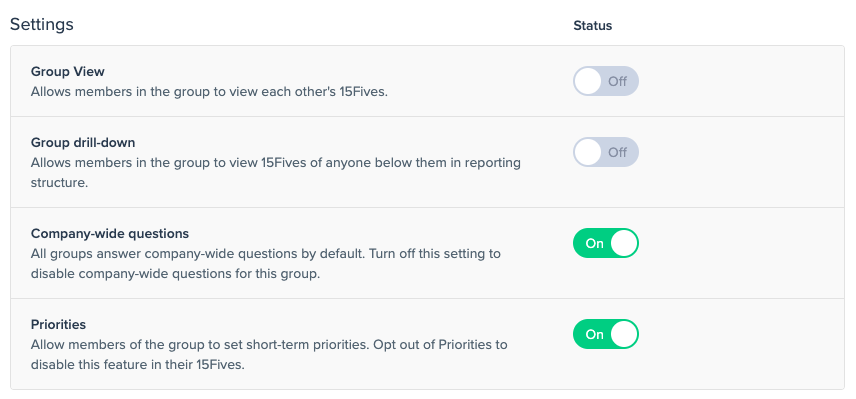 14. Make sure to click Create group when you're done!

Success Center article 🗒: Set permissions and visibility for my group
Success Center article 🗒: Using questions to gather insights
Success Center article 🗒: Set priorities and track accomplishments