It's time to fill out your first Check-in! Check-ins are a way for you to regularly note progress, upcoming priorities, and wins & challenges before submitting to your manager to review. Assuming you haven't changed any of your notification settings, you should receive an email prompting you to complete your Check-in. Follow the steps below to begin the Check-in process. You're going to do great!
Guide 📖: 15 Tips for Writing Check-ins
Blog post 🗒: How Employee Feedback Could Have Saved GM
---
Complete my first Check-in
1. Open your Check-in. You should receive an email notification reminding you to fill out your Check-in. From within that email, click on Complete Your Check-in to be redirected to your 15Five account.
If you have not received an email reminder, you can always access your Check-in by logging into 15Five, clicking on Features in the left navigation, then 'Check-ins', and lastly 'My Check-ins'.
2. Fill out your Check-in. Answers the questions in each section of your Check-in. You can have several answers for each question. A new answer field will automatically appear after you write in the previous field. As you're filling out your Check-in, add any answer as a talking point to your 1-on-1 with your manager using the chat bubble icon to the right of the answer field. The answer will become a talking point as soon as you submit your Check-in.
3. Submit your Check-in. When you're finished with your responses, click Submit at the bottom of your Check-in. Now your Check-in is off to your manager for review!
Made a mistake? Read more about how to edit your Check-in.
Note
If your Check-in period is Mar 6-19, you should submit your Check-in no earlier than the 17th (as a best practice). The Check-in should contain information from the 6-19 of March and should contain your priorities for the coming period of Mar 20- Apr 2. You will see an alert if you try to submit a Check-in more than two days before the due date.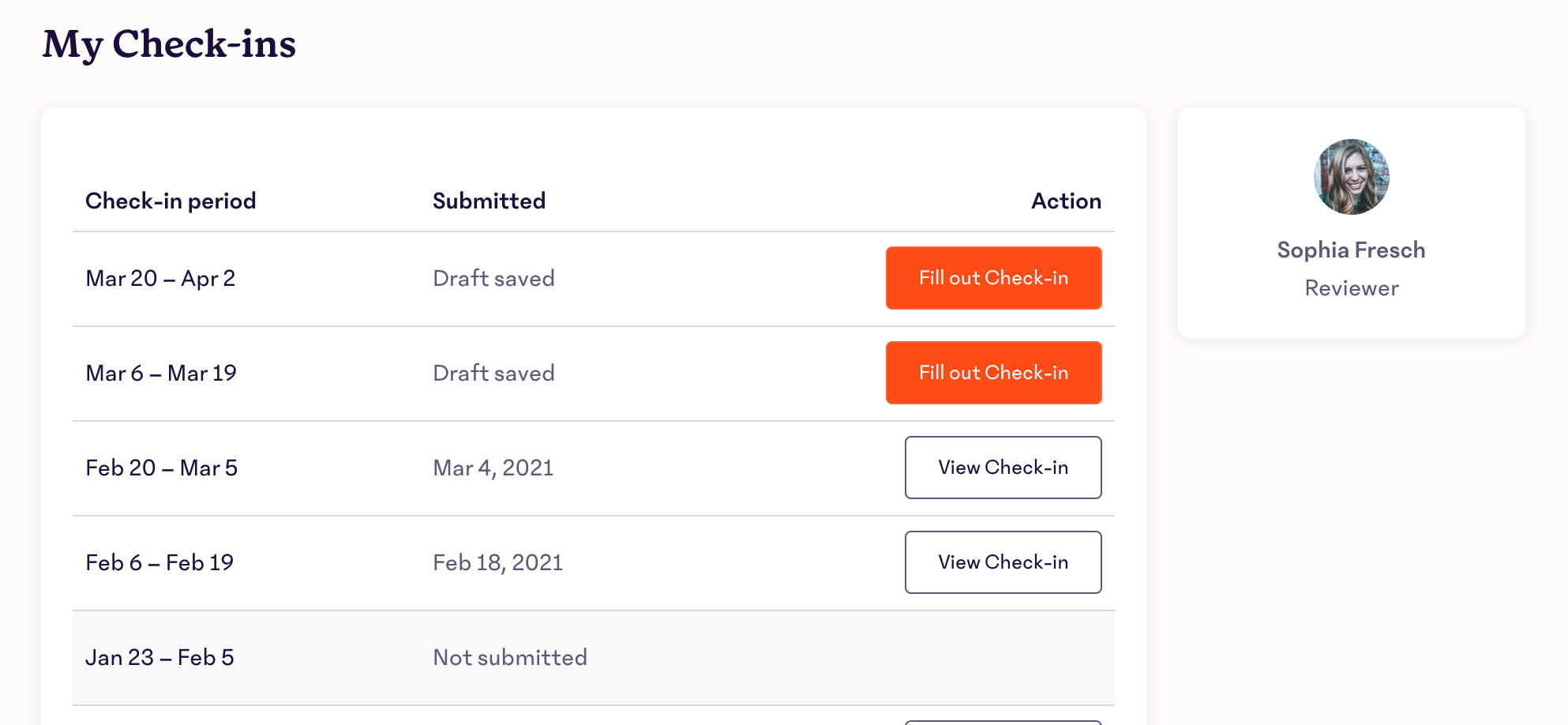 ---
Will 15Five save a draft of my Check-in?
15Five automatically saves a draft of your Check-in as you go. This allows you to enter in responses throughout the week as they come up and then submit the Check-in when you're ready. Drafts are a great way to keep track of successes and challenges in the moment; there is no need to struggle to remember them when your due day arrives.
From your 'My Check-ins' page, under the 'My recent Check-ins' section on the right, Check-ins with drafts saved will be called out; see the above screenshot.
Only you will be able to view your draft Check-ins, even if the Check-in was never submitted.
When you are finished filling out your Check-in, click Submit. That's it! Your reviewer will receive an email notification that you submitted your Check-in.
Note
You can edit your Check-in up without help from your reviewer up until it has been reviewed. From within the Check-in you need to update, click Edit Check-in. This button is on the right side of your Check-in under your reviewer's information. If your Check-in has already been reviewed, there is a Request to edit button which will send an edit request to your reviewer. Once your reviewer approves the editing, you will be emailed. Here is a walkthrough on how to edit a submitted Check-in.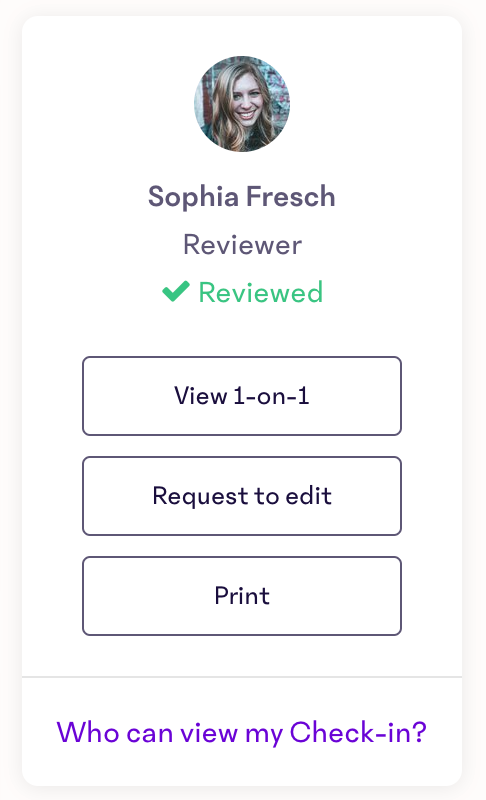 ---
Answer your Pulse question
Each Check-in's pulse question asks, "How did you feel at work this week?" on a 1-5 scale. You can add an optional, contextual answer to your pulse question explaining your 1-5 score. Want to make this contextual answer private between you and your reviewer? Click the lock icon to the right of your optional answer to make the answer private to you and your reviewer only—even if other people can view your Check-in, they won't see this answer.
Why is it important to name your feelings? Check out the science!
---
Update objectives and key results from your Check-in
From within your Check-in, you can:
Update the status of objectives you own: On track, Behind, At risk
Comment on the reasoning for your status (optional)
Update your progress on key results that you own, even if you don't own the objective
Click the ... to view the objective's full details or to close an objective
---
Set priorities and track accomplishments
On your current Check-in, you will see a question asking about priorities for the coming Check-in period. You will list your priorities for the next week (or relevant time period) and submit your Check-in. You're essentially looking back at priorities from the previous period and looking ahead to the next period in the Priorities section. Please see this related article for more information on Priorities.
---
Give a High Five
The option to give a High Five will be included in the last section of your Check-in. High Fives given in this section will be sent to the recipient once your Check-in is submitted.
Want to make sure your High Five resonates? Check out the High Five Best Practices to learn how to give an effective High Five.
---
@mention a teammate in your Check-in
Want to give praise for teamwork, bring the relevant person into a conversation in order to resolve issues quickly, or just keep someone in the loop on a project you've been working on? With @mentions you can! You can include as many team members, even groups, as you want—all by mentioning them in a comment.
For more information about @mentions, see this article.
1. Go to any comment or answer section of your Check-ins.
2. Type in the @ symbol and start typing the first letter or two of the team member or group you want to include.
3. Select the name of the person and continue typing your comment. Then click on Post comment.