While the most common 15Five practice is done weekly, the frequency can be customized to fit your workflow.
NOTE ✏️ : Administrators can change anyone's frequency, while Reviewers can change their team/group's frequency.
To change a reporting frequency:
1. Click on your avatar in the upper right-hand corner.

2. Click on 'Manage People'. 

3. Search for the user and click on their name. 

4. Click the drop-down next to 'Reporting Period', and change the frequency.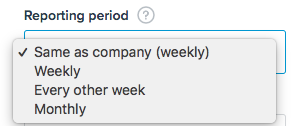 5. Click 'Save'. You're done! 

Have a mass company-wide change?
Reach out to our team at support@15five.com and we can help.
Blog post 🗒: 3 Mistakes That Can Defeat The Purpose Of Weekly Reporting