The most common and the recommended Check-in frequency is weekly. However, the frequency can be customized to fit an individual, a group, or the entire company. Options for Check-in frequency include weekly, bi-weekly, or monthly. If you're not sure what frequency to start with, check out this research-backed piece that talks about how Feedback That Improves Employee Engagement and Performance. In app, this is called 'Check-in period' and lives within each person's account settings.
Note
Account administrators can change anyone's frequency, while reviewers can change the frequency for their team.
---
Change Check-in frequency
1. Click on Settings from the left navigation.

2. Click 'People'.

3. Next click on 'Manage people'.

3. From the 'Manage people' page, search for the person whose Check-in frequency you'd like to change and click on their name to open their account settings.

4. Within the person's profile, click the drop-down next to 'Check-in period', and change the frequency—Same as company (weekly), Weekly, Every other week, or Monthly. Choose Same as company if you want the frequency to updated when the company's Check-in period is updated.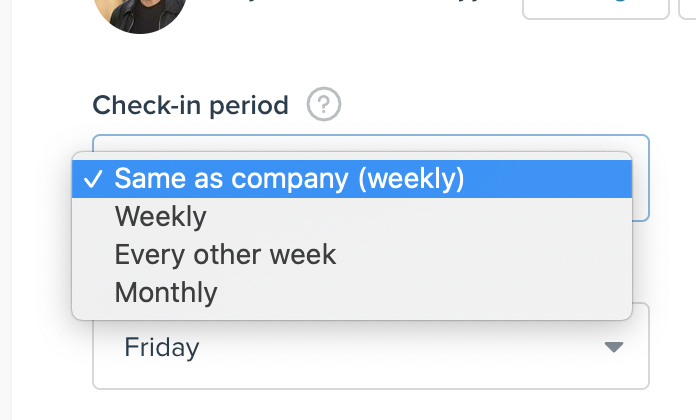 5. Click Save. You're done!

Have a company-wide frequency change? Reach out to our team at support@15five.com and we can help.
Blog post 🗒: 3 Mistakes That Can Defeat The Purpose Of Weekly Check-ins