You can assign a group administrator to manage questions and group members.
NOTE ✏️ : To be a group administrators you must first be a 15Five admin or a reviewer.
1. Click on your avatar/profile picture in the upper right-hand corner.

2. Select 'Manage people' from the drop-down menu.

3. Select 'Manage groups' on the left hand side.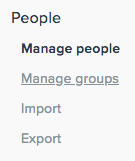 4. Create a new group or edit an existing group. To edit an existing group, click on the group. Then, click on the gear to edit.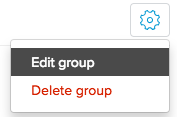 5. Select/update the Group admin from the pull down list.

Success Center article 🗒: Manage group settings
Success Center article 🗒: Create questions for a group
Success Center article 🗒: Create a question queue for a group