You can assign a group administrator to manage questions, manage group members, and update group visibility settings. Group administrators and account admins are the only people who can make these edits.
Success Center article 🗒: Bulk update group administrators
Change or add a group admin:
NOTE ✏️: Group admin can be any account admin or any reviewer. If no group admin is chosen, any account admin, the group's creator, or the reviewer (if all group members are in their hierarchy) can edit the group. Additionally, group admins can be any active or invited user. 
1. Click on your avatar/profile picture in the top right corner of the account screen. 

2. Click on 'Manage people'. 

3. Click on 'Manage groups' in your left-hand navigation.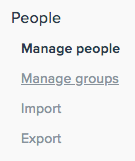 4. Find the group type that houses the group you need to edit and click on it. If you are not sure what group type the group is in, you can search for the group name or a keyword. For example: You could search for the group 'R&D'.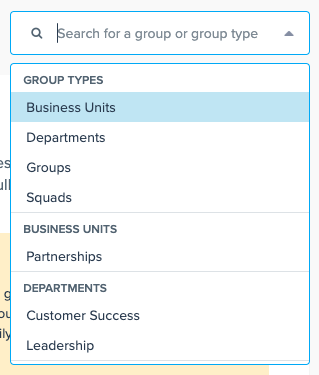 5. Click into the group whose visibility settings need to be adjusted.

6. Then click the gear icon and 'Edit group'.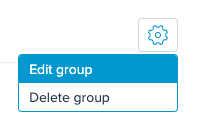 7. Once you are viewing the group whose group admin needs to be added or changed, click into the 'Group admin' dropdown menu. Select your group admin. Group admin must be a company admin or a reviewer. 

8. Remember to save your changes!