An essential piece of the Objectives and Key Results practice is updating the status regularly; which is why progress monitoring is sprinkled throughout 15Five. Progress monitoring will greatly increase motivation and a focus on results only can lead to cultures of unhealthy internal competition. There are two ways you can update the status of your objective(s).
Note
For a list of who can manage objectives and for whom, see this article.
---
Update an objective from your Check-in
On every Check-in, you are asked to update your objectives: the status, the key result progress, and any comments. Physically recording progress and sharing progress (publicly or with teammates) also increases the likelihood of goal achievement.
From within your Check-in, you can:
Update your status: On track, Behind, At risk
Comment on the reasoning for your status (optional)
Update your progress on key results
Use the ... to view the objective's full details or to close an objective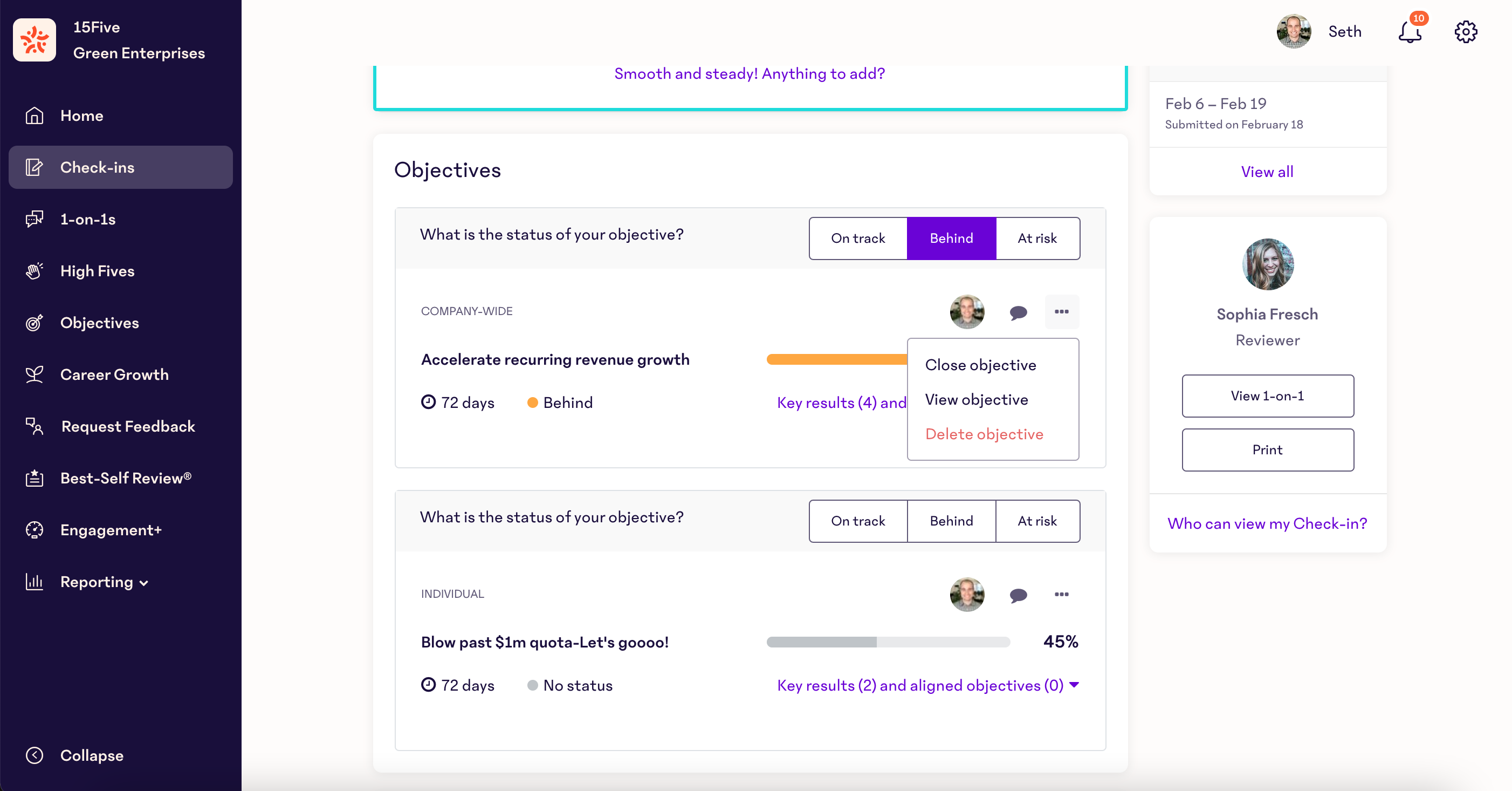 Note
Edits made to an objective from your Check-in will not take effect until you submit your Check-in. If you want to make a change that will go live immediately, please make that change from within the 'Objectives' tab by following the steps below.
---
Update an objective from the 'Objectives' details page
Research shows tracking progress towards a goal can have a positive impact on goal achievement. In other words, the ability to see the distance remaining from the goal is crucial for goal setting to work. So we make starting, target, and current values visible from all pages.
From 'Objectives' page you can:
Update your status: On track, Behind, At risk
Comment on the reasoning for your status (optional)
Update your progress on key results
Comment in the Objective 'Activity feed'
View the parent objective (if aligned)
Add additional key results