15Five's 'Question queue' feature allows you to automate a set group of questions to appear on Check-ins on a regular basis. Question queues can be programmed for individuals, groups, or the entire company.
---
Set up a Question Queue
1. Click on the Settings menu in the top right corner of 15Five.

2. Select Check-in questions from the dropdown.

3. Click on the type of question queue you'd like to access: either Company-wide, Groups, or Individuals.

4. If you're trying to add a question queue for a specific group or individual, search for the name of the group or individual in the search bar.

5. Find the area on the page that says 'Question Queue' and click on Create a new question queue.

6. Select who the questions are for. They can be Company-wide, Group, or Person specific.

7. Select how you want to add questions to your queue. You can Use the 15Five Queue, select questions From the Question Bank, or Create your own Queue.

8. Add questions via the source you chose in step 7.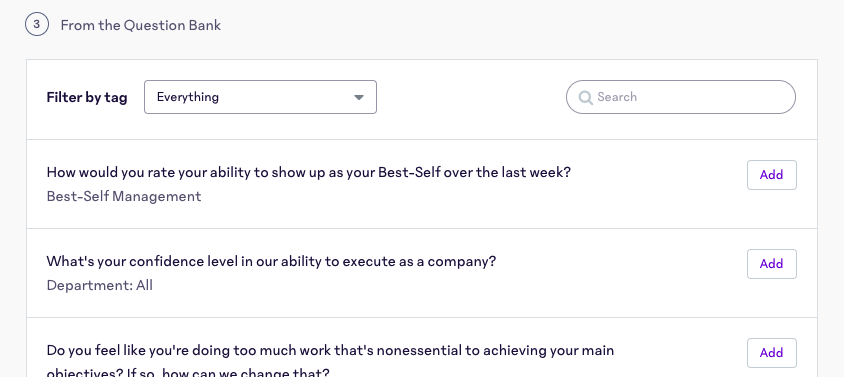 9. Click Save.

Tip
We recommend using 12 or more questions to start with—this allows a new question each week of the quarter. But you can add as many or as few as you like by using the Question Bank or adding manually. Once you've chosen all your questions, remember to click 'Save' to reveal your new question queue.