Turn on/off Priorities
1. Click on your avatar in your upper right corner.
2. Select 'Manage Features'.

3. Toggle on/off 'Priorities'.

4. Configure your settings, including who should see the Priorities feature and what text will show under this section in each 15Five report.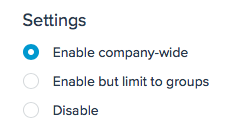 NOTE: You must be a company admin to make changes to features.