Good work! You have added company values, created a custom question template (or are using the default 15Five template), and are ready to get a Best-Self Review™cycle running.
1. Click on 'Features' from the left navigation.
2. Click on 'Best-Self Review'.

3. Then click on the orange button at the top right of the page labeled 'Create a new review cycle'.

4. Enter in the name of your cycle and then click 'Continue' or scroll down. You will want to be specific in this title so that you can easily find it later. For example: "Q3 2020 Company-wide Cycle"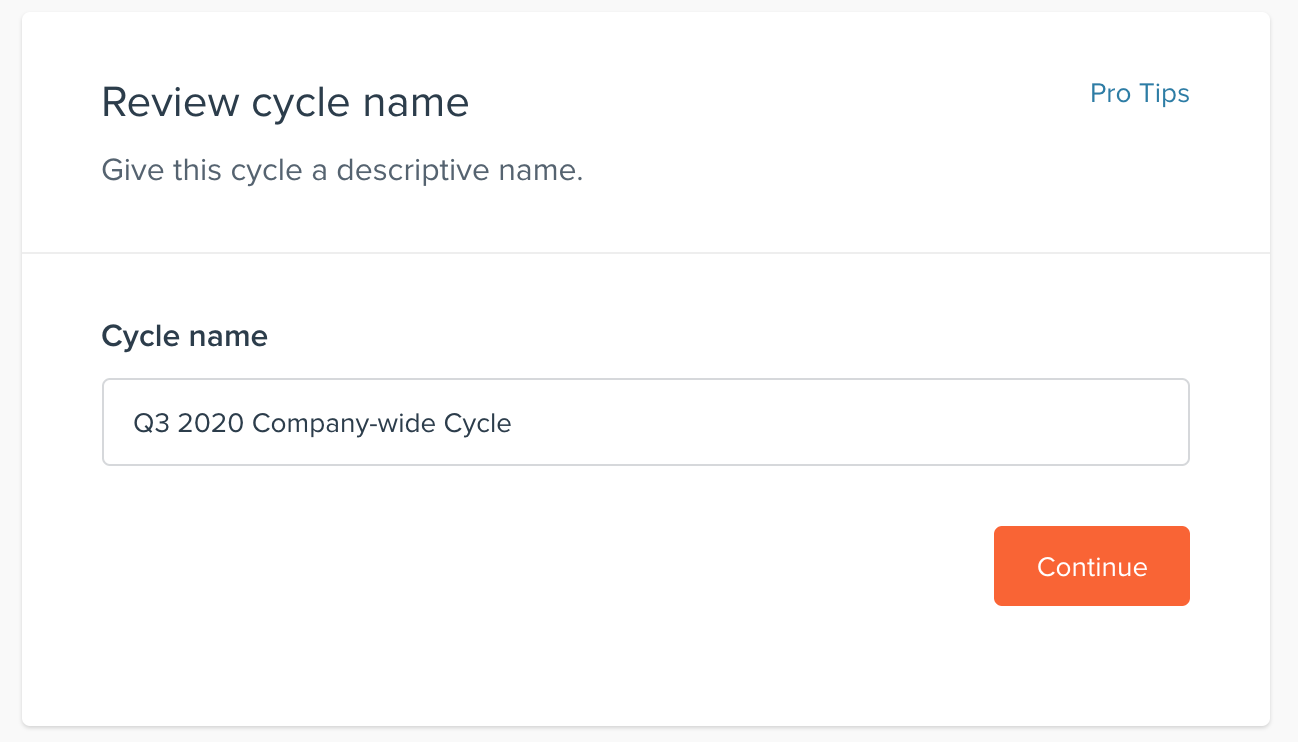 5. Choose the review cycle type. By default, Best-Self Review will be selected. If you want to run a 360 Best-Self Review, select that option and customize accordingly.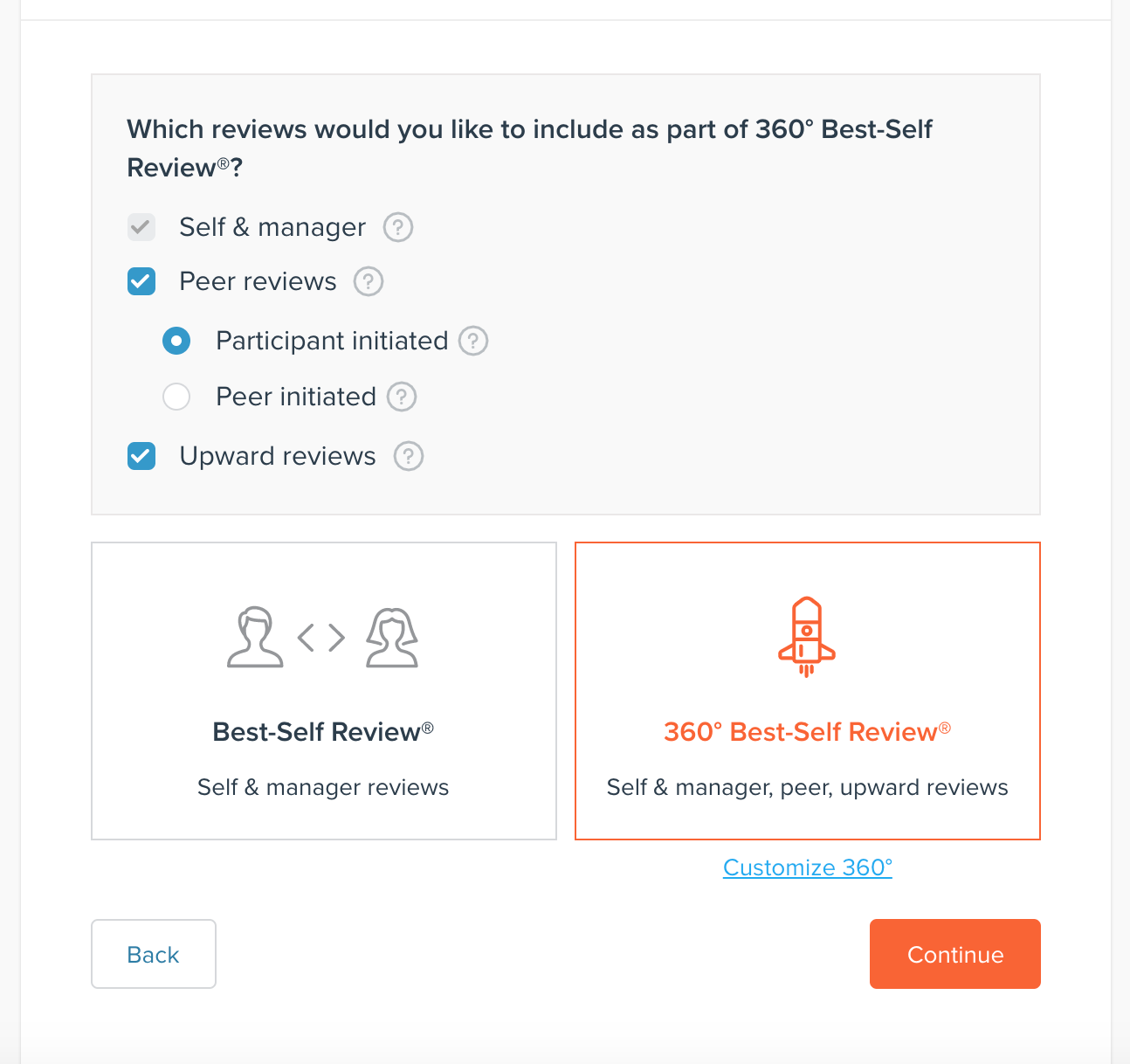 Self & manager reviews are always required. Other than that, you have the option to include peer (participant initiated or peer initiated) and/or upward reviews (managers who are participants in the cycle will have upward reviews written of them by their direct reports).
6. Next, select which question templates you would like to be included on each type of review. The list will include all of 15Five's built in templates and any custom templates you have created.
15Five's default templates are science backed and cover all aspects of "best-self" management. To view the 15Five default templates, click here. To read more about the 15Five default templates, see this article.
Haven't created your template yet? See this walkthrough on how to create your own template.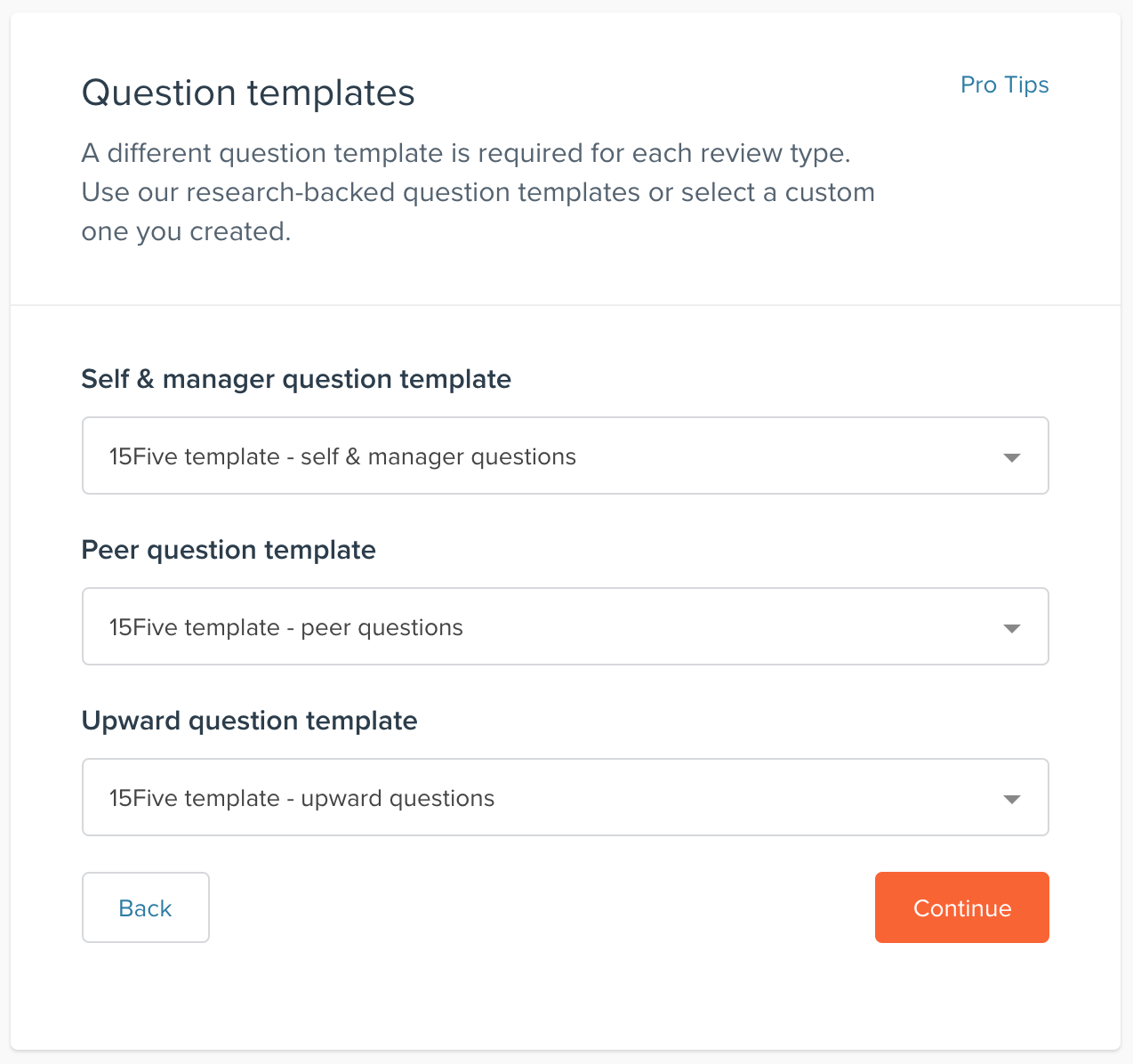 7. Decide who will participate in the review cycle. Only participants will have reviews written about them. People who are not participants may still be asked to write manager, upward, and/or peer reviews about someone who is a participant.
Using the option 'Everyone, except some people or groups'- You can exclude certain people or groups, or can choose to only include certain people or groups.This is a cycle specific exclusion. People excluded here will not be excluded in the next cycle unless specified again.
Cycle specific excluded groups or individuals will not be asked to complete a self review, may be asked to complete manager reviews, may be asked to complete an upward review, and can be nominated as a peer. If needed, these excluded people can be added as cycle participants at a later time.
Using the option 'Only specific people or groups'- You can choose to only include certain people or groups if listing inclusions is easier than listing exclusions. This is helpful when only a small group of people are participants in the cycle, like a cycle for 'Sales' only.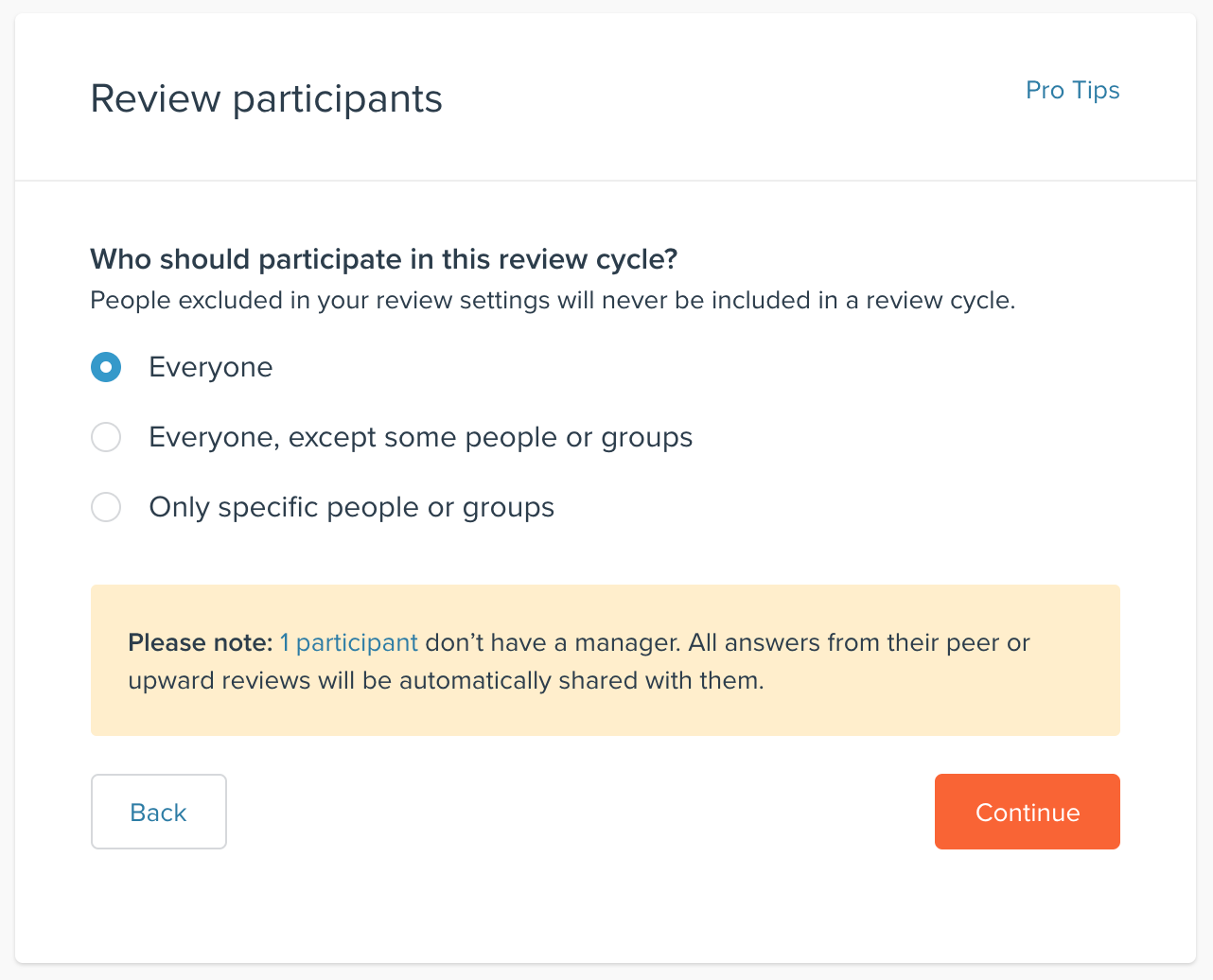 8. Choose whether you want to repeat the review quarterly, semi-annually, or one time only. If needed, this setting can be updated at a later time.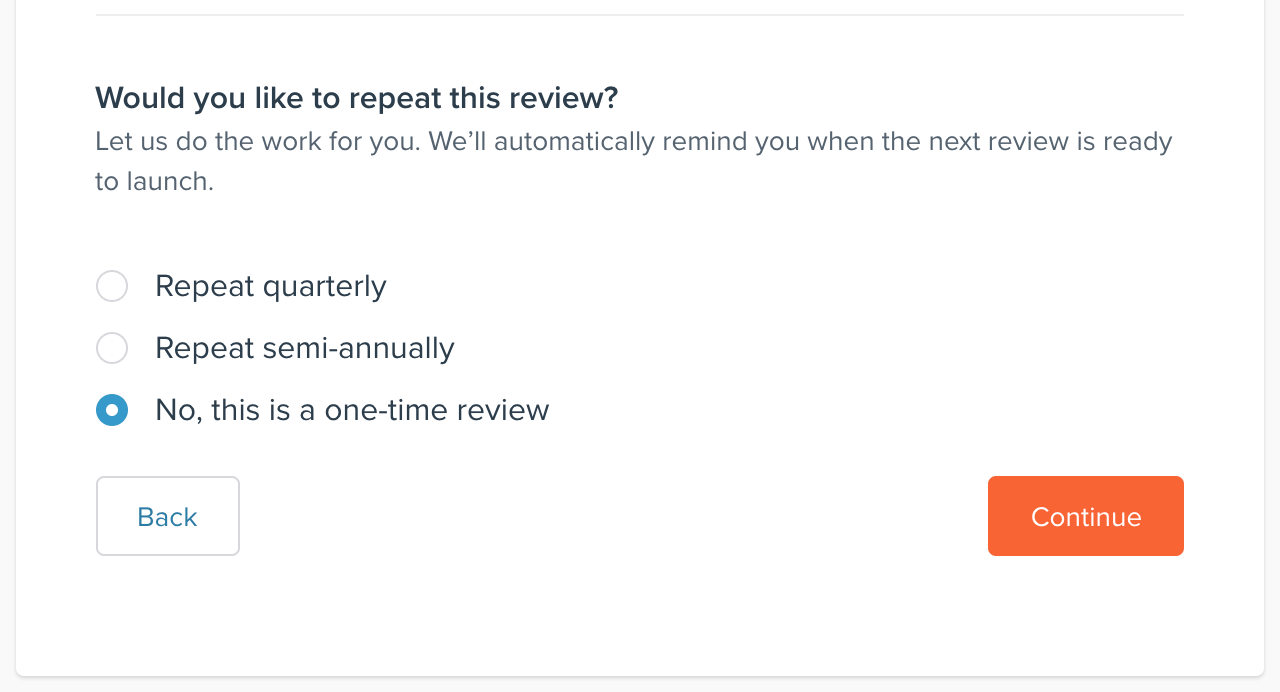 When setting up a review to "repeat quarterly" or "repeat semi-annually," the review will launch on the same day as you created it 3 or 6 months in the future (for example, today's date + 3 months for quarterly, or today's date + 6 months for semi-annually). Review admins will need to approve the cycle in order for it to begin again. An email will be sent to review admins 7 days prior to the upcoming start date and ask them to confirm the cycle.
9. Enter in your dates for the review, called 'Review milestones'. If these dates need to be updated after the cycle has begun, see this article.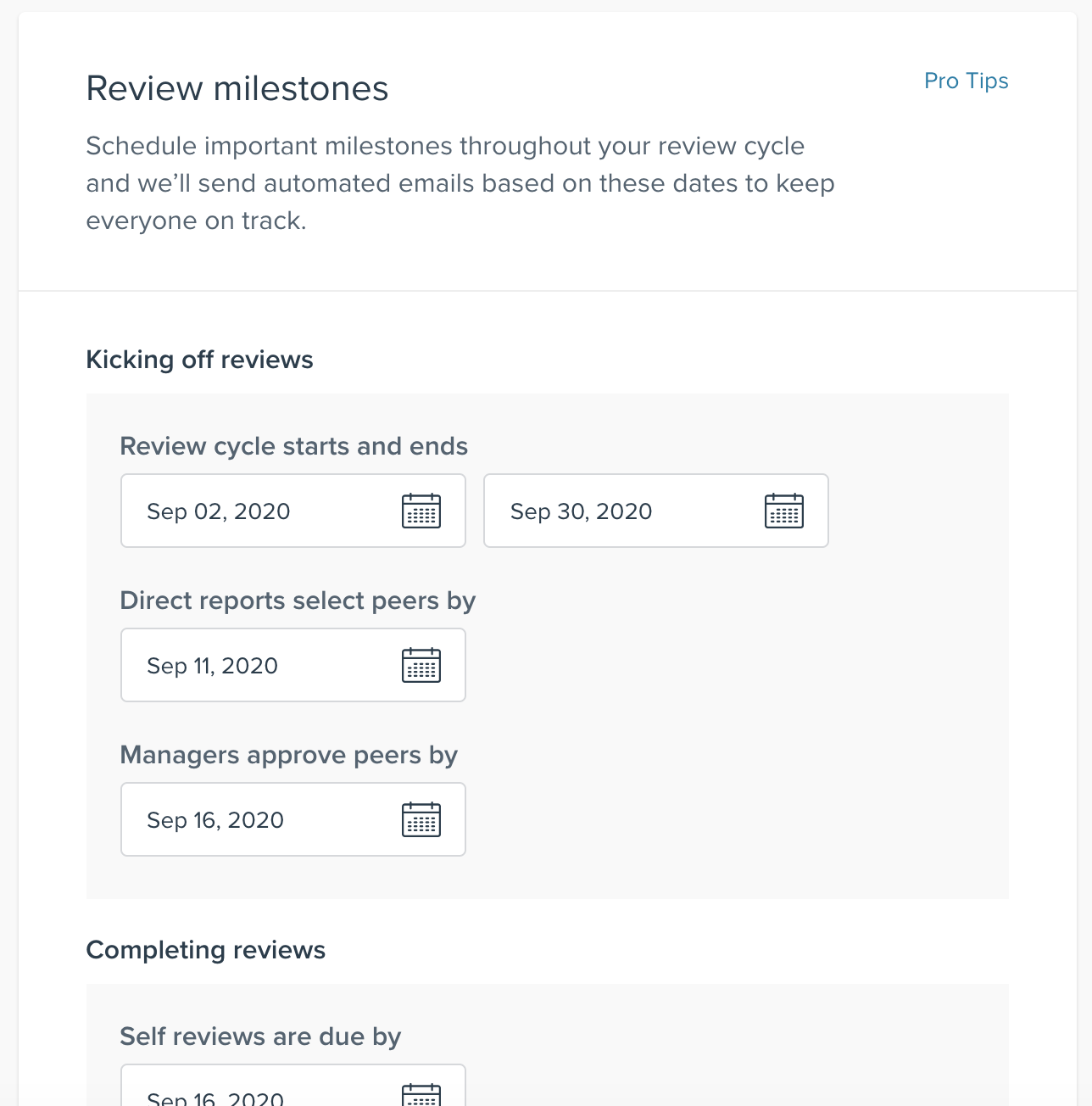 10. Confirm or edit the Review settings directly from this section. You can also set universal Best-Self Review settings here.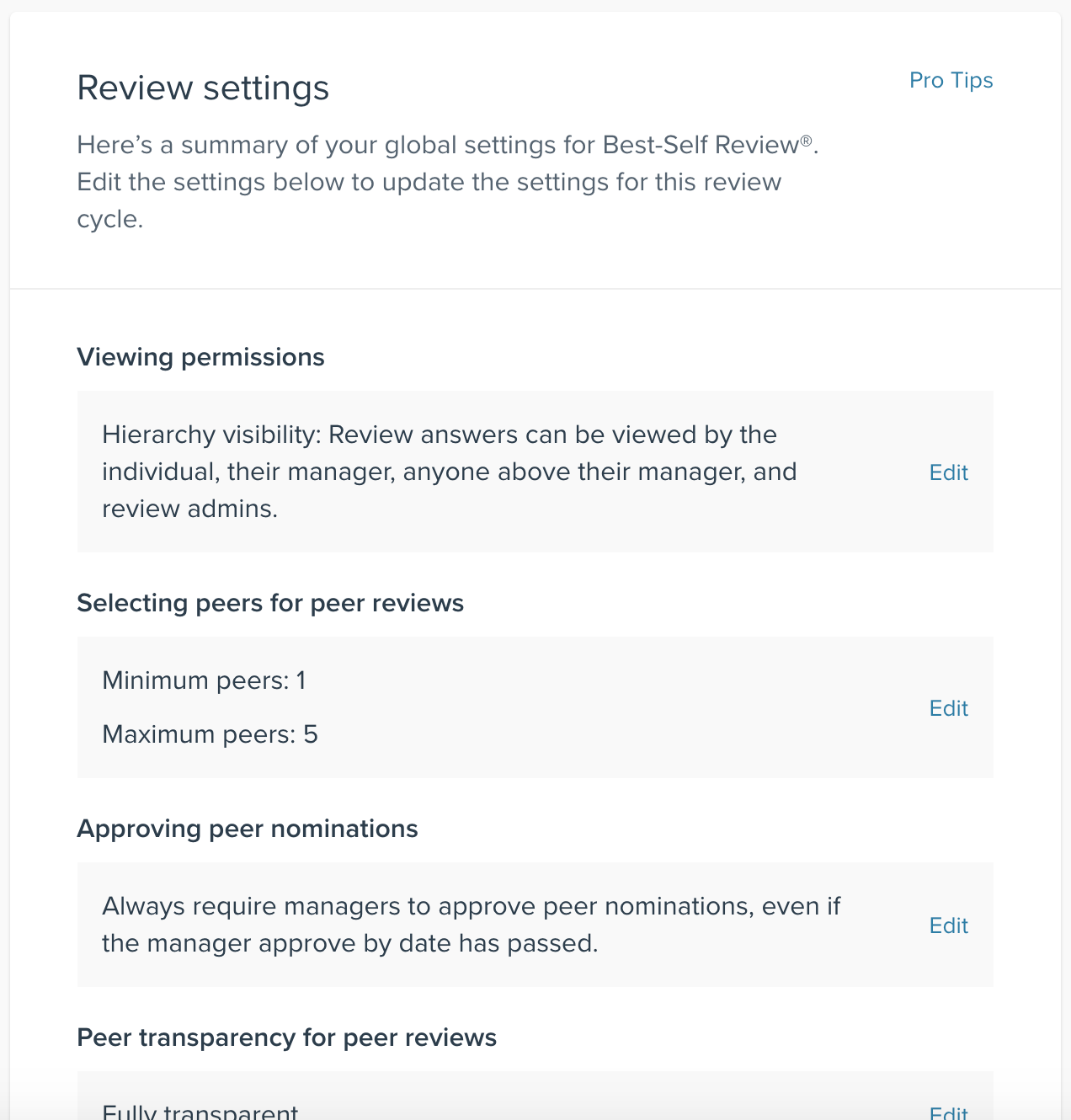 11. Review the kick-off email and edit the subject and/or body if needed.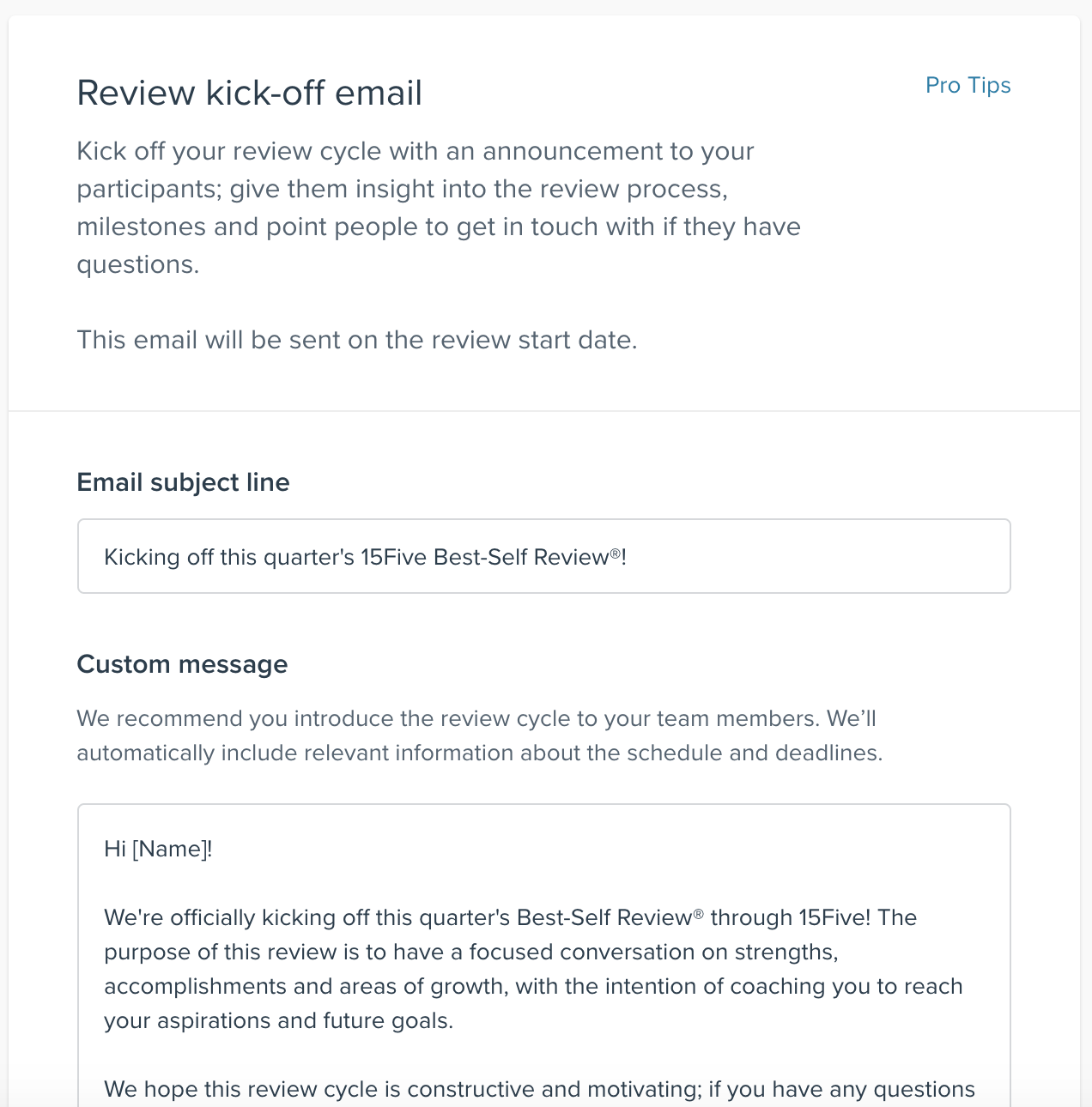 12. Click 'Create review cycle', review the details, and then click 'Confirm & create'. The kick-off email will be at 8:23 am in the company's timezone on the day the cycle begins. The email will not be sent when the cycle is created.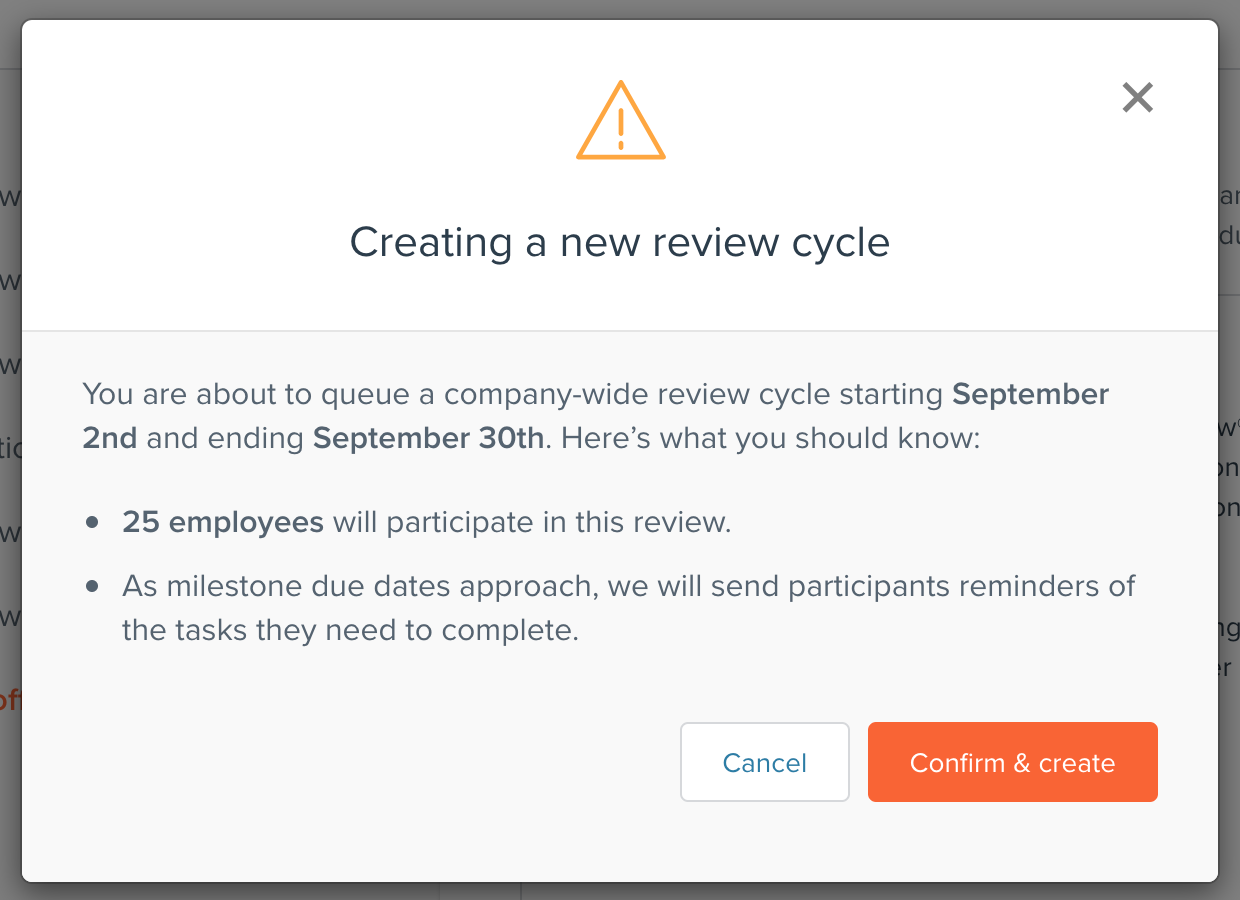 NOTE ✏️ : Edits to the cycle, dates, participants, settings, etc can be made up until the cycle becomes active. If changes to an active cycle need to be made, see this article. Please do not change a participant's review once the cycle has started. See this article for an explanation on why changing a reviewer during a review cycle is strongly not advised.
NOTE ✏️ : Though you set a review cycle end date, the cycle will stay open for submissions until a review admin manually locks the cycle.
TIP 💡: We've designed Best-Self Review to be lightweight, easy to schedule and easy to complete. Our recommendation is that you run your review cycle for a period of no longer than 4 weeks, but we believe in allowing you the flexibility of specifying your own milestone due dates.
Do your employees need help figuring out how to fill out their reviews? Check out our review help docs!
______________________________________________________________________
Clone a review cycle
If you want to update a cycle or restart it entirely, we offer a way to clone an inactive cycle or update the cadence of an already active cycle.
1. Click on 'Features' from the left navigation.
2. Click on 'Best-Self Review'.

3. Find the review cycle you want to clone under Active, Upcoming, or Ended cycles.
4. Click on the '...' to the right of the cycle and click 'Clone review cycle'.

5. From here, the setup process will be the same as the steps above.