Good work! You have added company values, created a custom question template (or are using the default 15Five template), and are ready to get a Best-Self Review cycle running. 
To create a review cycle:
1. Click on the 'Reviews' tab.

2. Then click on the orange button 'Create a new cycle'.

3. Enter in the name of your cycle. For example: "Genericorp Q1 2018 Review"

4. Choose the Review cycle type.

5. Next, decide who the Review participants will be. You can exclude certain people or groups, or can choose to only include certain people or groups. 

6. Select a question template, either the template you have created or the 15Five default. 

7. Enter in your dates for the review, called Review milestones. These dates are firm once the cycle is activated. 

8. Choose whether you want to repeat the review quarterly, bi-annually, or one time only. You can update this setting up until the cycle's start date. 

9. Confirm the visibility settings or manage them directly from this screen. 

10. Review the kick-off email and click 'Create review cycle'. The kick-off email will be at 8:23 am in the company's timezone on the day the cycle begins. The email will not be sent when the cycle is created.

NOTE:  Edits to the cycle, dates, participants, etc can be made up until the cycle becomes active. Once the cycle is active (based on the start date), editing will be locked. 
NOTE:  Though you set a review cycle end date, the cycle will stay open for submissions until a review admin manually locks the cycle.
TIP:  We've designed Best-self reviews to be lightweight, easy to schedule and easy to complete. Our recommendation is that you run your review cycle for a period of no longer than 4 weeks, but we believe in allowing you the flexibility of specifying your own milestone due dates. 
To clone a review cycle:
We lock a cycle once it is started, so no changes can be made to an active review cycle.  If you want to update the cycle or restart it entirely, we offer a way to clone the current cycle.
1. Click on the 'Reviews' tab.

2. Find the review cycle you want to clone.

3. Click on the '...' to the right of the cycle and click 'Clone'.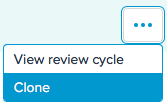 4. The setup process will be the same as steps 3-10 above.