Send review reminders
If you want to remind your team and gently nudge them to complete their review, 15Five will send them a nudge.
1. Click on 'Reviews' tab.

2. Click on the active review cycle. (You can also click on the three dots to the right of the cycle name, and then 'View review cycle'.)

3. Click on the '...' next to the user and then select 'Nudge'.

NOTE ✏️ : Reviewers and review admins can send nudges from the cycle Overview page, in the Completed steps box. The manager review 'Nudge' option will not appear until the self review deadline has passed or until self reviews have been submitted.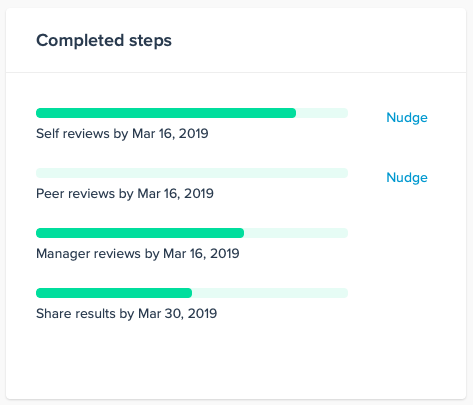 Do your employees need some help with how to fill out their reviews or nominate peers? Send them our "
I'm a participant
" and "
I'm a manager
" walkthroughs to help them through it!