Peer reviews are where co-workers (that you select) will be asked questions about your development, strengths and progress. Research shows 360° peer feedback for development increases performance, goal orientation, and the growth mindset. This differs from traditional performance appraisals where it's common for superiors to evaluate their subordinates only.
It is important to note that if the 'peer initiated' peer review option was selected by your review admin(s), you will not be asked to nominate peers, but will instead be able to write a peer review of any other participant(s) of your choosing. For more information on the peer initiated peer review process, see this article. 
Peer nomination process
You will nominate peers to review YOU. Your manager can also nominate peers on your behalf during this window. 
Peers can be nominated up until the cycle end date or until your review has been finalized by your reviewer- whichever comes first.
After you nominate a peer(s), your manager will see the peers you nominated and will either approve or deny the nominations. 
Once your manager approves or denies your nominations, the peer you nominated will be asked to accept or decline the nomination. 
Before the peer nomination deadline approaches, you should visit your 'Peer nominations' tab to check the status of the nominations you sent. 
To nominate peers
1. Click on your 'Reviews' tab.

2. Click on the name of the cycle you need to work on. It will be under the 'Active review cycles' section.

3. Click on the 'Peer nominations' tab at the top of your page. 

4. And then click on 'My nominations'.

You can also get to your peer nominations from the 'Overview' page, by clicking the button labeled 'Manage peers' under your to-dos.

5. Using the 'Peers for your review' dropdown menu, select at least 1 peer to nominate. You cannot nominate your direct report(s) or your immediate manager as a peer. Other than that, as long as the person you are trying to nominate is not excluded from the cycle, you can nominate them.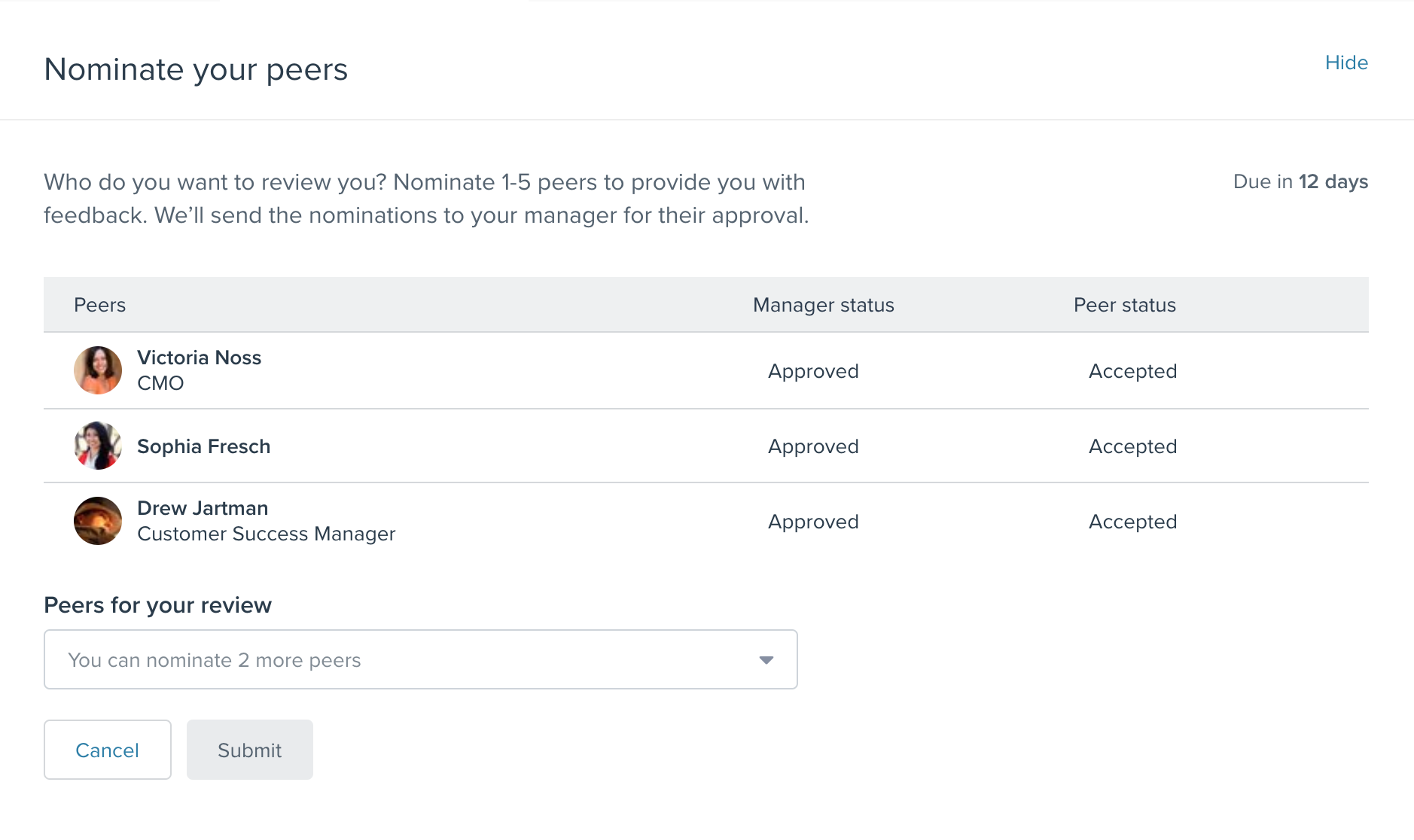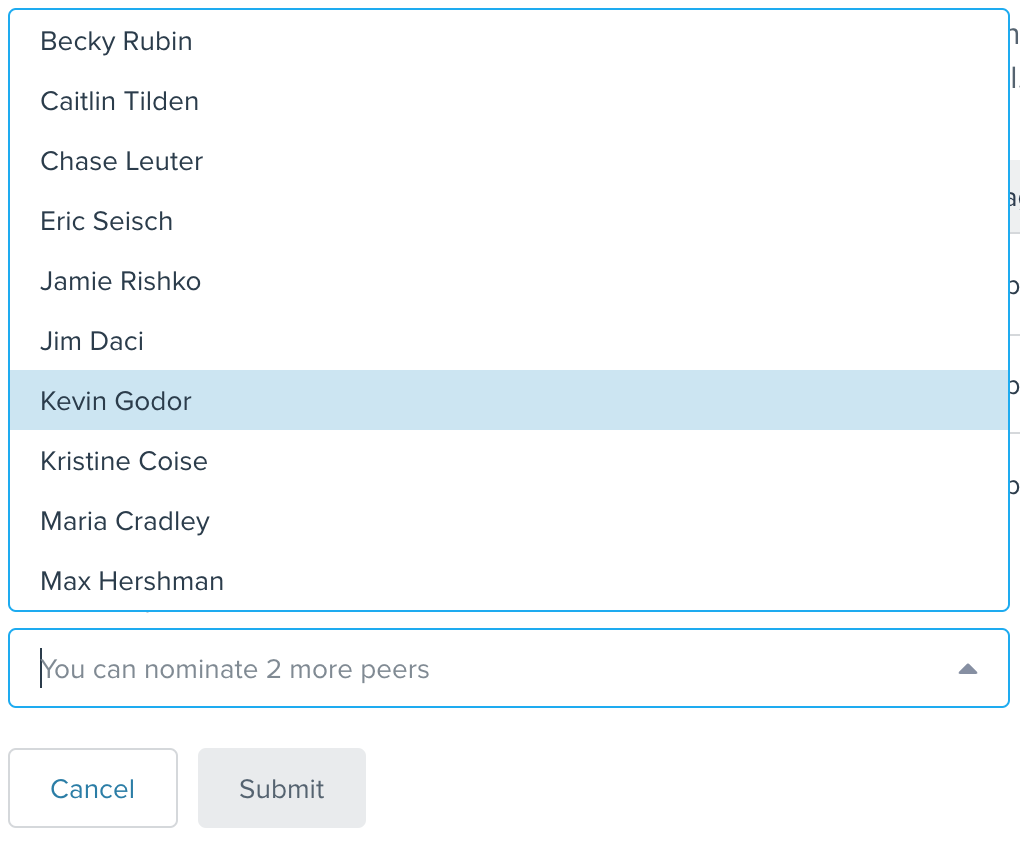 6. Select your peer(s).

7. Click 'Submit' to send the nomination to your manager for approval.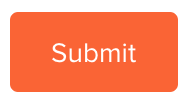 8. Now, you wait for your manager to approve/deny the nomination(s). And then wait a little longer for your peer(s) to accept/decline the nomination(s).
9. If you need to revisit the peer nomination screen anytime during the cycle, click on the 'Peer nominations' tab. 

10. This tab will help you track where your peer nominations are at in the approval and acceptance process, as well as allow you to accept/decline nominations from other people.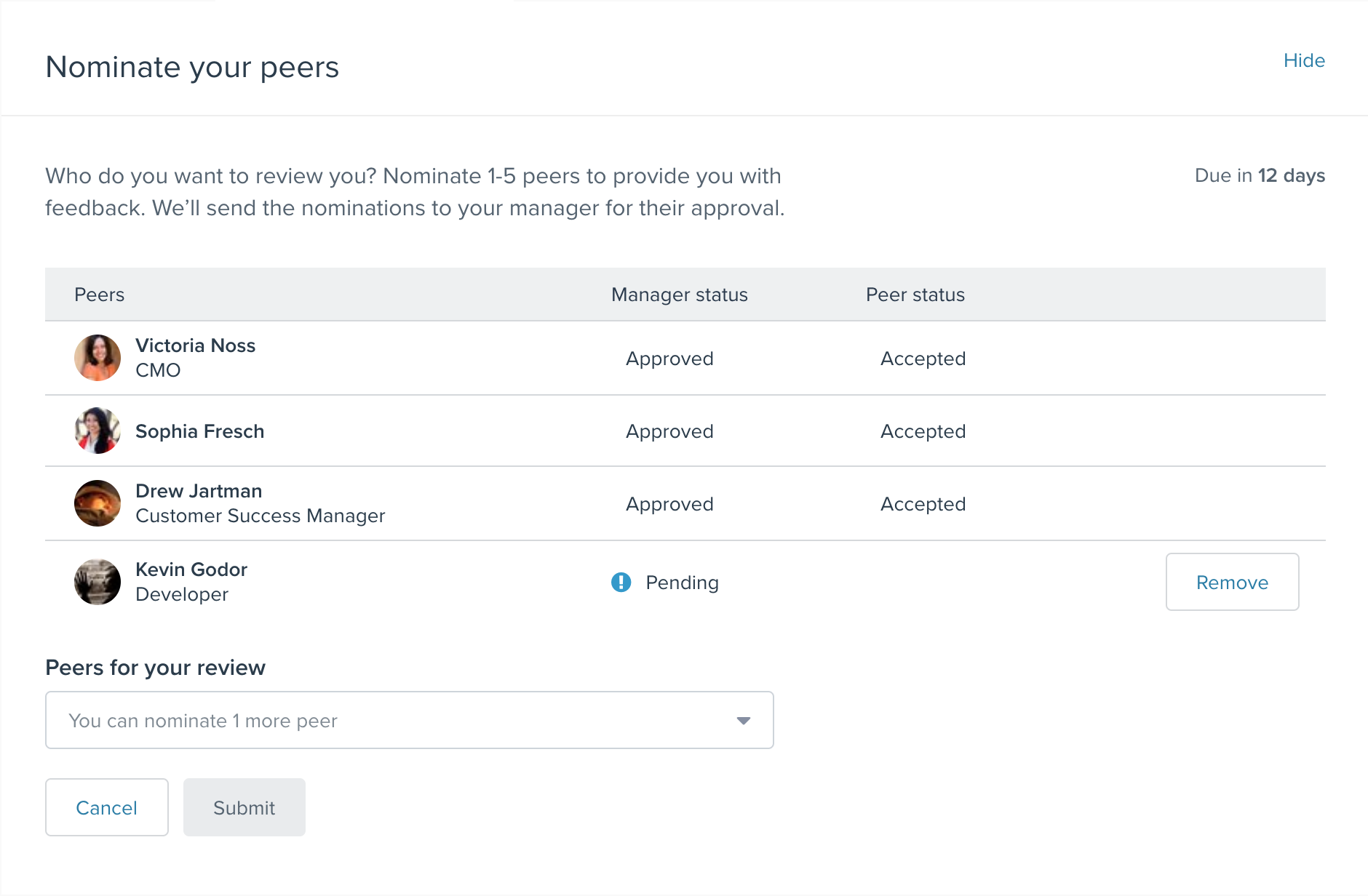 NOTE ✏️ : Peers who have been approved by your manager, but not accepted by the peer will have a yellow ! icon next to their name. Peers who have been approved by your manager, and have accepted the nomination themselves will have have a green check mark icon next to their name.