As your organization embarks on its journey with 15Five, it's important to identify which of 15Five's three HR outcomes you want to initially focus on driving using the platform: maximize employee performance, increase employee engagement, or decrease regrettable turnover. In this article, we will walk through the basics of employee retention and how to use 15Five to reduce regrettable turnover within your organization.
This article contains...
---
What is regrettable turnover?
Regrettable turnover occurs when somebody's departure from the company has a negative impact on the organization, or when a high-performing employee that the company would have liked to keep decides to leave of their own accord. These are usually high-performing or high-potential individuals whose loss can have a significant impact on team dynamics, productivity, and business outcomes.
For more information about regrettable turnover, check out the sections below:
Define criteria for what constitutes regrettable turnover
Regrettable turnover data can include: 1) A high-performing employee whose compensation level is not aligned with their role and impact, who decides to leave because the company decides the company cannot/will not increase their compensation, and 2) Employees who leave unexpectedly whose departure is seen as a significant loss to the organization.
Some criteria to consider when determining if an employee's departure is a significant loss to the company include:
Current performance level (above level, at level, below level)
Cost to replace
Culture and values fit
Ramp time for replacement
Hard-to-replace skills
Irreplaceable knowledge
Single point of failure
To operationalize the designation of regrettable vs. non-regrettable departures, managers should document their own opinion on the designation, but the final decision should be made by the people operations/HR team. This data can be captured whenever an employee departs and reported on regularly.
Symptoms of high regrettable turnover
If regrettable turnover is an issue within your organization, you may notice the following things happening:
Quiet Quitting/Morale Issues: Employees mentally disengage, showing reduced enthusiasm or proactive contributions due to feelings like being undervalued or burnt out.

Surprise 2-week Notices: Unexpected resignations from seemingly satisfied or key employees, indicating potential underlying issues or discomfort in discussing grievances.

Repeated Low Engagement Scores: Consistently low or declining scores in employee engagement surveys hint at systemic organizational problems.

Anonymous Feedback to HR: Feedback given anonymously suggests fear of retaliation or a lack of trust in open communication channels.

Confusion around Expectations/Lack of Role Clarity: Regular confusion about roles and responsibilities, leading to frustration and reduced efficiency.

Complaints about Leadership or Direction: Frequent concerns expressed about the leadership team, strategic decisions, or the company's overall direction.
If you find your organization is struggling with these things, you may want to focus on decreasing regrettable turnover as your main outcome with 15Five.
---
Why decreasing regrettable turnover is important
For organizations that are striving to be a high-performing environment where employees thrive, focusing on the problem of regrettable turnover is key. Paying attention to regrettable turnover means paying attention to why the high performers in your organization are unsatisfied. If you take steps to solve those problems, all employees will benefit, and the organization as a whole will realize the positive impacts.
High turnover can have a huge impact on teams by:
Requiring HR teams and managers to devote more time and resources to onboarding new employees;
Placing added responsibilities on the teammates of departed employees, potentially elevating their workload and risk of burnout; and
Overwhelming the talent acquisition function, which can increase the likelihood of hiring employees who aren't a good fit for the role/organization— only contributing to the vicious cycle of turnover.
Replacing employees is also expensive, especially when they're high-performing employees. According to SHRM, the cost of replacing an employee can range from 50% to 200% of their annual salary. And, the Employers Council estimates that number can increase to 400% of a high-level or highly specialized employee's annual salary.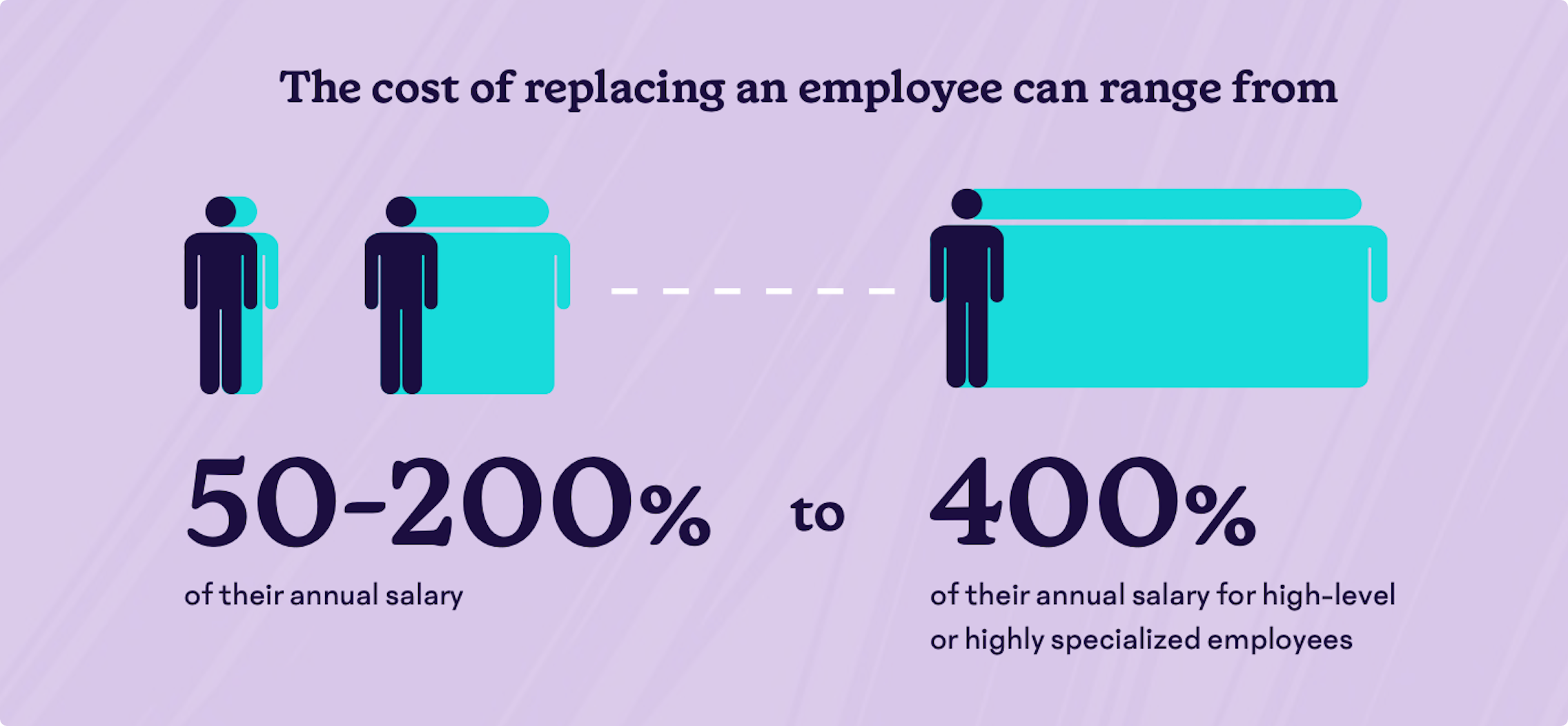 Beyond cost savings, reducing regrettable turnover also leads to greatly improved succession planning, as key talent is retained within the organization. This ensures that there is a good pool of potential candidates from within the organization when leadership roles become available, and reduces the need to expend additional resources on external recruiting, training, and onboarding.
How regrettable turnover relates to other outcomes
More than three-quarters (75.9%) of employees say they work harder for an employer who shows they care about their growth as a professional.
Employees who are given ample growth and flexibility are 4x less likely to become a retention risk.
In 15Five's 2022 Workplace Report, we found that more than half (53.8%) of Americans say one of the top reasons for leaving a company is unsupportive management, while an even greater number (57.6%) of employees say supportive management and a good boss are two of the most important factors for them to remain at a company.
Only 48% of exiting employees said that when they give leadership feedback, it is well received and followed up on.
---
Decrease regrettable turnover with 15Five
Note
Before we begin, it's important to note that the feature benefits listed below are not guaranteed. The benefits you get out of 15Five are correlated to how successfully a feature is rolled out, as well as the effort and buy-in of your team. With the right plan, your team can leverage the features below to drive change and help you reach your outcome.
To decrease regrettable turnover with 15Five, we recommend utilizing one of the following action recipes. An action recipe is a combination of 15Five features that, when combined, can pave the way for increased retention within your organization.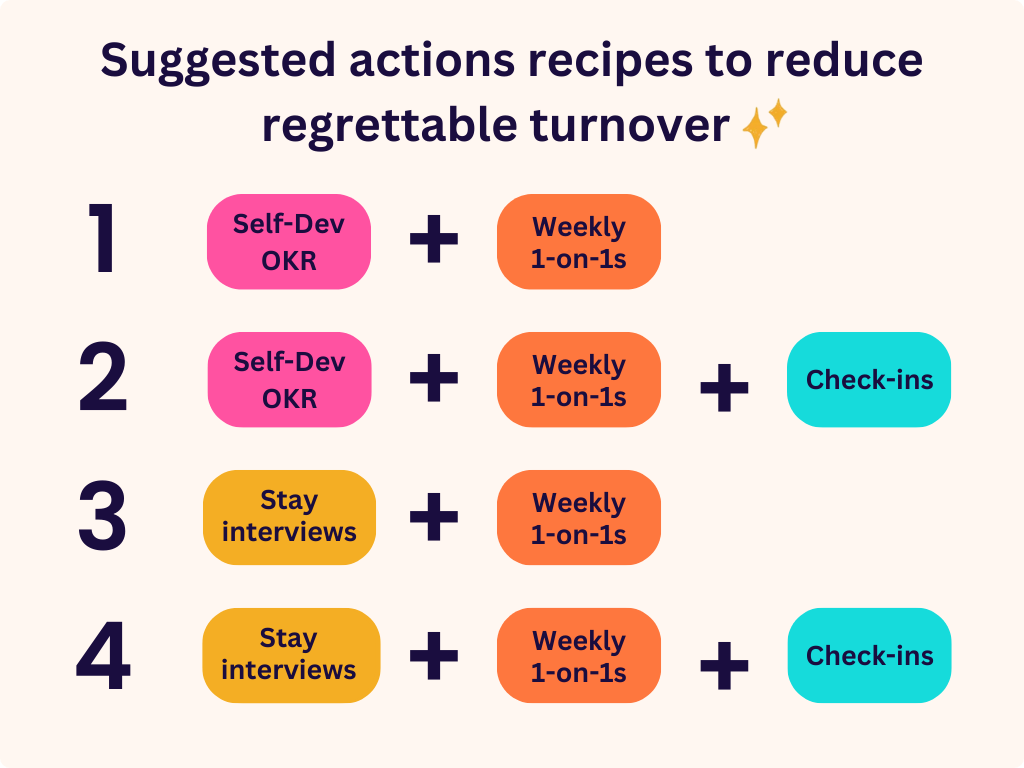 How these features impact retention
Other notable features to decrease regrettable turnover
Measure energizing work and enable career growth with Career Hub
Gather actionable insights on how employees feel at work with Engagement
Celebrate wins and recognize employees with High Fives
Foster strong manager/employee relationships with Best-Self Kickoff
Use 15Five's HR Outcomes Dashboard to track employee performance
The HR Outcomes Dashboard provides a reliable way for HR executives to consistently capture, synthesize, and present the outcomes they are measuring and working to improve: manager effectiveness, employee engagement, employee performance, and regrettable turnover. This allows HR leaders to show clear and concise data that directly links programs like employee learning and development to outcomes like employee retention, which can, in turn, be connected to business outcomes like customer satisfaction and revenue. The HR Outcomes Dashboard is available in 15Five's Total Platform plan.
---
Additional resources for employee retention

---