15Five's Career Hub, a 2022 Fast Company World Changing Ideas honoree, is a simple, powerful way for managers and their team members to co-create a strengths-driven career vision that keeps employees motivated and energized. This article walks through the basics of Career Hub and provides best practices and resources to get started.
In this article, you will learn…
Access and availability
⛔️ Required access to Career Hub.
👥 This article is relevant to all roles.
📦 This feature is available in the Perform and Total Platform pricing packages.
---
What is Career Hub?
Career Hub is an easy-to-use, customizable tool that empowers employees to co-create strengths-based careers with their managers. Career Hub enables managers and employees to have productive career growth conversations through exercises in role clarity, strengths discovery, and career visioning. With Career Hub, employees are equipped to connect the dots between their strengths, competencies, and company roles.
Incorporating Career Hub into your employee growth initiatives not only promotes a culture of ambition and learning but also encourages individual empowerment, drive, and a forward-thinking work environment. It takes just a few easy steps to complete Career Hub, but the long-term impact on individual growth and organizational success is immeasurable.
---
How it works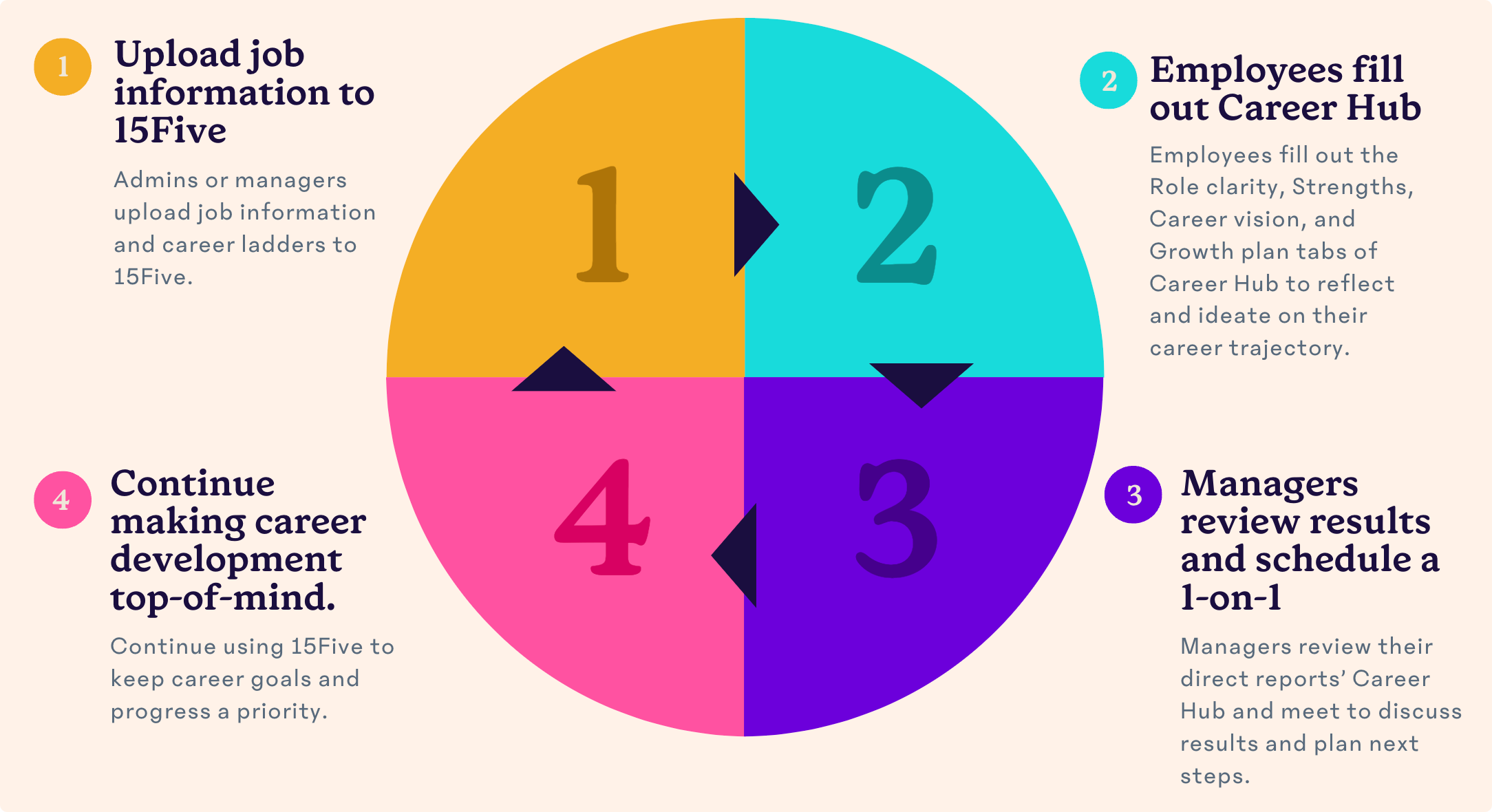 Admins or managers upload job information to 15Five. To begin the career development journey, admins or managers should upload their teams' job information, including job titles, descriptions, and responsibilities. Account admins should also upload competencies and career paths. This information sets the stage for employees to fill out their Career Hub.
Employees fill out their Career Hub. After the foundational data is set, it's time for employees to fill out their Career Hub in 15Five and take ownership of their career trajectory! Career Hub consists of four sections:

Role clarity: Clarify your current role and identify the type of work that's most energizing to you. This will help you find and define what you want in a career.
Strengths: Do more of what you do best by discovering your top strengths, values, interests, and passions so you can leverage them in your role.
Career vision: Ideate your dream career by aligning your top strengths, values, and passions with your role.
Growth plan: Create career goals and break them down into trackable actions to help you work towards your ideal career.

Managers review results and meet 1-on-1 with their direct reports. Once employees have filled out their Career Hub, managers play a pivotal role in the next steps. They review the information provided by their direct reports, gaining insights into their team members' career ambitions and areas of desired growth. With this information in hand, managers then schedule 1-on-1 meetings to discuss these aspirations, provide feedback, and collaboratively chart out potential development plans. These discussions ensure alignment between employee aspirations and organizational goals, fostering a supportive environment for growth.
Continue using 15Five to make career development top-of-mind. Career development isn't just a one-time event! Organizations should strive to make growth and professional development an ongoing process. Using 15Five's features, managers and employees can continually revisit and update their career goals, track progress, and ensure that professional development remains a focal point in day-to-day activities. This creates a culture where employees feel supported and motivated, knowing that their growth is a priority for the organization.
---
How Career Hub impacts HR outcomes
Career Hub gives employees the opportunity to directly impact their own career development by creating a clear vision of where they want to go and the steps they need to take to achieve their goals. Implementing Career Hub in your organization can have a major impact on 15Five's HR Outcomes: maximizing employee performance, increasing employee engagement, and decreasing regrettable turnover.
Other benefits
Show your people that you're putting them first
Help your people find and define what they want in a career
Enhance your career ladders initiative by starting with self-discovery
Provide a strategic onboarding experience
Set the foundation for effective performance management
Equip managers to better leverage their employees' strengths
Allow employees to take ownership of their careers and growth path
Attract, develop, and retain top talent by motivating and empowering employees
---
Key components
Role clarity & Energizing work
The 'Role Clarity' tab of Career Hub gives employees the clarity they need to succeed in their current roles and an opportunity to communicate what drives them. With job descriptions and responsibilities visible alongside individual responsibilities, projects, and tasks, completing this tab ensures that employees are clear on what's expected of them. Employees can also rate their responsibilities based on how energizing they find them: setting the stage so that managers can help them do more of what they find energizing— helping managers and employees have a productive 2-way conversation on how to be successful and get ahead of obstacles.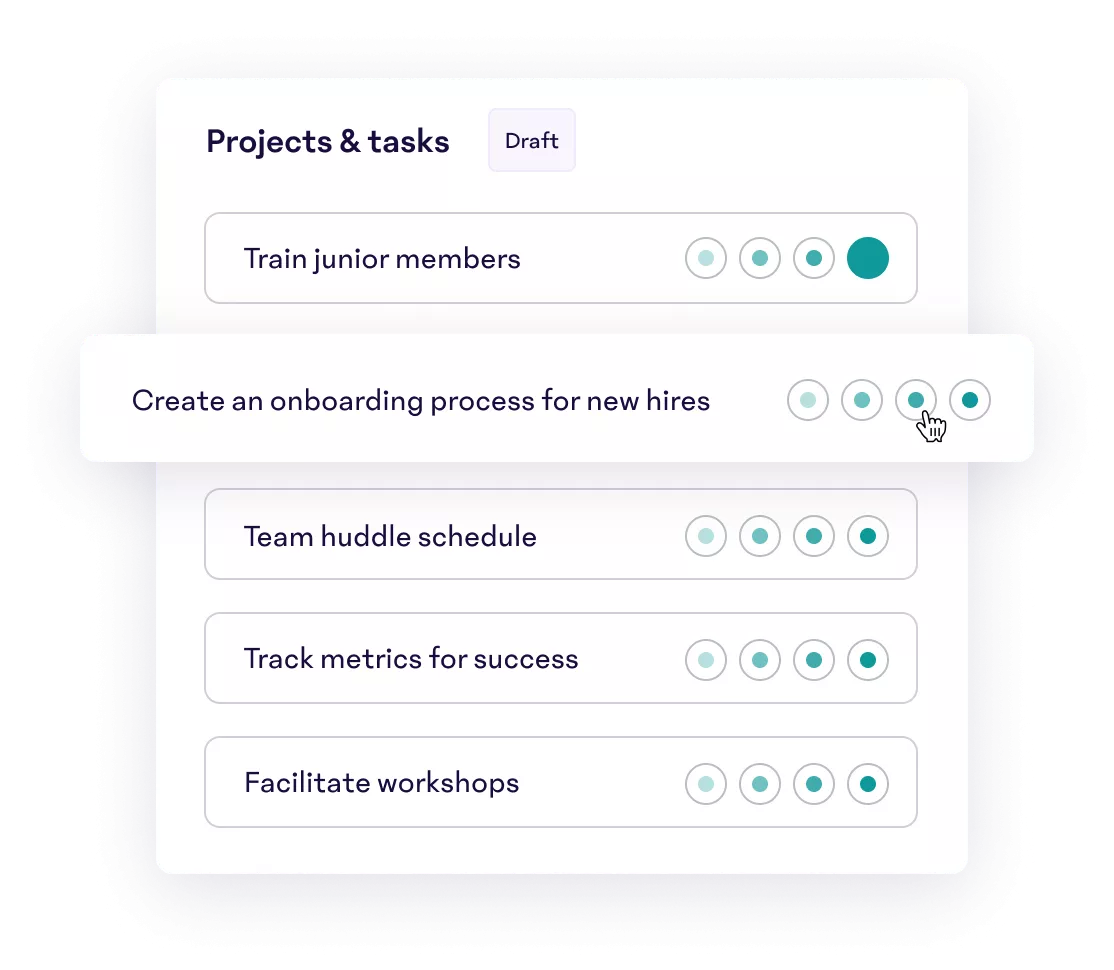 Career paths and competencies
Employees can view career paths and the required competencies, making it easy for them to discover roles that inspire productivity and performance.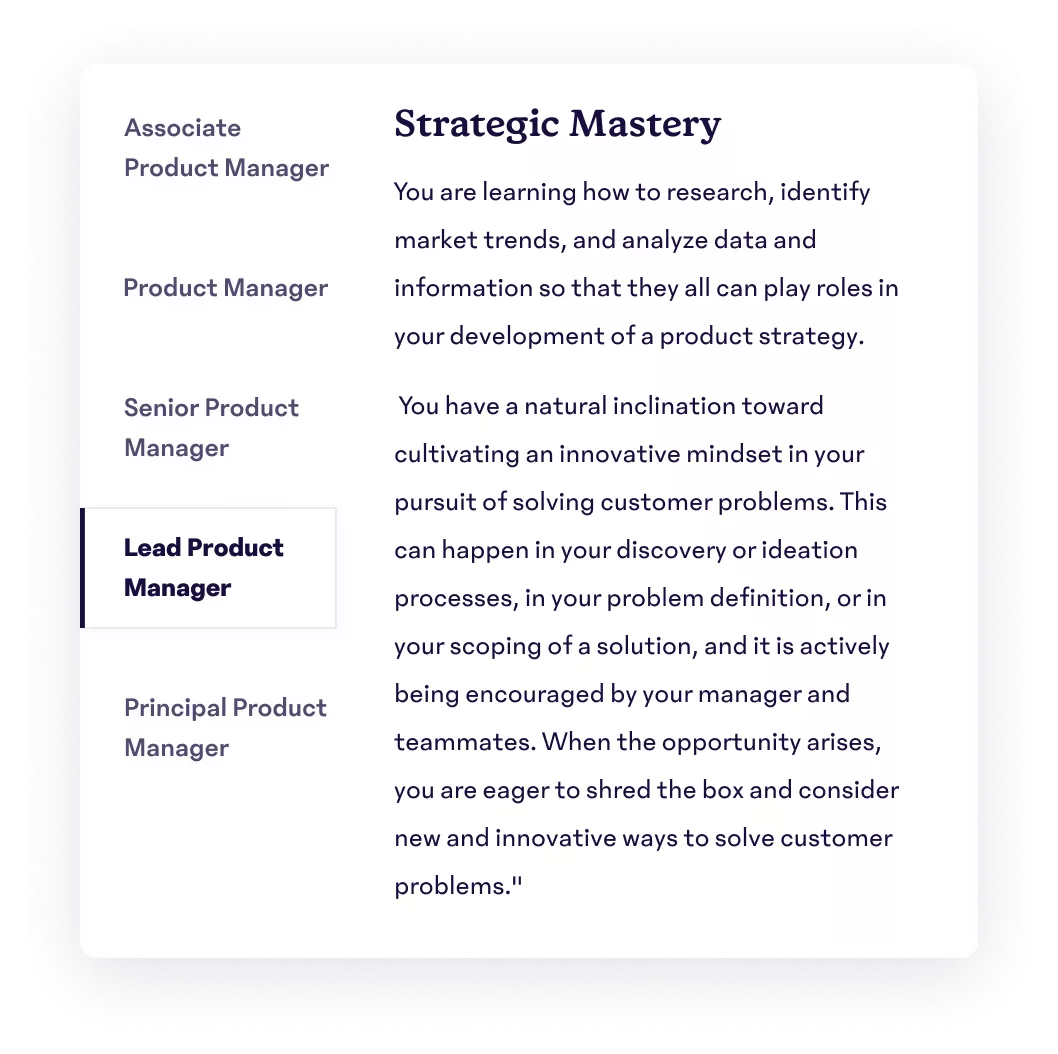 Strengths
The 'Strengths' tab is where employees uncover and reflect on their top strengths, values, and passions. Self-discovery is an important precursor to self-development, but most companies miss this critical first step.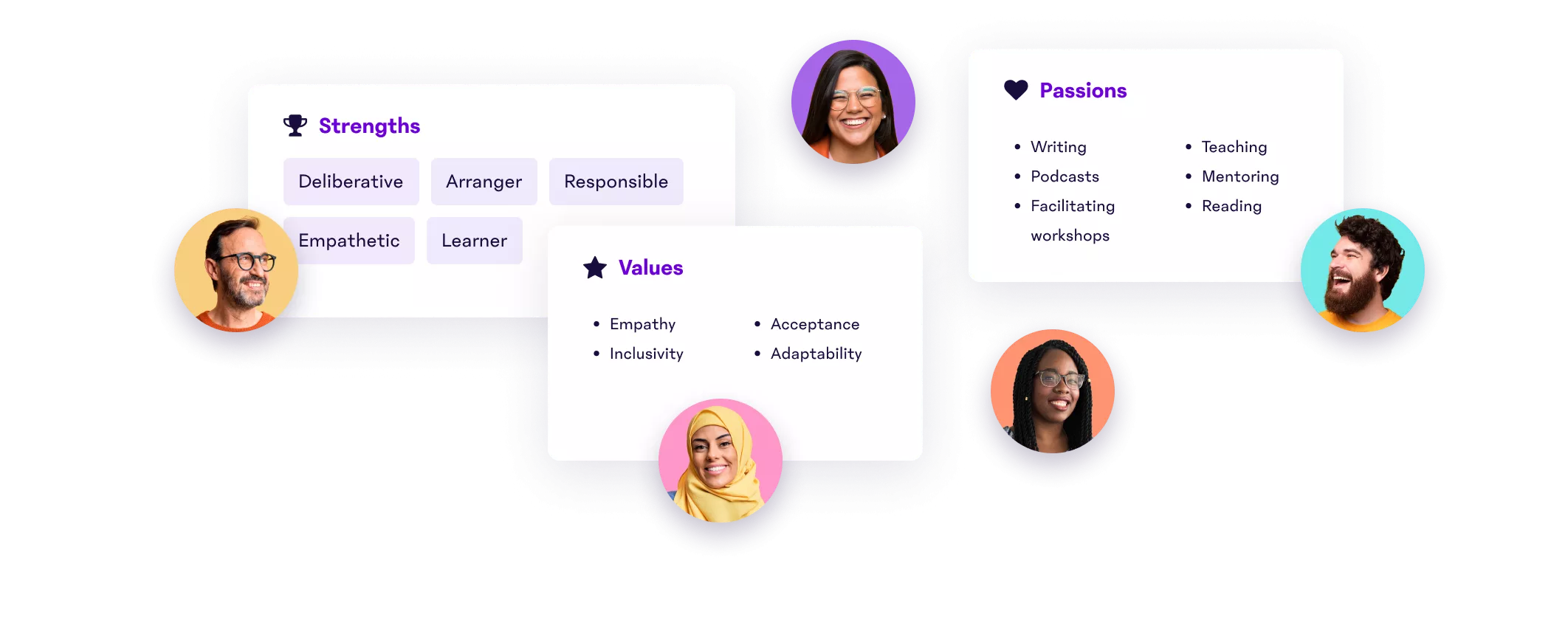 Career vision
The 'Career vision' tab empowers employees to reflect on their top strengths, passions, and energizing work, then create a vision of the career they aspire to. Allow employees to envision their dream careers and work with their managers to make it a reality.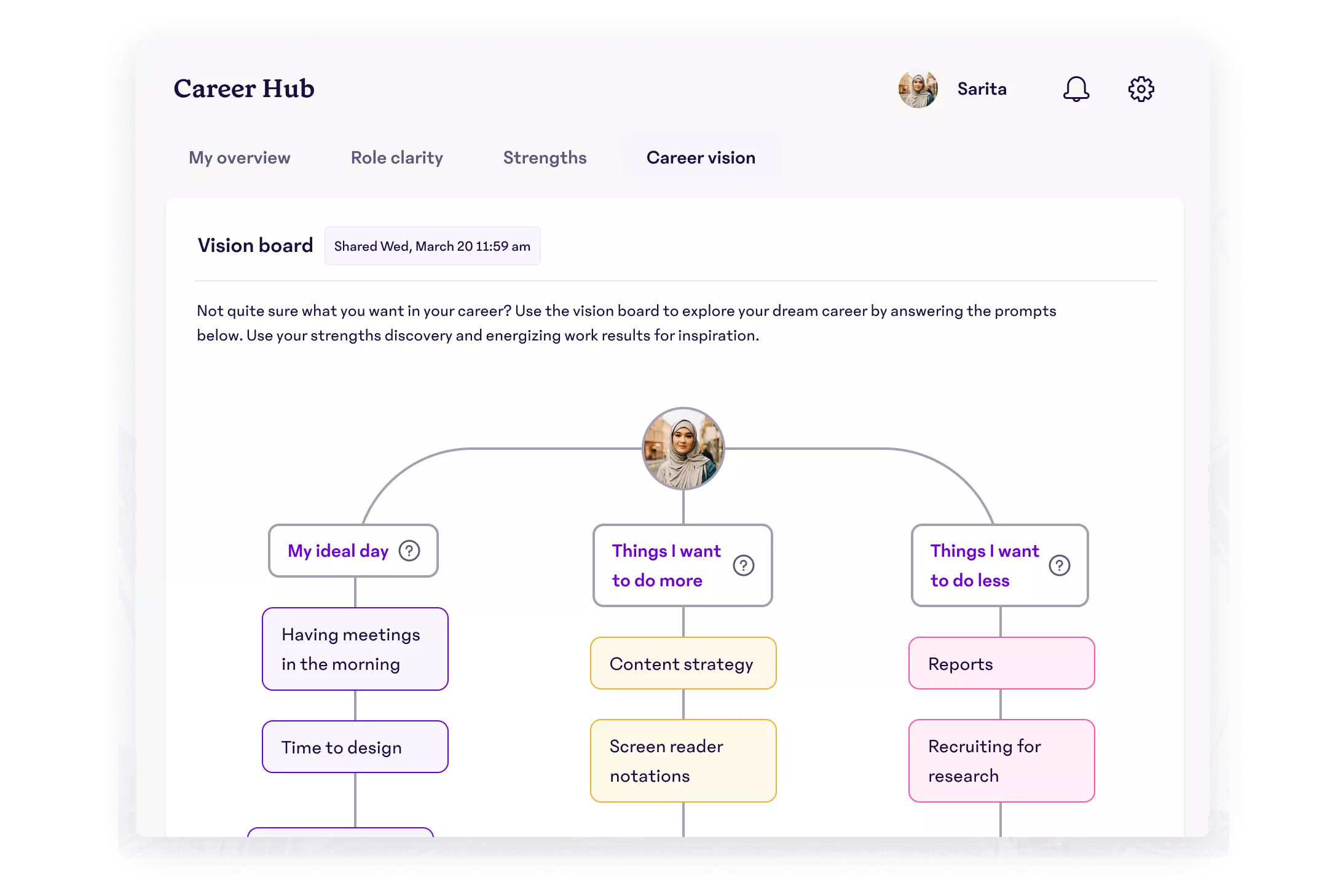 Growth plans
Once employees complete the other sections of Career Hub, they can use the 'Growth plan' tab to create and track targeted career growth goals to help them move closer to their aspirations. Growth plans enable employees to drive their own career growth, increasing meaning and purpose on an individual level and employee retention at an organizational level.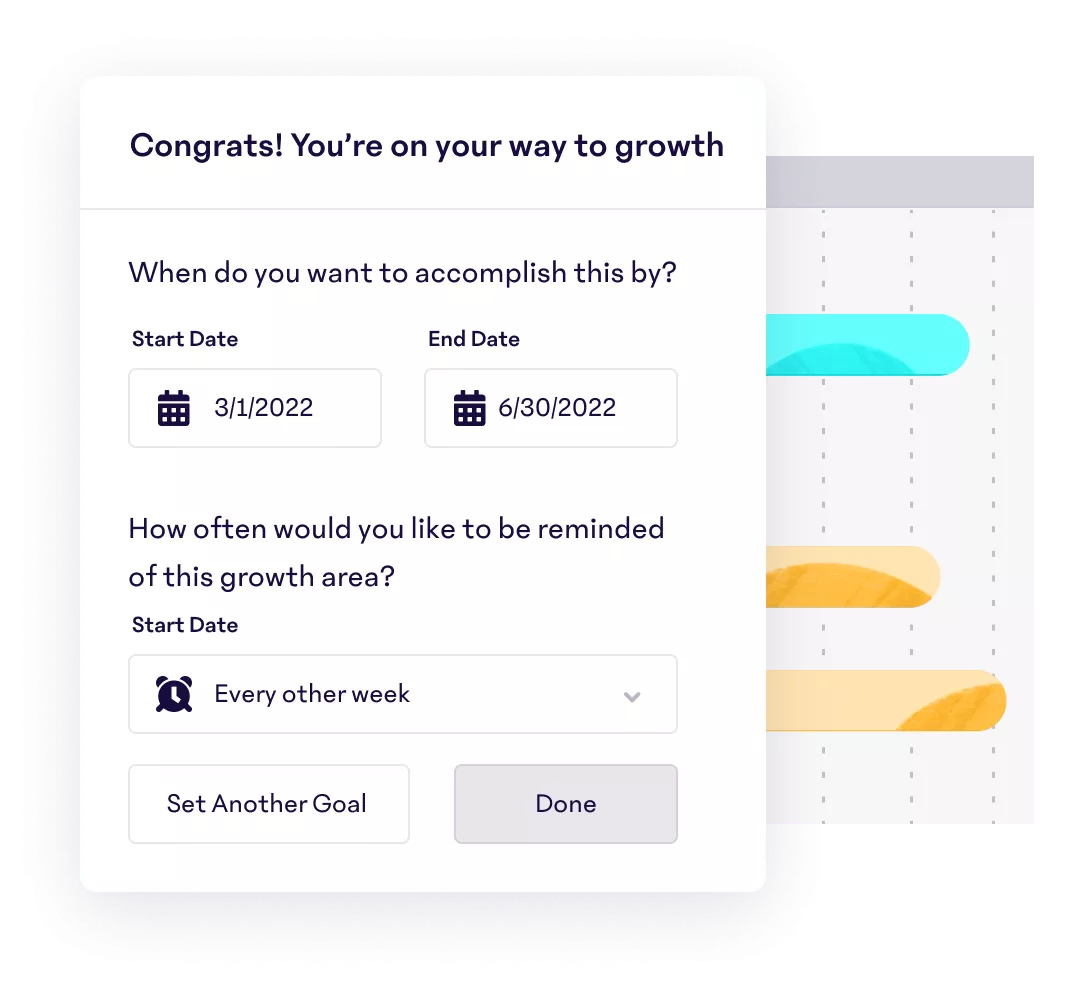 ---
Roles and visibility
Roles
| Role | Permissions |
| --- | --- |
| Employee | Can fill out their own Career Hub. |
| Manager | Can fill out their own Career Hub and review their direct reports' Career Hubs. |
| Account admin | Can manage feature settings for Career Hub. |
Visibility
As employees fill out their Career Hub, they can refer to the "Psych Safety Approved" box in the top, right-hand corner of the page screen to see who has visibility into their answers and when.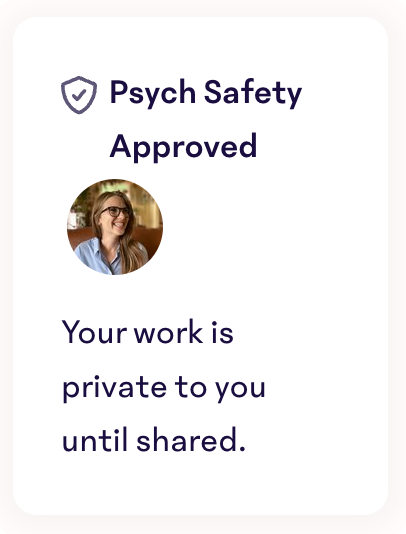 Rules for section-specific visibility are outlined below:
| Section | Visibility |
| --- | --- |
| Role Clarity tab | Until an employee shares their answers with their manager, their energizing levels are only visible to themselves. The other sections— responsibilities, projects, and tasks— are available in real-time for both themselves and their manager to collaborate on. After the employee shares their energizing levels, they will be visible to themselves and their manager. |
| Strengths tab | Any answers typed in the 'Strengths' tab are immediately visible to the employee and their manager. |
| Career Vision tab | All sections of the 'Career Vision' tab remain private to the employee until they share their answers with their manager, at which point the manager can view them. Employees can still edit their responses post-share, and their manager will be informed that there's been an update. |
| Growth Plan tab | The 'Growth Plan' tab of Career Hub is visible to the employee and their manager. While account admins can't view your 'Growth Plan' page, they do have the ability to run a report containing all company goals and progress. |
---
Use cases and best practices
---
Additional resources
---