This article walks through the basics of 15Five's Career Hub feature, including the 'why' behind the feature, a feature overview, and use cases. If you're interested in learning more about Career Paths and/or Growth Plans, please refer to our "Career Paths: 101" and "Growth Plan: 101" Help Center articles.
In this article you will learn…
What Career Hub is, and why we built it
How Career Hub works
Use cases and best practices
How to manage Career Hub settings
Answers to FAQs
---
Why Career Hub?
Less than 4 in 10 employees strongly agree that they have opportunities to learn and grow in their current roles (Gallup). We know people development is crucial to employee satisfaction and business success, but creating an effective employee growth program is complex and time consuming.
Many career growth programs leave managers and employees feeling lost and overwhelmed: employees may not know what they want in their career or where to start, and managers may not be equipped to support and advise them through the process. Without meaningful career conversations and tangible paths, employees can become disengaged, fall into the wrong role, or start looking externally.
---
Our solution
To solve for this, we've introduced a strengths-based approach to employee development called Career Hub. Career Hub enables managers and employees to have productive career growth conversations through exercises in role clarity, strengths discovery, and career visioning.
Employees are empowered to identify work that is energizing and meaningful, which has a huge impact on productivity, revenue growth, and retention.
15Five takes a strengths-driven approach to employee development. With Career Hub, employees are equipped to connect the dots between their strengths, competencies, and company roles.
Science
Check out this blog post from 15Five's Director of People Science about the science behind the creation of Career Hub.
---
Feature overview
15Five's new Career Hub empowers employees to co-create strengths-based careers through a unique approach that includes...
Role Clarity & Energizing Work
Ensure everyone is on the same page. With job description and responsibilities visible alongside individual responsibilities, projects, and tasks, employees will always know what's being asked of them. Employees can also rate their responsibilities based on how energizing they find them- setting the stage so that managers can help them do more of what they find energizing.


Strengths
Uncover an employee's top strengths, values, and passions. Self-discovery is an important precursor to self development, but most companies miss this critical first step.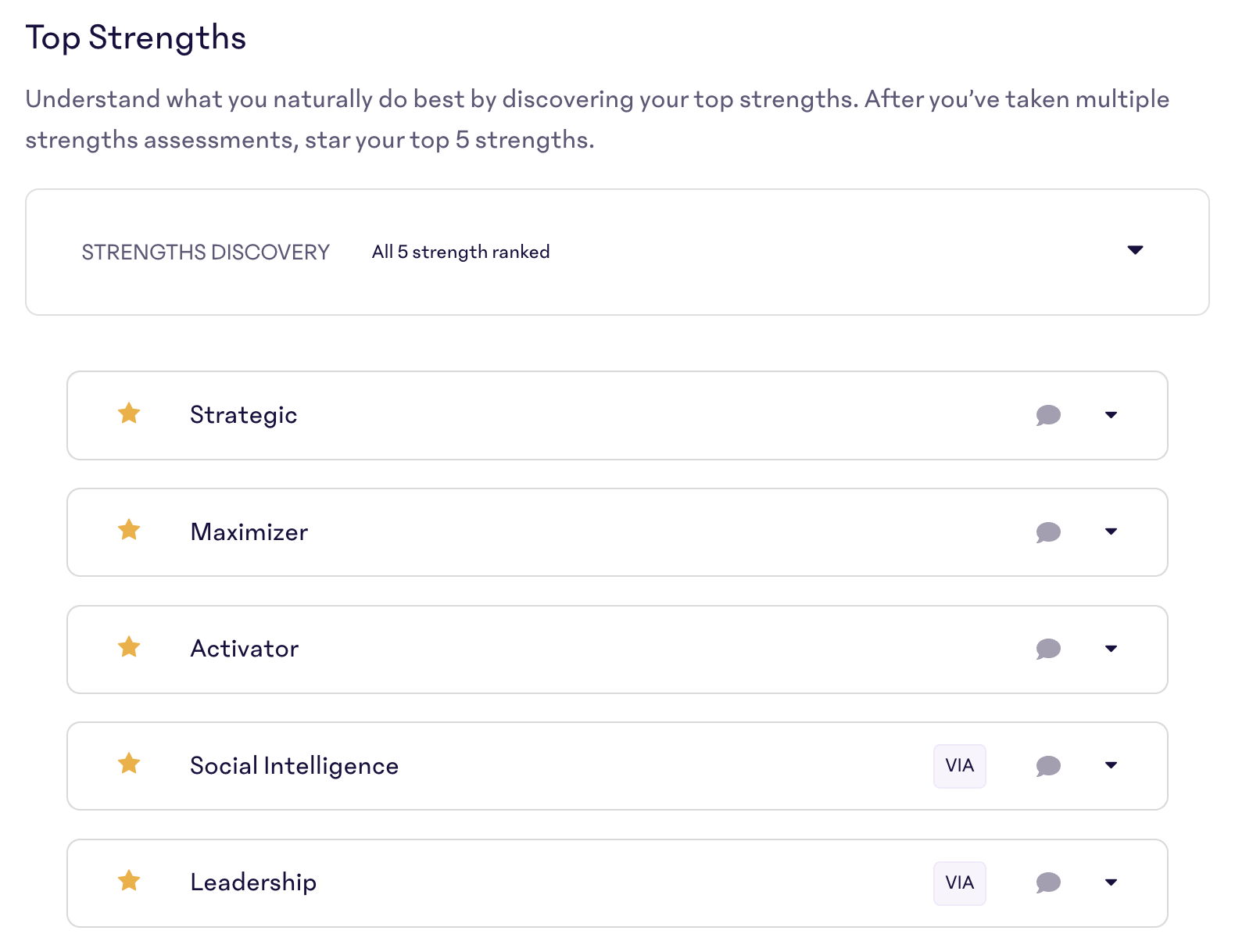 Career Vision
Help employees align their role to top strengths. Allow employees to envision their dream career and work with their managers to make it a reality.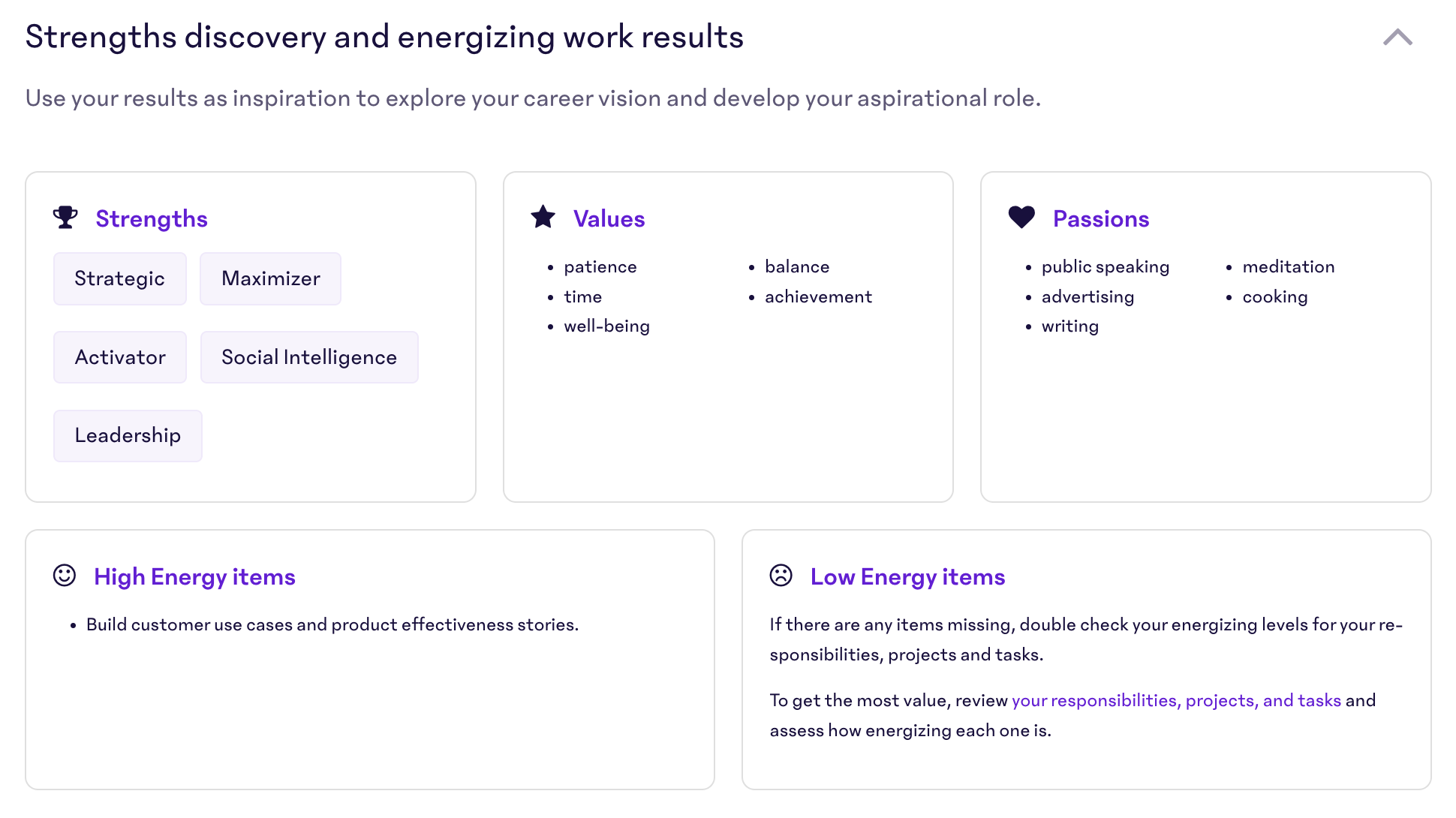 ---
Use cases and best practices
Improve and advance career growth conversations.
When employees fill out the Career Hub, they develop 1) role clarity, 2) an understanding of their strengths, and 3) an understanding of their career vision and what they like and don't like doing. Managers can use the information included in their direct reports' Career Hub section to facilitate conversations about career growth.
Utilize Career Hub during onboarding and role transitions.
Having employees who are new to their role fill out the Career Hub section of 15Five is a powerful addition to their onboarding process. It not only allows employees to get on the same page as their manager regarding role expectations, but also give them the opportunity to vision about where they want to go in the future.
Tip
Use Career Hub alongside our Best-Self Kickoff feature during onboarding for maximum impact.
Increase company engagement.
As role clarity is one of the 17 drivers of employee engagement, our Career Hub feature's focus on role clarity can have a direct impact on how engaged your employees are. Although role clarity is often overlooked or undervalued, when an employee has role clarity, they understand specifically what is expected of them in their job. They know what tasks they're supposed to accomplish, what their specific goals are, how their work impacts the larger goals of the business, and how their work will be evaluated and measured. When this clarity is lacking, it can have a major impact on engagement and productivity.
Enhance and accelerate employee performance.
Laying out performance expectations and measuring employee interest in role responsibilities is to focus on the basic building blocks of employee performance.
Tip
Having employees fill out Career Hub is a great precursor to having them participate in a Best-Self Review® cycle! Use the information gained in your direct reports' Career Hubs to advise your review conversation.
---
Ready to get started with Career Hub? Any account administrator can enable Career Hub by following these steps!
For more information about Career Hub, check out our role-based articles: