Summary- for each of my direct reports
Once the self, peer, manager, and upward reviews have been completed, the Summary form will open up. This Summary be a condensed version of all reviews that were conducted on the subject employee. The Summary is due by the 'Share reviews' deadline. 
15Five suggests meeting with your team before sharing the results of the review cycle. Managers should deliver feedback first in person, to avoid the text being misinterpreted before the final meeting is held. 
Manager will hold a final meeting with each employee. This meeting agenda should address the content of all reviews.
Manager will make notes on the Summary before sharing all results. The private notes in the Private manager assessment portion will not be visible to the employee.
Once the Summary is ready to be released you can 'Share results'.
After results have been shared, editing reviews will no longer be allowed. 
To complete Summaries for your team:
1. Go into your 'Reviews' tab in 15Five.

2. Click on the active cycle that applies.

3. From the 'Overview' tab, you will see 3 buttons labeled 'My reviews', 'My team', and 'Whole company'. If you do not have visibility through drill-down, you will not see 'Whole company'.

4. Click the 'My team' button.

5. Scroll down to 'Review progress' for your team, click the '...' next to the employee whose peer reviews you want to view, and then click 'View'.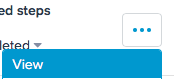 6. The last tab will be titled 'Summary'. Complete this Summary and share the results with your direct report.
The Summary tab will show a lock icon until the self and manager reviews have been completed for the participant. 

NOTE: 'Share results' will release the Summary AND all peer, manager, and upward reviews with the employee.