Reviews have been submitted, and the results may or may not be shared. Regardless of sharing status, if you would like to view and analyze review data for one or all of your direct reports, you have a few options. You can download or print the results from within the participant's specific review page. You can also pull reports on Competencies, Questions & Answers, and Private Manager Assessments for your team.
Success Center article 🗒: Generate a progress report for an active cycle
Download or print a specific employee's reviews
1. Click on 'Features' from the left navigation.
2. Click on 'Best-Self Review'.

3. Click on the appropriate review cycle.

4. From the 'Overview' tab, you will see a menu with options 'Me', 'My team', 'My hierarchy', and 'Whole company'. Depending on your role and the visibility settings for the cycle, you may not see 'My hierarchy' and 'Whole company'.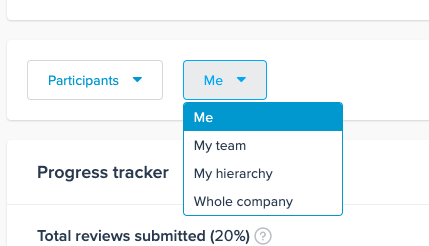 5. Scroll down to the "Employees being reviewed" section and click on the "..." next to the employee whose review results you'd like to download or print. Select "View" from the dropdown menu

6. Once the results have been shared and finalized, a gear icon will appear. Click on the gear icon, located next to the employee's name, and select the desired download/print method from the dropdown menu. You can save the review as a PDF by using the Download as a PDF function from your print menu/

NOTE ✏️: If you would like to hide the private manager assessment when printing, scroll down to the private manager assessment section and click 'Hide assessment' before downloading or printing.

Are you looking to report on Private Manager Assessment answers? Check out this article.