Download or print review details (for my employee)
If you would like to view and analyze review data for specific employees, you can download or print the results from within their specific review page.
Success Center article 🗒: Generate a progress report for an active cycle
To download or print an employee's final data:
1. Go into your 'Reviews' tab in 15Five.

2. Click on the cycle that applies.

3. From the 'Overview' tab, you will see 3 buttons labeled 'My reviews', 'My team', and 'Whole company'. If you do not have visibility through drill-down, you will not see 'Whole company'.

4. Click the 'My team' button.

5. Scroll down to 'Review progress' for your team, click the '...' next to the employee whose peer reviews you want to view, and then click 'View'.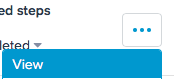 6. There will be a gear icon toward the top right of the page, across from their name. Click the gear icon and either 'Download summary as CSV' or 'Print'. You can save the review as a PDF by using the Download as a PDF function from your print menu. 
If you would like to hide the Private manager assessment when printing, scroll down to the private assessment and click "Hide assessment" before selecting print: