A Smart Group is a group that places all reporters for a specific reviewer into one, automatically updating group. The benefits of using Smart Groups is that the admins and reviewers don't have to worry about assigning someone to a group or unassigning them from a group, if the reporter changes teams. As teams change, we'll automatically update the groups.
Smart Groups are also helpful if you want to give your reviewers the option to pull custom reports and stats in 15Five without creating a manual group.
The naming convention for Smart Groups is 'First and Last Name's Team'.
For more information on Smart Groups from a reviewer perspective, see this article.
Turn on/off and configure Smart Groups
1. Click on 'Settings' from the left navigation.
2. Click on 'Features' to expand the feature settings.

3. Last, click on 'Manage features'.

4. Toggle on/off Smart Groups and configure your settings.

5. Expand each section of the Configure Smart Groups page to see and edit each configuration option.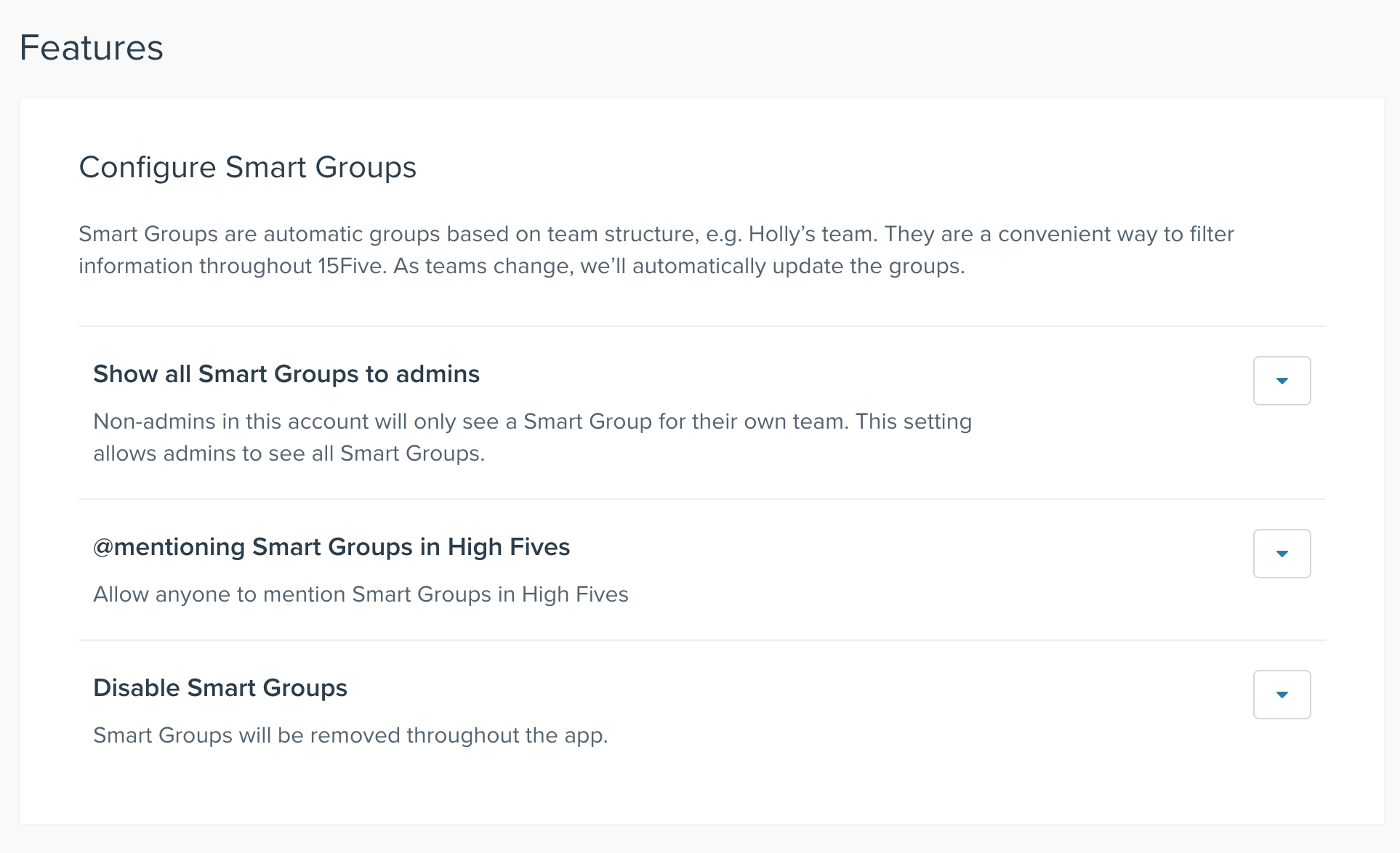 6. 'Show all Smart Groups to admins' allows any 15Five admin to see and manage Smart Groups, even if the admin is not the reviewer of the group. We suggest that this is toggled on if the Smart Groups feature is on. If this setting is on, admins can see and manage all Smart Groups from their 'Manage groups' page, just like any other group.

Remember to click 'Save' after changing the settings.
7. '@mentioning Smart Groups in High Fives' allows anyone in the company to mention a Smart Group in their High Fives. This @mention feature works the same as mentioning a manual group does.

Remember to click 'Save' after changing the settings.
8. The 'Disable Smart Groups' option has the same effect as toggling the 'Smart Group' feature completely off does. This essentially removes Smart Groups from appearing.

Remember to click 'Save' after changing the settings.
NOTE ✏️ : If Smart Groups were previously on, we suggest notifying all admins and reviewers prior to turning off Smart Groups.
To avoid ghost questions appearing, Smart Group specific questions should be removed before turning the feature off. These questions can be accessed through 'Manage questions'.
Additionally, any groups that need to be manually created should be created before turning off Smart Groups. Forewarning other admins and reviewers gives them time to create questions and groups that need to continue to exist.