You've been invited to 15Five, logged in, and looked around. You might be asking yourself, "How can I use 15Five to communicate with my manager?" If so, you've come to the right article! The features within 15Five support continuous communication between direct reports and managers. Let's explore how each feature can improve communication and lead to effective feedback loops.
Science 🔬: The WHY behind 15Five's features
---
Check-in
The Check-in allows you to prioritize your focus for the work week, stay on top of your goals, and is the cornerstone of the feedback loop in 15Five. Use your Check-in as a weekly work journal, and keep up with it throughout the week. Updating as you go will help combat recency bias, make your Check-ins more thorough, and save you time come due day. Let's break down the Check-in to understand how each piece is designed to make communication and feedback easy, meaningful, and streamlined between you and your manager.
Pulse
Answering the Pulse question, "How are you feeling?" gives you the opportunity to reflect on how you feel at work and share your feelings with your manager. It's important to acknowledge and communicate positive and negative feelings. Let your manager know when you're feeling excited, inspired, and engaged, but also share when you're feeling stressed, frustrated, or disappointed. We suggest writing an additional comment to give your manager some insight and context behind your answer. You can always make this comment private to your manager by clicking on the lock icon.

Priorities and objectives
Writing priorities and managing objectives within your Check-in allows you to identify and track progress on your work goals, as well as share your progress with your manager on a regular basis. At the beginning of each Check-in period, you're encouraged to set approximately three priorities. When your manager reviews your Check-in, they'll be able to see which tasks you prioritized that week and whether or not you completed them. When updating your objective statuses throughout the week, we recommend leaving comments for your manager about the evolution of your goals. Give them some insight into what's working and what's not.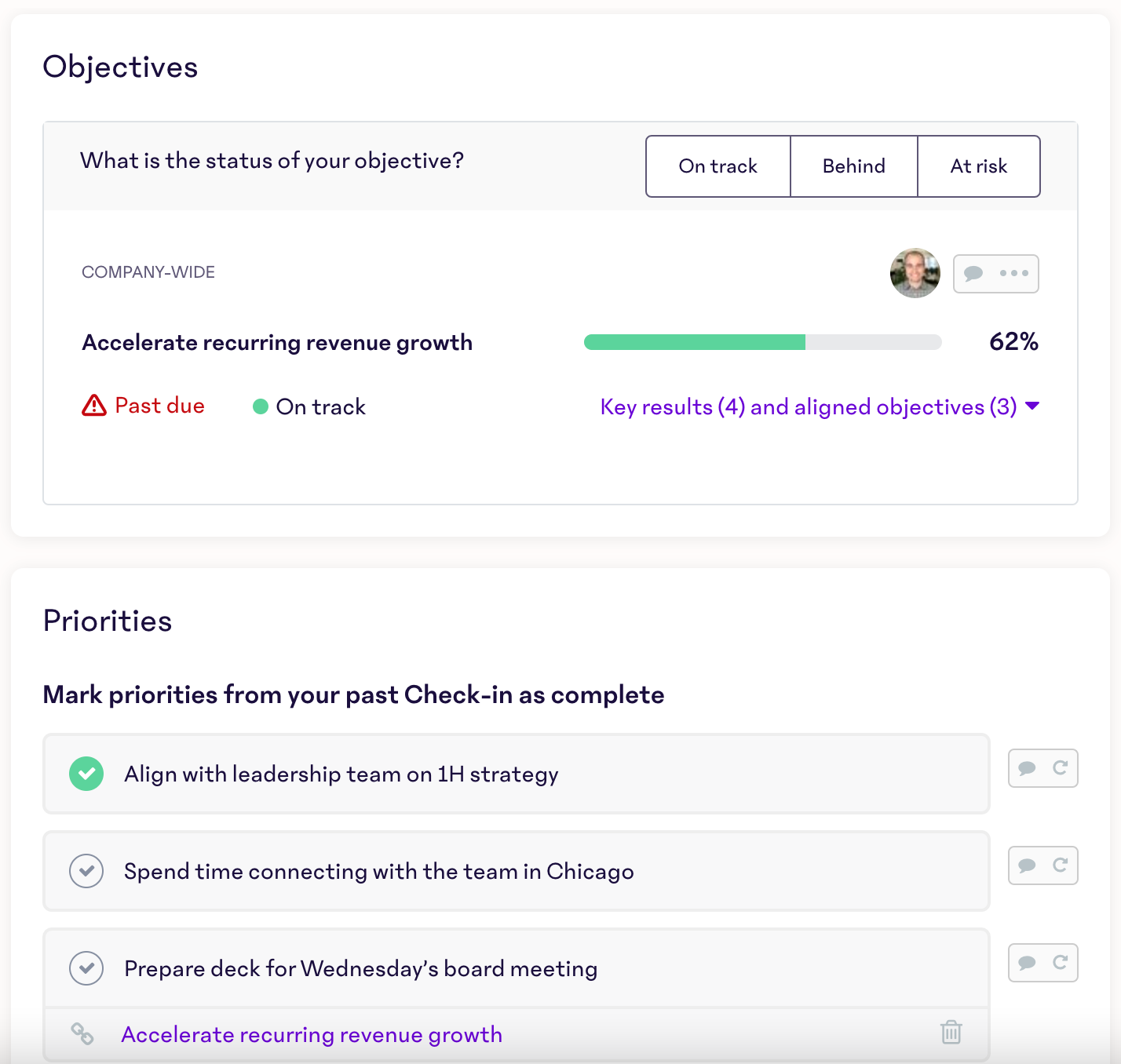 Questions
You'll be asked to answer questions on your Check-in. These questions can be company-wide questions that your account administrators create, questions that your manager asks to only you, or questions that are asked to a group you are a member of. Your manager will read and respond to your answers. The answers will also be available to anyone who can view your Check-in, unless you make them private.

The question section of your Check-in is where you have the chance to really open up to and share with your manager: What's going well? What challenges are you facing? It's important to celebrate and acknowledge positive progress toward your work goals. And it's equally as important to seek help when you're experiencing challenges or roadblocks because seeking help leads to both stronger work performance and better work experience. Since most of the communication between you and your manager will revolve around these questions, it helps if you work on answering them throughout your Check-in period—make sure nothing from Monday is forgotten by Friday.
Guide 📖: 15 Tips for Writing Check-ins
---
1-on-1 agenda
Once you've submitted your Check-in and your manager has reviewed it, both of you can push the most important topics into your 1-on-1 agenda, pre-populating and organizing the most pressing talking points to review when you sit down and chat. Adding answers to your 1-on-1 agenda will ensure highly effective conversations with your manager.

Since you've already checked in, you can have meaningful 1-on-1 time with your manager to focus on priorities. Concentrate on what matters most like prioritizing specific roadblocks and challenges without wasting valuable face time on status updates. If actions need to be taken around your talking points, go ahead and add an action item to your 1-on-1 agenda. You're able to assign action items to either yourself or your manager—assign action items based on who is responsible for completion.
---
Best-Self Review®
Having regular check-ins with your manager makes review time a whole lot easier. During a Best-Self Review cycle, you will fill out a self-review, and your manager will fill out a review of you. In some cases, you will also be asked to fill out a review of your manager. As you're filling out your self-review, data collected from Check-ins is conveniently available as a reminder of your progress and growth. Use these resources (Wins & challenges, Objectives, past Check-ins, High Fives, and past reviews) at the bottom of your review to help you complete your self-review.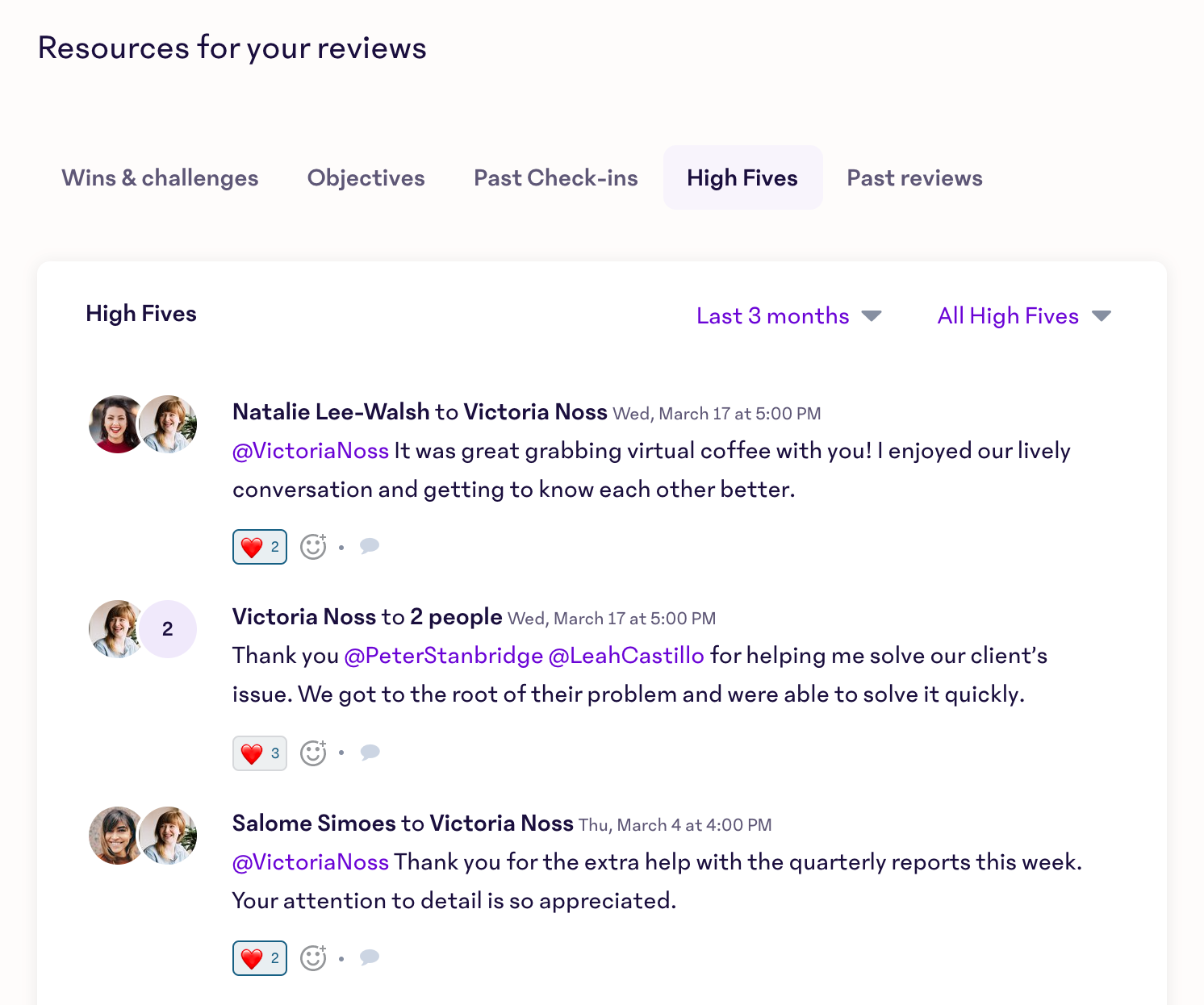 Think of it like this... If Check-ins are where feedback starts, Best-Self Review® is where you and your manager can engage in deeper reflection. Since communicating with your manager and sharing feedback is a continuous process, you'll meet with your manager to discuss your reviews, and then continue to fill out your Check-ins until your next review. Keep the feedback coming!