If you've wanted to get ahead of the game by inviting people to 15Five before they actually start with your company or if you want to invite a bunch of people to 15Five but aren't ready for them to log in yet, this article is for you. The 'Start date' field in 15Five allows for account administrators and managers to add people at anytime, but delay the invitation to join 15Five.
If the start date field is left empty and the send email invitation setting is enabled, the invite(s) will be sent immediately and those people can sign into 15Five right away.
Start dates are also helpful to eliminate missed or late Check-ins due to the person not being ready to jump into 15Five.
Lastly, start dates are helpful for companies who want to configure their account, including Objectives, Best-Self Review®, and Engagement+, before their people are invited.
Tip
If you would like the invite to be sent out the same day the person is invited, leave the 'start date' field blank and ensure the email invitation is set to be sent. Leaving the start date field empty tells 15Five that the person can log in as soon as they receive an invite.
---
How do I add people today, but send the invites later?
1. Add the person(s) to 15Five using one of the two methods: Add a person from 'Manage people' or invite them through 'Bulk import'.
2. While adding the person(s), be sure to include their start date(s). Start date= the day you want the person to be able to log into 15Five (and if email invite is enabled, the day you want them to receive the invitation). This date does not have to be their start date with the company. The start date is solely used by 15Five to set the person's status as Pending.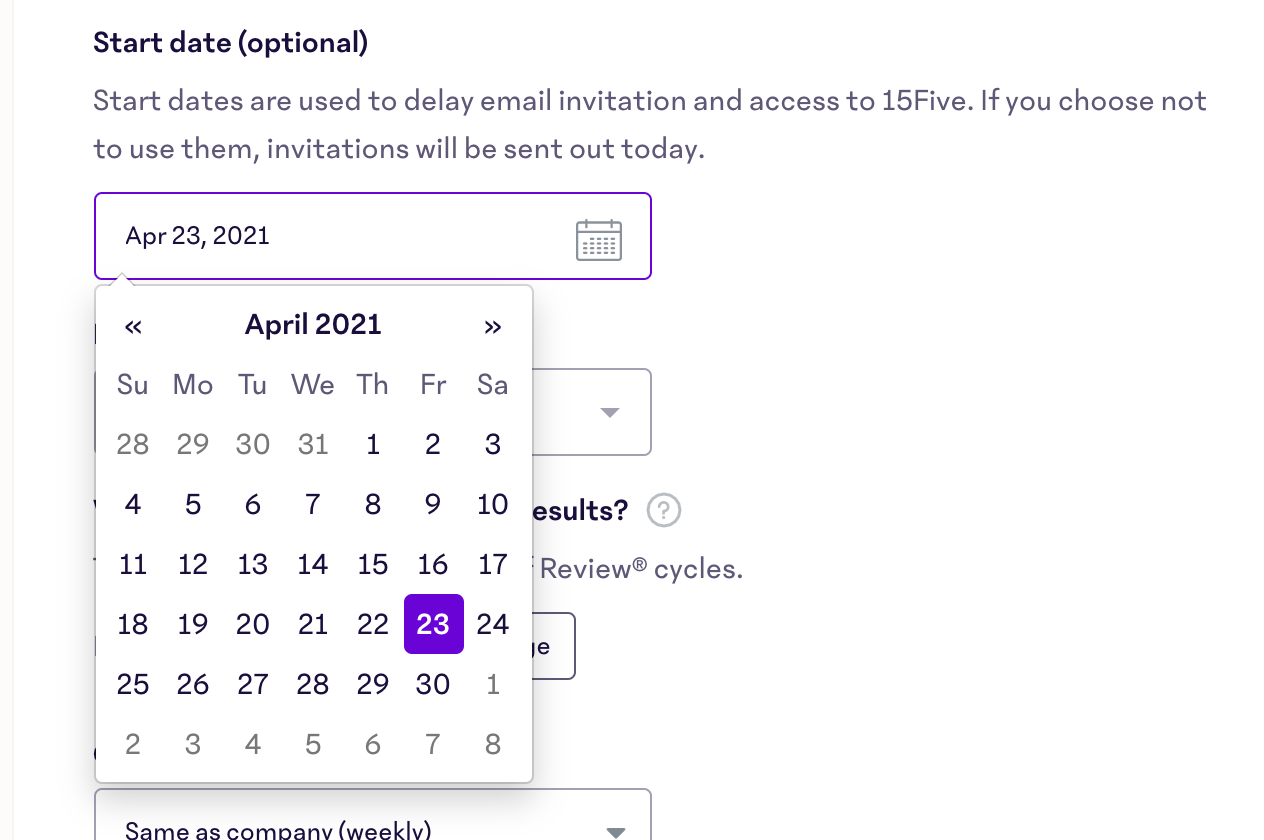 Note
If using the start date feature to delay an invitation to a particular user, be sure to check the box for 'send invite email' prior to clicking save. If you do not check this box, an invite will not be sent on the desired start date, and an invitation will need to be manually sent.

3. After saving the details, importing the bulk CSV, or completing the new person's profile, the person(s) will appear in Pending invitations.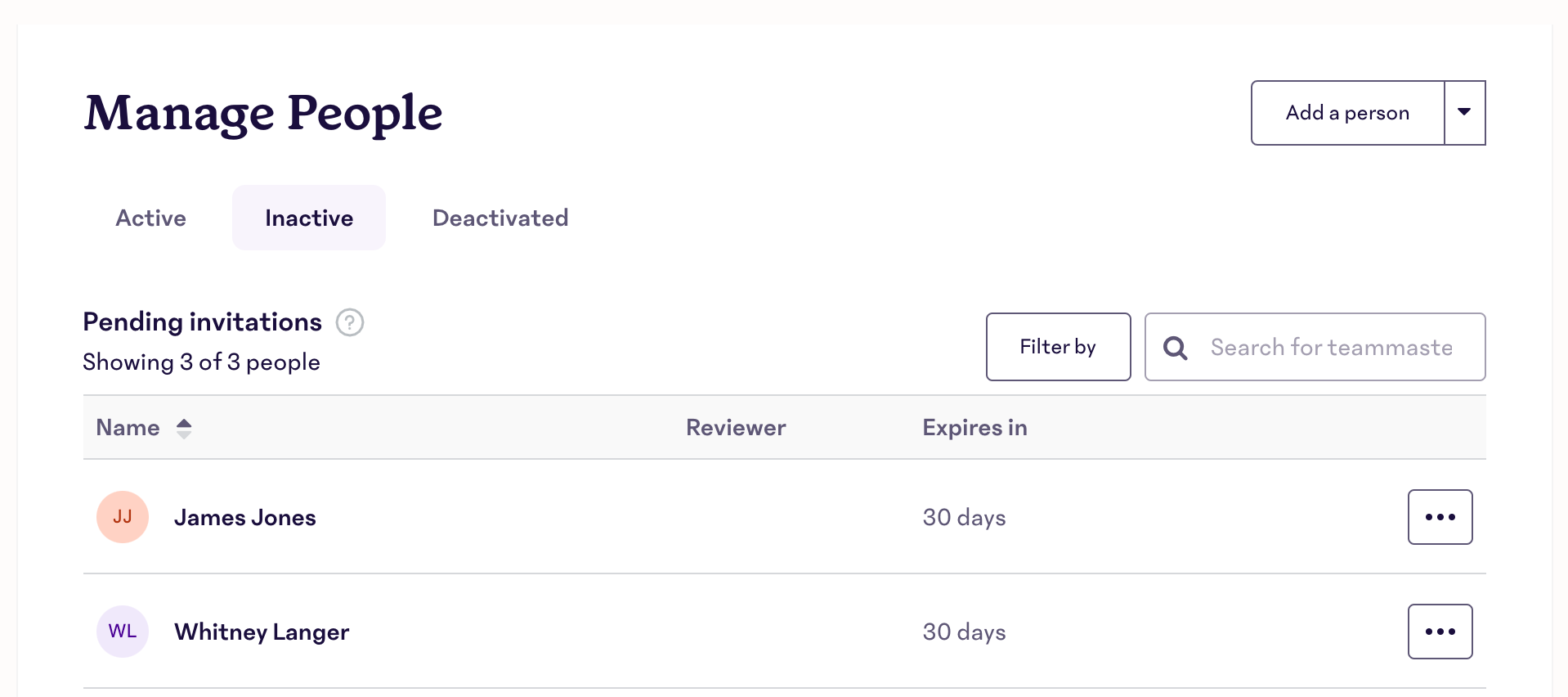 4. The invitation to join 15Five will be sent out at 8:00am on the start date in the invited person's time zone.
Help Center article 🧠: Bulk import or update people
Help Center article 🧠: Add new people
---
Troubleshooting, Support, and FAQs
Q: Can I update a person's start date?
A: You can update the start date until the start date; afterwards, the person will already be sent the invitation and will be able to sign into 15Five.
Once you add a start date you cannot remove it. You can update it, but it still must be a date in the future.
Q: What if I already added someone into 15Five but they haven't signed in yet? Can I add in a 15Five start date?
A: At this time, no; start dates can only be added for new people who have not already been added to 15Five and regardless of whether they have signed in or not.
Q: Once I input a 15Five start date and add someone, where can I find that date in 15Five?
A: The start date will display on the profile page. In addition, if you export your people, as long as one person has a start date - the CSV will have a column titled 'Start date'.
Q: I input a start date for the person, but I didn't check the box to send the email invite. How do I ensure they receive an invitation?
A: These individuals will appear in the created section of the inactive tab on your 'manage people' page, which means that they have been created in 15Five, but are not scheduled to receive an invitation email. You will be able to follow the steps in our bulk manage invitations Help Center article to manually send invitations to these individuals.
Q: How do I enable this with BambooHR?
A: Use the checkbox within the BambooHR integration page in 15Five (default unchecked) to use the hireDate in BambooHR as the start date in 15Five.
Q: How do I enable this from a SCIM perspective?
A: For SCIM, all of the functionality will live in the IDP; the attribute to use is startDate.