👥 Only HR admins can enable demographic attributes. Only HR admins and an employee themselves can view an employee's demographic attributes.
Demographic attributes in 15Five allow HR admins to report on key employee trends through the lens of their workforce's demographics. Breakdowns by demographics and key defining characteristics of an employee (Birth date, Ethnicity, Gender, Race, & Salary) are critical to helping people leaders uncover and address problems within their company before they become too big to solve.
In this article, you will learn...
---
Enable Demographic Attributes
HR admins can follow the steps below to enable demographic attributes in their company account. Turning this toggle on causes demographic attributes (Birth date, Ethnicity, Gender, Race, & Salary) to appear on user settings pages.
Click on the 'Settings' gear in the top right-hand corner of 15Five.



Select 'Features' from the dropdown menu.

Click to open the 'Features overview' section.


Scroll to the 'People Attributes' section at the bottom of the page.

Turn the 'Demographic Attributes' toggle to "On."


A popup will appear asking you to confirm that you have read, understand, and consent to 15Five's Master Subscription Agreement, Privacy Policy, and Data Policy Processing Agreement, amongst other things. If you agree, check the boxes and click Submit.

Demographic Attributes are now enabled for your company.
---
Populate Demographic Attributes in user settings
Demographic attributes can be populated in employee profiles via bulk import.
Bulk import
To populate employee demographic attributes via attribute, create and import a bulk import CSV that includes email and any of the following columns:
demographic_salary

demographic_gender

demographic_race

demographic_ethnicity

demographic_birth_date
---
Visibility
Only HR admins can see the option to enable/disable demographic attributes in 15Five.
Only HR admins and the employee themselves can see an employee's demographic attributes on individual user settings pages.
Only HR admins can filter the Submitted Check-ins and Reviewed Check-ins Dashboards by demographic attribute in 15Five's Reporting feature.

Demographic attributes in 15Five's Engage feature are called "hidden groups," and visibility is varied.

An organization's Engagement admin can see all hidden groups (Birth date, Ethnicity, Gender, and Race) in user settings, as well as filter engagement results by hidden groups. Salary is not pulled into Engage as a hidden group due to its variability.

In Engage, employee birth dates are used to break employees into generation system groups. A company's Engagement admin, Organization admins and leaders with results access can filter engagement results by generational system groups.

Currently, the Active Employees export CSV in Engage, which can be exported by a company's Engagement Admin as well as Organization admins contains what hidden groups employees are in. This behavior is set to change in Q1 of 2023 so that all demographic visibility is limited to Engagement Admins.
---
Demographic Attributes across 15Five features
Check-ins
HR Admins can filter the "Submitted Check-ins" and "Reviewed Check-ins" reporting dashboards by demographic attribute by following the steps below.
Click on Reporting in 15Five's main, left-hand navigation and select Check-ins.

Click into either the 'Submitted Check-ins' or 'Reviewed Check-ins' tab using the top navigation bar.

In the Individuals table, find the 'View by' filter. Here, you'll see the ability to filter by demographic attributes.

If desired, you can download the report in CSV or XLSX formats after filtering by a demographic attribute, and people will be grouped by the demographic attribute in the report.
Best-Self Review®
HR admins can filter company review results by demographic attribute.
Engage
After your organization runs an engagement campaign, Engagement Admins can filter results by demographic attributes (called "hidden groups" in Engage).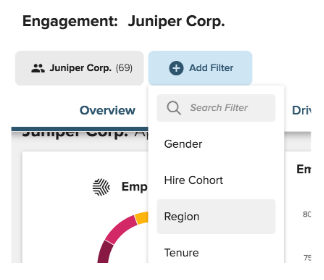 ---
FAQs
Q: What if I already created custom attributes for Birth date, Ethnicity, Gender, Race, or Salary? Can those be combined into the demographic attributes so I don't have to re-populate those fields in employee profiles?


A: You can migrate custom attributes into demographic attributes by downloading your current company structure from the bulk import page (in-app link), changing the column name for the custom attribute to that of the demographic attribute (for example, demographic_salary), and importing the file. This will populate data in demographic attributes, and you can then delete the custom attribute safely.
Q: Are demographic attributes included in company exports?
A: At this time demographic attributes are not included in company exports. If you want to ensure all demographic attributes are correct, we recommend re-importing all demographic values via bulk import.
---
Related articles 📖