As your organization embarks on its journey with 15Five, it's important to identify which of 15Five's three HR outcomes you want to initially focus on driving using the platform: maximize employee performance, increase employee engagement, or decrease regrettable turnover. In this article, we will walk through the basics of employee performance and how to use 15Five to drive performance within your organization.
In this article, you will learn...
---
What is employee performance?
Employee performance is the manifestation of an individual's strengths, skills, competencies, and motivations in the workplace, resulting in the achievement of tasks, goals, and objectives aligned with the organization's mission and values. It's not only about the completion of specific tasks, but also about how an individual grows, relates to others, finds meaning in their work, and contributes to the greater good of the team and the company. Employee performance encompasses both tangible outputs (like sales numbers or completed projects) and intangible aspects (like teamwork, creativity, resilience, and emotional intelligence).
Performance is an outcome of multiple factors, including:
Strengths Utilization: Leveraging an individual's inherent strengths to achieve goals.
Engagement: The depth of connection and immersion an employee feels towards their work.
Meaning and Purpose: The sense that one's work contributes to a greater purpose.
Positive Relationships: Building and maintaining healthy, supportive relationships in the workplace.
Accomplishment: The drive towards achievement and the feeling of competence in one's tasks.
Learning and Growth: Embracing challenges as opportunities for personal and professional development.
In this perspective, performance is a dynamic, multi-dimensional construct that integrates personal well-being with professional achievement, recognizing that both are deeply interconnected.
For more information about employee performance, check out the section below:
Symptoms of low employee performance
Low employee performance can manifest in various ways depending on the individual, the nature of their job, and the organizational culture. Here are some common symptoms:
Falling ratings in reviews: More employees are being ranked as low-performing in performance reviews.
Unknown or stalled goal progress: Leaders are either unaware of employees' goal progress, or employees are consistently failing to meet set targets or objectives.
Uneven accountability or "fairness issues": Employees are complaining about inconsistent task allocations and perceived favoritism, or are surprised when they're put on performance improvement plans.
Lack of goal achievement: Consistently failing to meet set targets or objectives.
Missed deadlines: Regularly failing to complete tasks on time.

Decreased output: A noticeable decline in the quantity or quality of work produced.

Lack of initiative: Not taking proactive steps or showing reluctance to take on new tasks.

Avoidance behavior and isolation: Avoiding meetings, skipping team events, or not being available for discussions. Withdrawal from team dynamics, reduced collaboration, or not participating in group discussions.

Decline in work quality: Errors become more frequent, and there's a lack of attention to detail.

Resistance to feedback: Defensive behavior when given constructive feedback or unwillingness to adapt.

Negative attitude: Displaying a pessimistic outlook, complaining frequently, or expressing dissatisfaction regularly.

Increased dependence: Constantly seeking help for tasks they should be capable of handling or over-relying on colleagues.

Avoidance of responsibility: Shifting blame, not taking ownership of mistakes, or avoiding accountability.

Decreased motivation: No improvement in skills or knowledge over time, even with training and opportunities. Lack of interest in professional development, promotions, or additional training.
---
Why employee performance is important
Maximizing employee performance is a critical outcome for HR leaders to focus on because it has a direct impact on the bottom line. When employees are performing better, the business does better overall — it's that simple. However, maximizing employee performance also has a lot of secondary effects that positively affect the workplace. For example, when employees are performing well and reaching their goals, they are more likely to feel satisfied and engaged at work, and thus more likely to want to stay with the company. When high-performing employees stay with the company and continue to perform, they fill out a solid internal bench of future leaders if and when the need arises.
How performance relates to other outcomes
Research shows that engaged employees are 17% more productive than their peers. Engaged employees are more likely to work diligently and expend discretionary effort in their jobs, supercharging productivity and innovation.
Gallup reports that companies with a highly engaged workforce have 21% higher profitability. They also have 17% higher productivity than companies with a disengaged workforce.
Organizations with engaged employees outperform those without by an astounding 202%.
When an employee leaves a team, it can have a big impact on team morale and result in poorer performance and productivity.
When employees aren't given the time and resources they need to succeed, they're more likely to face burnout and seek employment at a company with a more sustainable work culture. On the other hand, when managers support their team members in prioritizing their work, employees are less likely to reach the stage of burnout.
---
Drive employee performance with 15Five
Note
Before we begin, it's important to note that the feature benefits listed below are not guaranteed. The benefits you get out of 15Five are correlated to how successfully a feature is rolled out, as well as the effort and buy-in of your team. With the right plan, your team can leverage the features below to drive change and help you reach your outcome.
To increase employee performance, we recommend utilizing one of the following action recipes. An action recipe is a combination of 15Five features that, when combined, can pave the way for increased performance within your organization.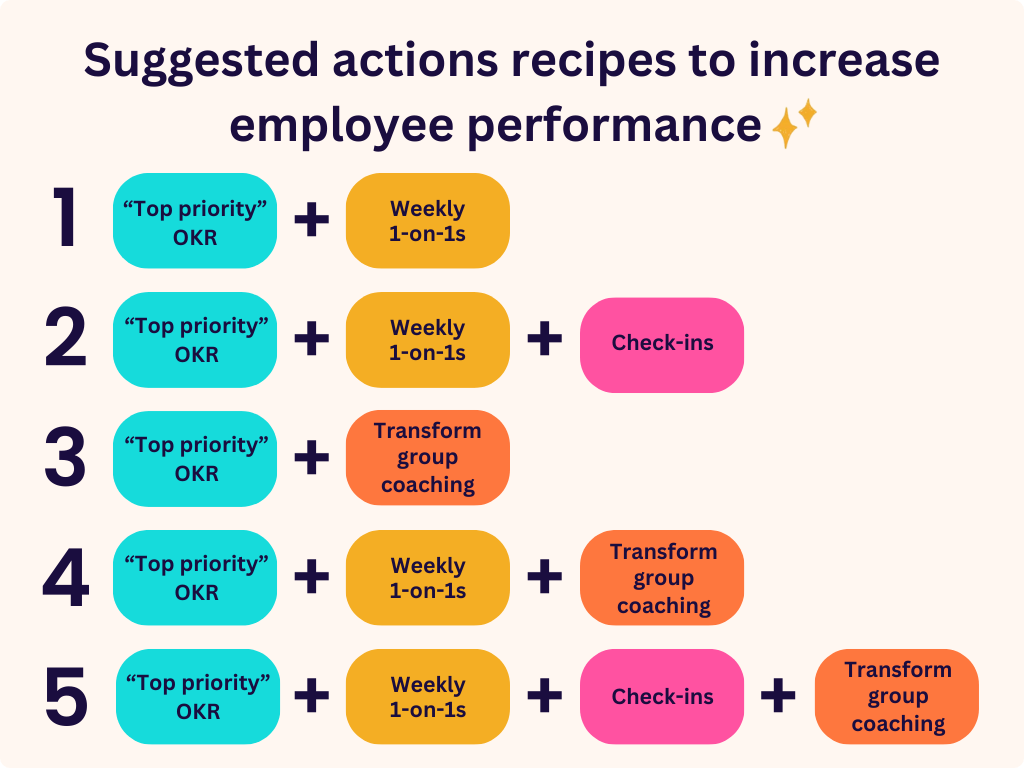 How these features impact performancce
Other notable features to increase performance
Use 15Five's HR Outcomes Dashboard to track employee performance
The HR Outcomes Dashboard provides a reliable way for HR executives to consistently capture, synthesize, and present the outcomes they are measuring and working to improve: manager effectiveness, employee engagement, employee performance, and regrettable turnover. This allows HR leaders to show clear and concise data that directly links programs like employee learning and development to outcomes like employee retention, which can, in turn, be connected to business outcomes like customer satisfaction and revenue. The HR Outcomes Dashboard is available in 15Five's Total Platform plan.
---
Additional resources

---