There are 3 ways that you can add new people in 15Five. Best practices for inviting new users will depend on your company size, and where you are at in the 15Five roll out process. For instance, bulk importing is the easiest when rolling out, while inviting from 'Manage people' is the easiest for a new hire. 
Invites will expire after 30 days. If the invite expires, you will need to reactivate the user from the 'Manage people' section of 15Five. Invites will be sent immediately, and cannot be delayed for a later roll out date. 
15Five will not charge for invited/new users until the invite is accepted and the user becomes active. Billing for the new user(s) is prorated based on activated date and the time left in your current subscription period. 
Success Center article 🗒: How does adding/removing users impact billing?
NOTE ✏️ : Admin cannot make changes to an invited user's profile, until they become active. Example: You invite a user thinking their reviewer will be Bob, but after inviting, realize their reviewer should be Stacy. Changes to the invited user's profile cannot take place until the user activates their account. 
For SCIM customers
We have created a new workflow for customers using SCIM. By default when SCIM is enabled, we have removed all invite and reactivate/deactivate options from the 'Manage people' page. When you want a user to have access to 15Five you just need to add them to the 15Five app in Okta or your IdP and their profile will be active very shortly after; the same goes for reactivating and deactivating. Then, those users will click on the 15Five app in Okta or their IdP and successfully be able to login to 15Five without needing additional login credentials. 
Invite from 'Manage people'
1. Click on your avatar in the upper right hand corner. 

2. Select 'Manage people'. 

3. Click on 'Invite people' at the upper right of your screen. 

4. Set up a new user profile and send an invitation to join. If you receive a note that says "User with this email already exists" then this means they are in the system already; they just need to be reactivated.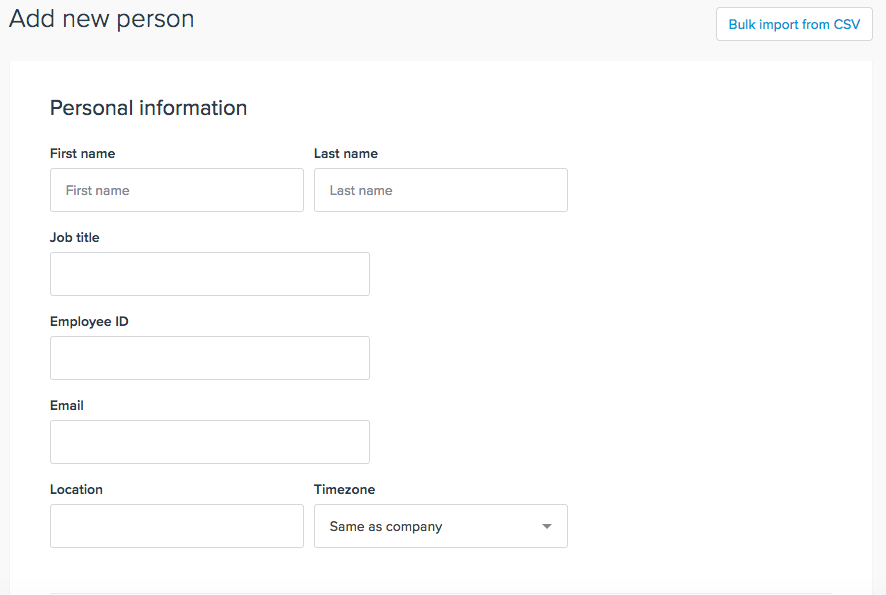 Invite from 'Team 15Fives'
1. Click on the tab '15Fives'. 

2. Select 'Team 15Fives'. 

3. Scroll down to 'Add Teammates' section and add the email address to invite.  If a user is already in the system, but is assigned to another Reviewer, you will need to contact your administrators to have them switched over to you.

Bulk import invites
1. Click on your avatar profile picture at the top right. 

2. Select 'Manage people'. 

3. Select 'Import' on your left-hand side navigation.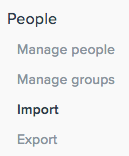 3. Select 'Choose file' and find the file on your computer. Then import.  If you need a quick formatted CSV file to work from, click here to download your current user export.

NOTE ✏️ : Bulk imports are not available for SCIM customers. 
Need some material to send new employees? Check out our Getting Started docs!