Trying to figure out what questions to ask on your team's Check-ins? Look no further! 15Five's Question bank is a collection of handpicked and research-backed questions to help you generate innovative solutions, uncover hidden roadblocks, build a great culture, and more.
If you're looking to stay connected with your people in this time of hybrid work, try these questions!
Note
Permissions for creating questions are as follows: account administrators can create questions for anyone, group admins can create questions for group members, and reviewers can create questions for their direct reports. If you do not have account admin, group admin, or reviewer permissions in 15Five, you will see a 403 error when attempting to access the Question bank.
---
Access the Question bank
You can access the Question bank directly here, or follow the steps below to navigate to the Question bank in-app.
Click on the 'Settings' gear in the top right-hand corner of 15Five.

Select 'Check-in questions' from the dropdown menu.

Click Question bank in the top navigation bar.

---
Find the right questions to ask
When you open the question bank you'll notice that there are two filter options and a search field.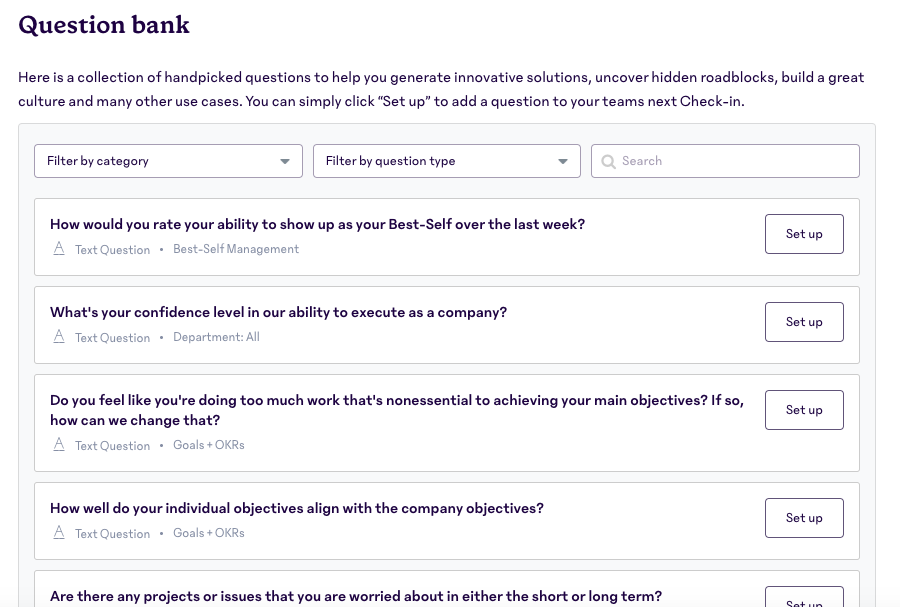 Filter by category to pull a list of questions aligned around specific topics- ranging from culture to engagement to recognition and appreciation.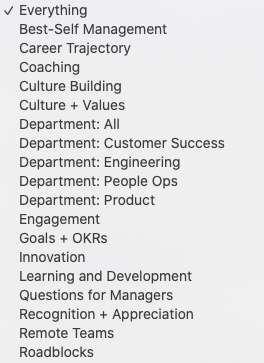 Filter by question type to pull a list of either only text questions or only metric questions.

Tip
We recommend not exceeding 5 questions, so Check-ins don't get too long.
---
Add a Question bank question to a Check-in
1. Click the Set up button next to the question you'd like to add to Check-ins.

2. You'll be directed to the 'Create a new question' screen. Select desired settings and click Create new question.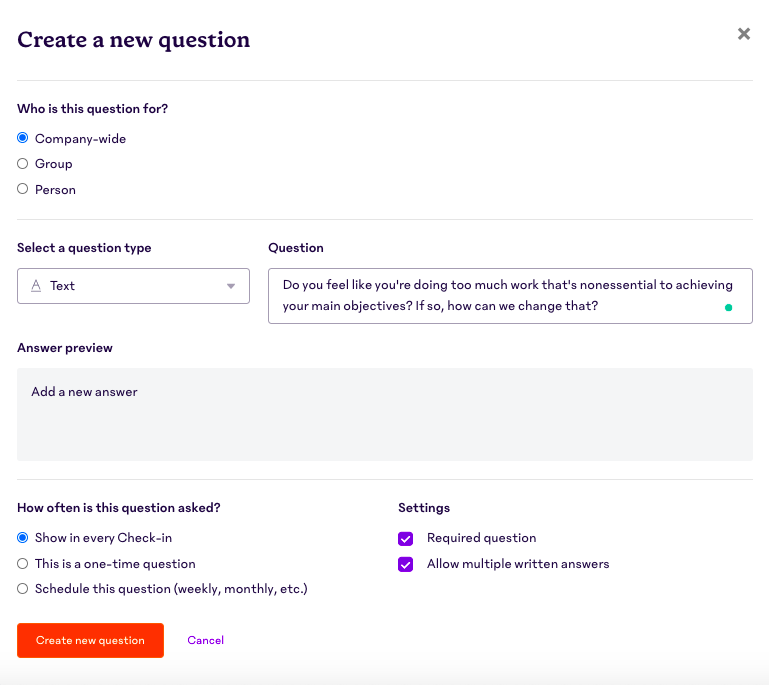 Blog Post 🗒: Ask Your Employees These Questions To Improve Workplace Culture & Team Performance