15Five's Admin Dashboard allows account admins to see high-level reporting for their company upon logging into 15Five. This article walks through how to access the Admin Dashboard, as well as what data is included on the Admin Dashboard.
Note
If you're an account admin and don't see the Admin Dashboard in your account, don't fret! We released the Admin Dashboard to early adopters on November 16th, 2021, and an expanded Admin Dashboard will be available to all companies in the future. If you'd like to be an early adopter, please reach out to your assigned CSM, or, if you don't have a CSM, reach out to support@15five.com. This is an experimental release, so we are currently not addressing bugs with the Admin Dashboard.
---
Access the Admin Dashboard
Upon logging into 15Five account admins will immediately be directed to the 'Admin Dashboard' tab of their homepage. This dashboard will serve as the 15Five landing page for all account admins.

This dashboard can also be accessed at any time by clicking into the 'Home' tab using the left-hand navigation bar of 15Five.

---
What's included on the Admin Dashboard?
'Pending invites' banner

If there are any pending invites in your company (i.e. someone has been invited to 15Five but hasn't yet logged in), a banner will appear that 1) tells you how many people have pending invites and 2) links to the 'Manage people: Inactive' page, where you can resend invites from.
'Best-Self Review®' widget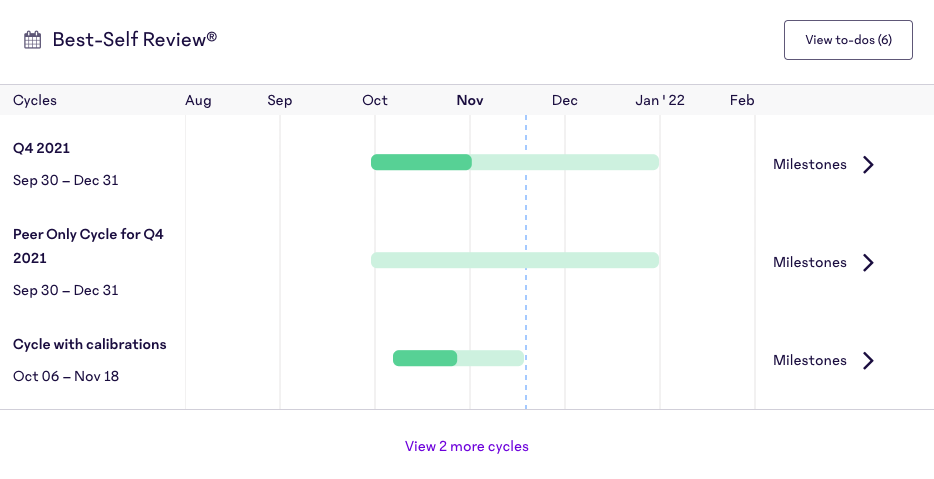 The 'Best-Self Review®' widget includes information about active review cycles for your company. This section will contain different information for account admins who are also review admins and account admins who aren't review admins, as account admins will only see what they have permission to view in 15Five. Things that are visible to only review admins are denoted below with an asterisk (*).
In this widget you can see active review cycles* (review admins will see all review cycles, and account admins without review admins permissions will only see cycles they have permission to view in 15Five), review cycle completion progress* and review milestones, as well as navigate to their personal review "to-dos" (by clicking the View to-dos button) or to a review cycle's overview page by clicking Milestones to the right of the cycle data.
The light green bar represents the full length of the review cycle, from start to finish. The dotted blue line marks the current date in relation to the review cycle period. And the dark green bar represents review cycle progress. Hovering over the cycle progress bar shows the review completion percentage.
A maximum of three review cycles will appear in the 'Best-Self Review®' widget. If there are more than three active review cycles for your company, you'll see a link that says View X more cycles. Clicking that button will lead you to the Best-Self Review® Dashboard, which contains a list of all review cycles.
'People activity' widget

The 'People activity' widget shows you how many individuals in your organization have and haven't logged in to 15Five over the past three months. The light blue bar represents the total number of people in your organization, whereas the dark blue progress bar represents the number of people who have logged in over the past three months. If there are any people in your company who haven't logged in over the past three months, a clickable link will appear that says X people haven't been seen in 3 months. Clicking that link will lead you to a list of everyone who hasn't logged in during that period of time. There's also a shortcut to the 'Manage people' page, which you can access by clicking the Manage people button.
'Check-in activity' widget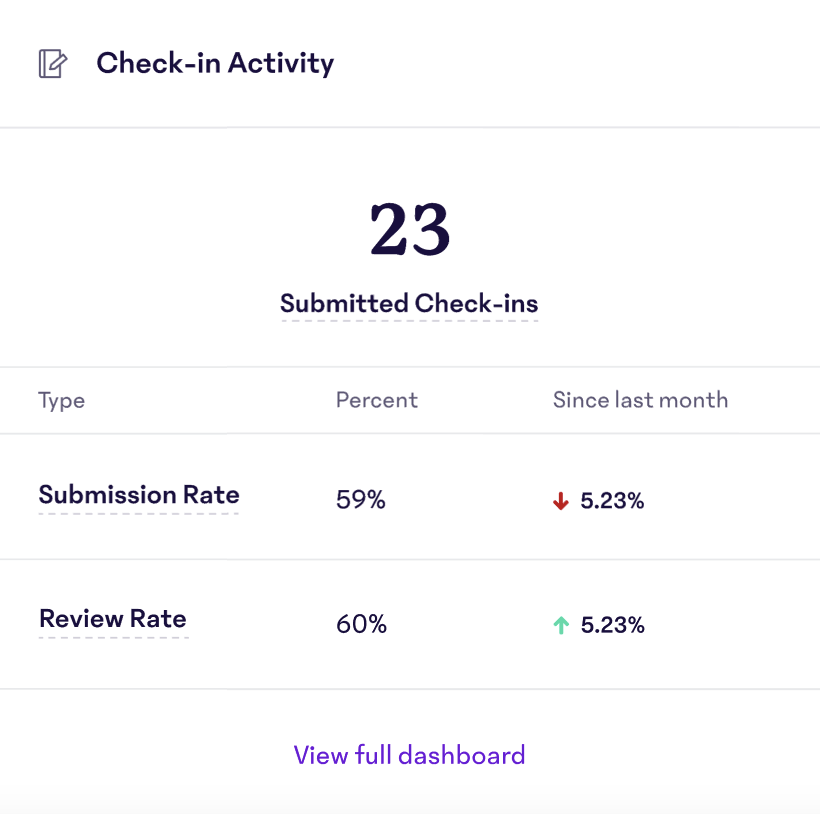 See how your company is doing with submitting and reviewing Check-ins! This widget shows the total number of Check-ins that have been submitted over the last month, what percentage of possible Check-ins were submitted and reviewed in the past month, and how submitted/reviewed percentages for the current rate compare to those of the previous month. Click View full dashboard to open the Check-ins Dashboard.
'Pulse' widget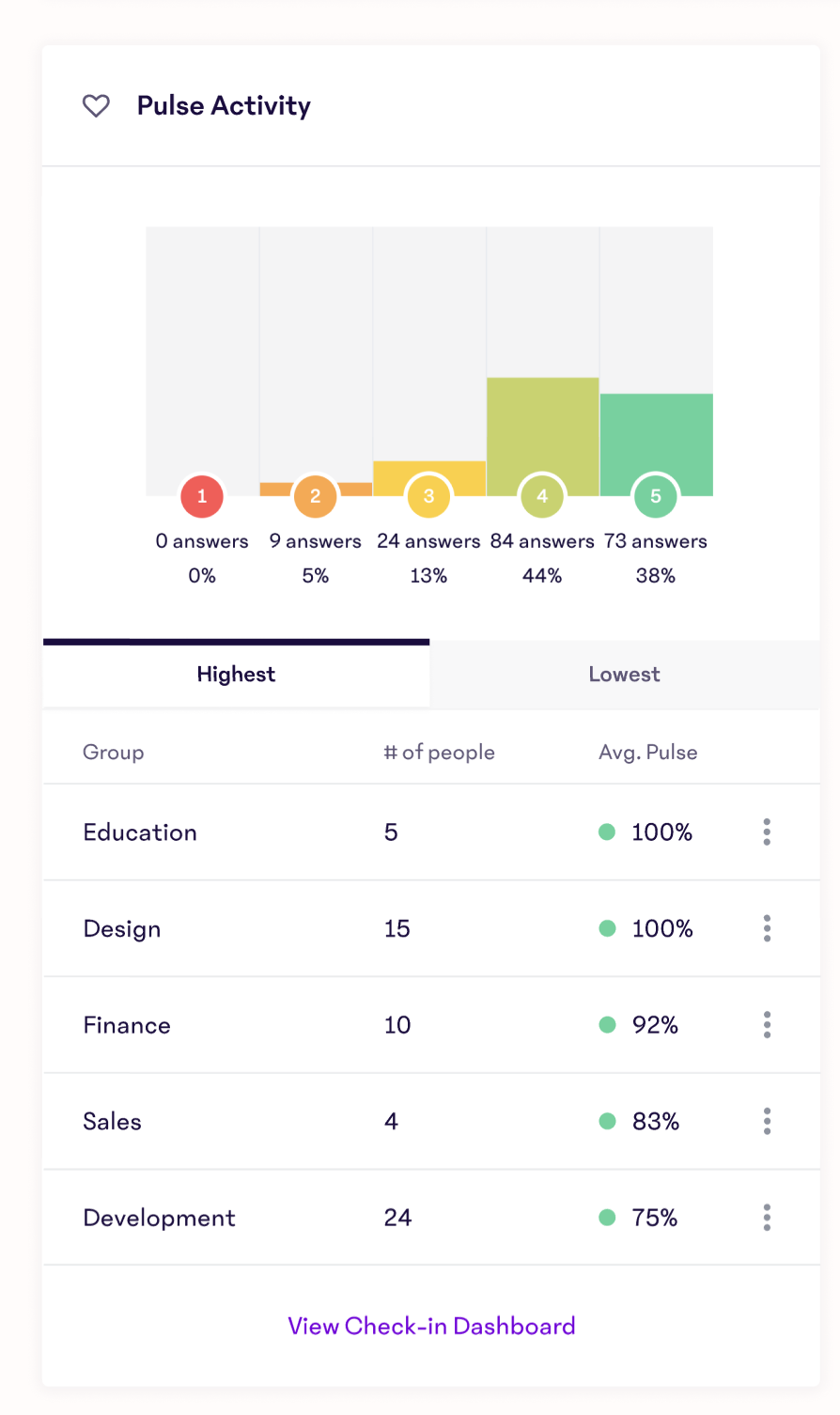 The 'Pulse' widget shows a breakdown of your team's Pulse data for the past month, as well as tables that contain the five groups with the highest and lowest Pulse scores over the past month. Click View Check-in Dashboard to open Pulse reporting.
'Engagement' widget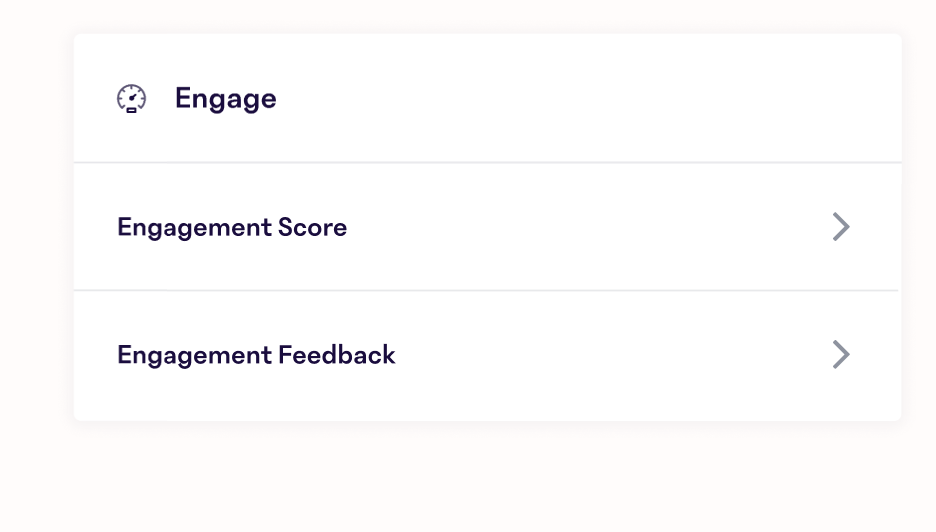 If your organization is on a plan that includes Engage and you have Engage SSO enabled, you will see the 'Engagement' widget. This widget allows you to redirect to the Engage landing page.