As your organization embarks on its journey with 15Five, it's important to identify which of 15Five's three HR outcomes you want to initially focus on driving using the platform: maximize employee performance, increase employee engagement, or decrease regrettable turnover. In this article, we will walk through the basics of employee engagement and how to use 15Five to drive engagement within your organization.
In this article, you will learn...
---
What is employee engagement?
In today's work world, where company culture matters more to employees than salary, it's more important than ever to appeal to individuals' deep-seated motivations— the drivers that make them want to work harder, perform better, and take the company further.
At 15Five, we define employee engagement as "An employee's intellectual and emotional connection with their employer, demonstrated by their motivation and commitment to positively impact the business's vision and goals."

Did you catch that part about "positively impacting the company vision and goals"? When employees are engaged and committed to the vision and mission of the company, a subsequent path to value ensues. That's a far cry from employees who are merely happy with their employers and satisfied with the work they do.
An employee can be satisfied with a job that meets their basic needs and still lack the inspiration and motivation needed to excel— and that's a big deal. The more an employee is driven by passion and purpose, the more meaning they'll find at work and the more profound the bottom-line impacts will be for the business at large.
For more information about employee engagement, check out the sections below:
What drivers impact employee engagement?
There are 17 drivers that employee engagement research identifies as influencers or "levers" of engagement. These engagement drivers collectively contribute to creating a positive and engaging work environment that promotes employee satisfaction, productivity, and overall organizational success.
Autonomy: The degree to which employees have the freedom and empowerment to make decisions and have control over their work processes and outcomes.

Capacity: Ensuring that employees have the necessary resources, skills, and capabilities to perform their job effectively and efficiently.

Coworker Relationships: The quality of relationships and interactions between employees, fostering collaboration, teamwork, and a positive work environment.

Fairness: Ensuring fairness in areas such as compensation, promotions, workload distribution, and decision-making processes, builds trust and a sense of justice among employees.

Feedback: Regular and constructive feedback is provided to employees regarding their performance, strengths, areas for improvement, and progress toward goals.

Goal Support: The extent to which employees receive support, guidance, and resources from their leaders and colleagues in achieving their individual and team goals.

Leader Availability: The accessibility and approachability of leaders to provide guidance, support, and address employee concerns or questions.

Leader Integrity: The perceived honesty, ethical behavior, and consistency in actions demonstrated by leaders, contributes to trust and confidence in leadership.

Manager: The effectiveness and competence of managers in providing guidance, support, and development opportunities to their direct reports.

Meaning: The sense of purpose, significance, and value that employees derive from their work, understanding how their contributions align with the organization's mission and goals.

Professional Development: The opportunities and support provided for employees to enhance their skills, knowledge, and career growth through training, learning programs, and challenging assignments.

Psychological Safety: A supportive and inclusive work environment where employees feel safe to express their opinions, take risks, and share ideas without fear of negative consequences.

Purpose: The clarity and alignment of employees' work with the broader purpose and mission of the organization, understanding the positive impact they make.

Rest: Encouraging and supporting employees in taking breaks, vacations, and maintaining work-life balance to prevent burnout and promote well-being.

Role Clarity: Clear understanding of job expectations, responsibilities, and how one's role contributes to the overall goals and success of the team or organization.

Shared Values: The alignment of employees' personal values with the organization's values, fostering a sense of belonging, shared purpose, and cultural fit.

Utilization: Employees' perception that their skills, knowledge, and expertise are effectively utilized and that their contributions are valued and utilized by the organization.
Symptoms of low employee engagement
Low employee engagement can manifest in various ways. Some of the most common ones we see are listed below.
High employee turnover: When employees are disengaged, they are more likely to leave the organization, resulting in a high turnover rate.

Decreased productivity: Disengaged employees tend to be less motivated, which can lead to a decline in overall productivity and output.

Increased absenteeism: Disengaged employees may frequently miss work or take more unplanned absences, indicating a lack of commitment or interest in their roles.

Complaints about leadership or direction: Low employee engagement often leads to complaints about leadership or direction as disengaged employees perceive a lack of effective guidance, clear communication, and support from their leaders, resulting in frustration, confusion, and a breakdown of trust.

Lack of initiative or innovation: Employees who are not engaged often show a lack of enthusiasm for suggesting new ideas or taking initiative to improve processes.

Low morale: Disengaged employees may exhibit low morale, leading to a negative work atmosphere and reduced collaboration among team members.

Poor communication: Disengagement can contribute to breakdowns in communication, resulting in misunderstandings, conflicts, or a lack of clarity regarding goals and expectations.

Reduced customer satisfaction: When employees are disengaged, it can affect their interactions with customers, leading to lower levels of customer satisfaction and loyalty.

Increased errors or quality issues: Lack of focus and motivation can result in more mistakes, quality control problems, or a decline in the quality of products or services.

Lack of employee development: Disengaged employees may not actively seek growth opportunities or take advantage of training programs, which can hinder their professional development and overall performance.

Negative impact on team dynamics: Poor employee engagement can create a negative ripple effect on team dynamics, with disengaged individuals potentially affecting the morale and performance of their colleagues.
---
Why employee engagement is important
Employee engagement is a key driver of overall business success. According to Gallup, companies with highly engaged employees have 21% higher profitability. And disengagement can be extremely costly. In studies by the Queens School of Business and Gallup, disengaged workers had 37% higher absenteeism, 49% more accidents, and 60% more errors and defects.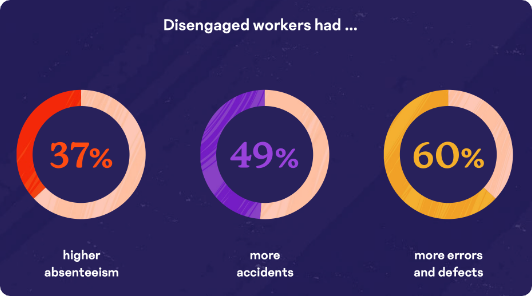 Thus, it is crucial to actively monitor and address any potential disengagement. When you regularly measure and analyze employee engagement, you're identifying issues before they have a chance to become full-blown problems, and you set the stage for an authentic culture built around collaboration and trust. This, in turn, makes people comfortable taking on initiatives that help move the business forward. Instead of shying away from big ideas and grand goals, engaged employees will embrace them and find satisfaction in achieving them.
How engagement relates to other outcomes
Research shows that engaged employees are 17% more productive than their peers. Engaged employees are more likely to work diligently and expend discretionary effort in their jobs, supercharging productivity and innovation.
Engaged employees are 44% more productive than "satisfied" employees.
Jacob Morgan, the author of The Employee Experience Advantage, examined the financial data of hundreds of companies and found that those that invest in employee experience had more than 4 times the profits and 2 times the revenue.
Gallup reports that companies with a highly engaged workforce have 21% higher profitability. They also have 17% higher productivity than companies with a disengaged workforce.
Organizations with engaged employees outperform those without by an astounding 202%.
Engaged employees are 87% less likely to leave their organization than disengaged employees.
Teams who score in the top 20% of engagement have a 41% reduction in absenteeism and 59% less turnover.
Highly engaged teams experience a 40% reduction in turnover on average.
15Five's 2022 Workplace Report found that unsupportive management is the top reason employees leave companies.
Research from Gallup found that managers account for at least 70% of the variance in employee engagement scores across business units, and only 35% of managers are engaged with their job.
Zippia found that 43% of highly engaged employees receive feedback (a key responsibility of managers) at least once a week, and a staggering 98% of employees say they disengage from work when they receive little or no feedback.
---
Drive employee engagement with 15Five
Note
Before we begin, it's important to note that the feature benefits listed below are not guaranteed. The benefits you get out of 15Five are correlated to how successfully a feature is rolled out, as well as the effort and buy-in of your team. With the right plan, your team can leverage the features below to drive change and help you reach your outcome.
To increase employee engagement, we recommend utilizing one of the following action recipes. An action recipe is a combination of 15Five features that, when combined, can pave the way for increased engagement within your organization.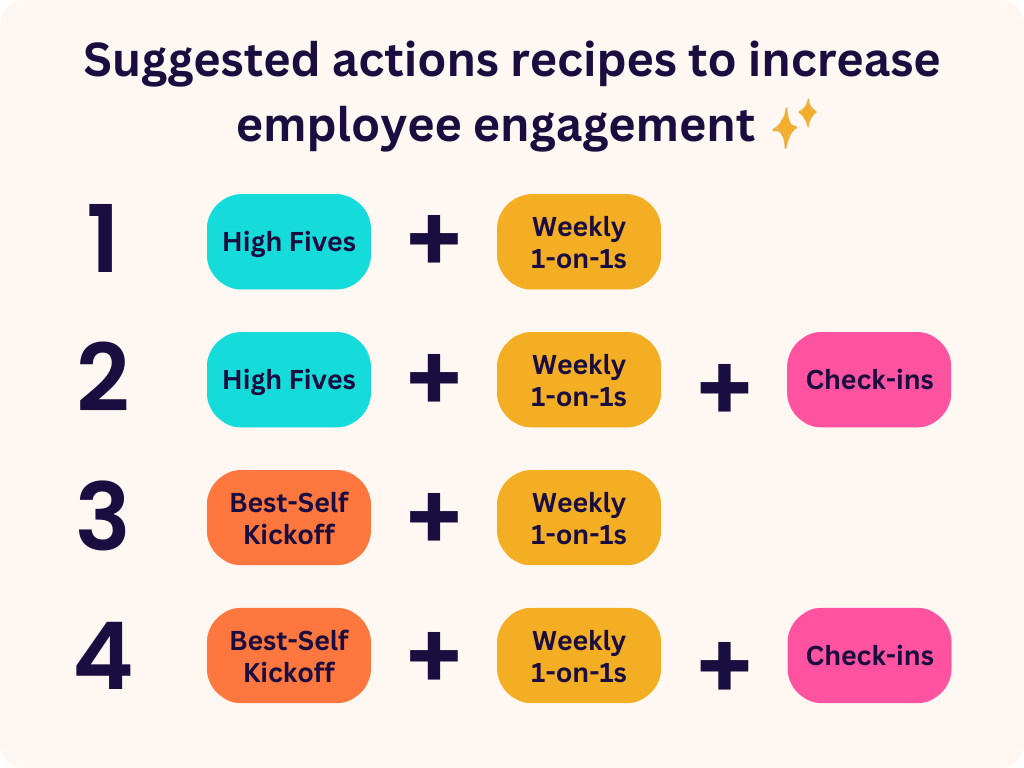 How these features impact engagement
Other notable features to increase engagement
Use 15Five's HR Outcomes Dashboard to track employee engagement
The HR Outcomes Dashboard provides a reliable way for HR executives to consistently capture, synthesize, and present the outcomes they are measuring and working to improve: manager effectiveness, employee engagement, employee performance, and regrettable turnover. This allows HR leaders to show clear and concise data that directly links programs like employee learning and development to outcomes like employee retention, which can, in turn, be connected to business outcomes like customer satisfaction and revenue. The HR Outcomes Dashboard is available in 15Five's Total Platform plan.
---
Additional resources
---