You can see what features are turned on by default and which features you can toggle on and off. If a feature has additional settings, you will see an option to 'Configure'. Below are the steps to manage your features.
Video 🎥: 15Five Fundamentals for account admins (emphasis on admin capabilities)
Note
To manage features, you will need to be an administrator on the account.
---
Manage company features
1. Click on 'Settings' from the left navigation.
2. Click on 'Features' to expand the feature settings.

3. Last, click on 'Manage features'.

4. Toggle on or off features you wish to enable/disable.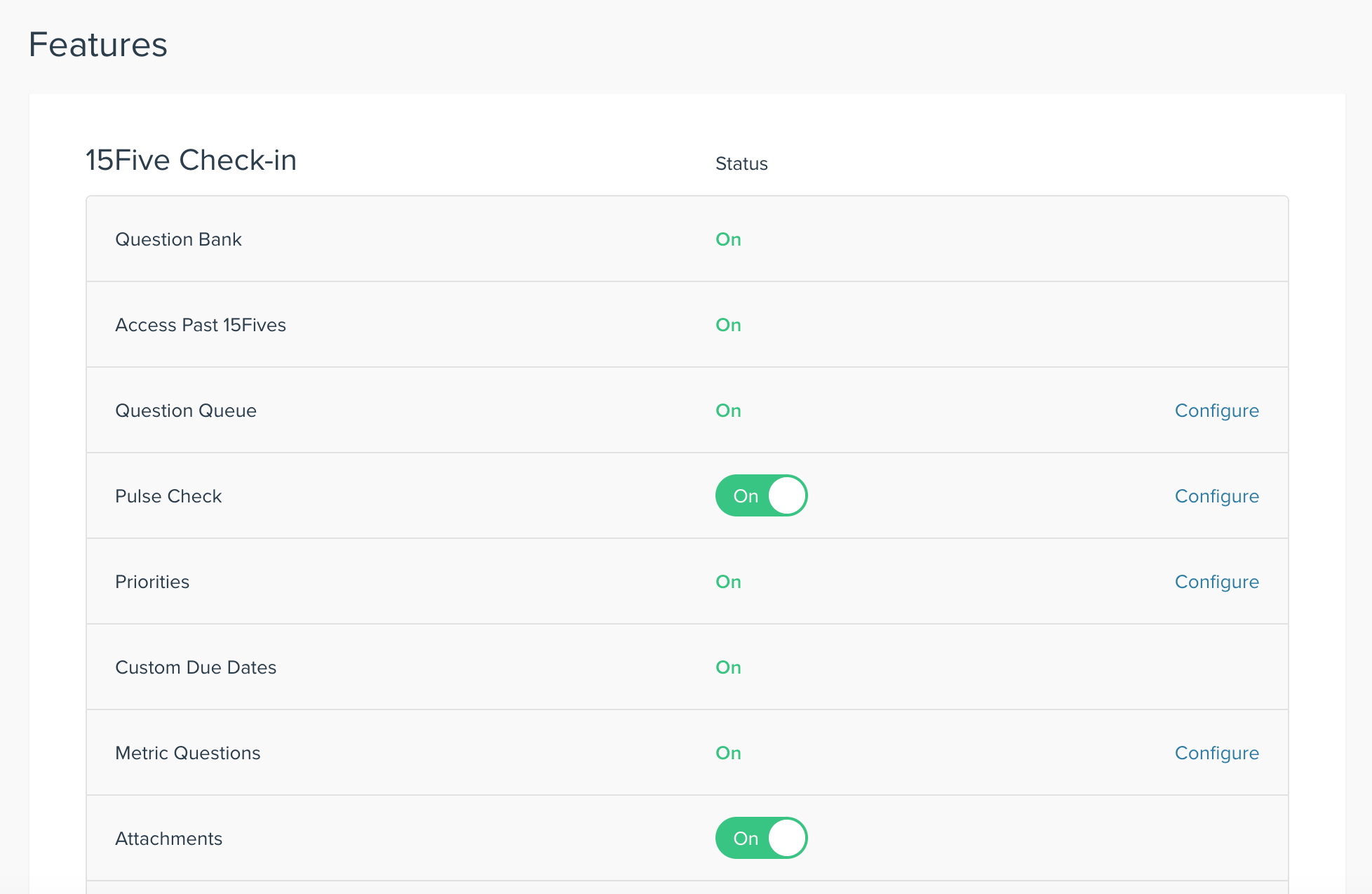 5. For advanced settings of each feature, click 'Configure'.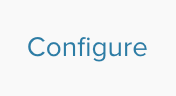 ---
Overview of company features
Question bank: Our question bank is enabled by default, and gives you and your reviewers some great ideas for great questions. Learn how to set up these questions.
Access past 15Fives: By default, access to past 15Fives is enabled. This allows your team to access prior reports.
Question Queue: If you want to keep questions fresh, you can rotate a new question every week for your team. Setup a question queue.
Pulse check: To monitor trends, ask your team how they are feeling every week.
Priorities: Priorities are like short-term tasks in your 15Five. You set priorities for the upcoming week to, and check off the priorities that you previously set for your current week. You can even link priorities to objectives.
Metric questions: If you want to ask questions that have a quantitative value, you can ask metric questions. You have the option to ask numerical questions, rating scale questions, or Yes/No questions.
Attachments: You can allow attachments to your team's 15Fives. This setting can be toggled on or off.
Report Feedback: If you want to ask your team open-ended feedback you can toggle on this feature. It will give your Reporters the option to add any additional feedback that they might have at the end of their report. This feature appears on 15Fives in the form of a question: "Anything else you'd like to add?"
Smart Groups: If you want to give your reviewers the option to pull custom reports and stats in 15Five without creating a manual group, use Smart Groups. This will automatically assign anyone reporting to a particular reviewer into a group. You will see the naming convention (First and Last Name's Team).
Give High Fives: Let your team give praise to one another and have their own leaderboard.
High Five Feed: Your team can have a live leaderboard of High Fives that are sent and received.
Objectives & Key Results (OKRs): Have your team setup Objectives and key results to help define objectives and their outcomes. You can set up Public Objectives or Custom Permissions.
Best-Self Review™: Set your global Reviews settings through this page. These configurations include overall visibility settings, company values, globally excluded users, and peer min and max settings.
Direct Access from Email: For your convenience, you can enable to have limited direct access to answers through your email enabled for your company. So instead of having to log in, you will be taken directly to the answer and be able to respond right away. This feature allows your team to take quick action on answers (liking, commenting, etc.) that have been emailed to them without requiring them to log in.
Mentions: You can enable group notifications and mentions or enable @all mentions so that everyone can be notified in a comment, answer, or high five.
Followers: By default, this feature is enabled which means that a user can send a follow request to another team member and once approved gain access to their report. If you do not want this feature enabled, you can toggle it off.