If you have existing users and are only mass adding an additional group of users: Start by downloading your company's current structure.
If you are new to 15Five and need an example, a downloadable CSV template can be found at the bottom of this page.
A few simple rules when bulk importing users:
Only the fields in the example are permitted.
email is the only required field, all other fields are optional.
You can list multiple groups separated by commas. For example: "Sales, SF Team, Customer Success"
The full list of timezone options can be found here: Timezones for bulk import
Bulk imports are not available for SCIM customers.
Remove any empty columns and rows that do not contain data from the CSV before importing.
TIP 💡: We recommend creating a backup of your company's current structure. Please note that any changes made to active_group_names will override any current group settings.
1. Click on your avatar in the upper right-hand corner. 

2. Select 'Manage people' from the drop-down menu. 

3. Under the 'People' heading on your left-hand side, click on 'Import'.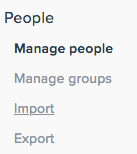 4. Scroll down and click on the orange button 'Choose file'. Open the csv that you downloaded or created. 

5. Click the orange button 'Finish import'. 
15Five will not charge for invited/new users until the invite is accepted and the user becomes active. Billing for the new user(s) is prorated based on activated date and the time left in your current subscription period.