The 'Manage people' page is your hub for all people that you have access to edit settings and account status for. You can update people's reviewers, change people's due dates, deactivate/reactivate people, add vacations for people, and more—all by starting on the 'Manage people' page.
Let's start by understanding the tabs that are present on the page: Active, Inactive, and Deactivated.
---
Active people
People who appear on the 'Active' tab are people who have accepted their invitation to 15Five and have logged in.
You will be billed for all active people.
If you need to edit any of these people's account settings including updating their manager, setting a vacation for them, or changing their Check-in due day, name, or email, click on their name.

With the exception of SCIM and HRIS customers, you can edit most settings for your people by clicking on the individual's name.

If you want to bulk change reviewer, Check-in due day, add vacations, or deactivate, you can do so by multi-selecting people and using the 'Bulk Actions' menu.
You can deactivate people by clicking on their name and finding the deactivate link at the top right of the account settings page.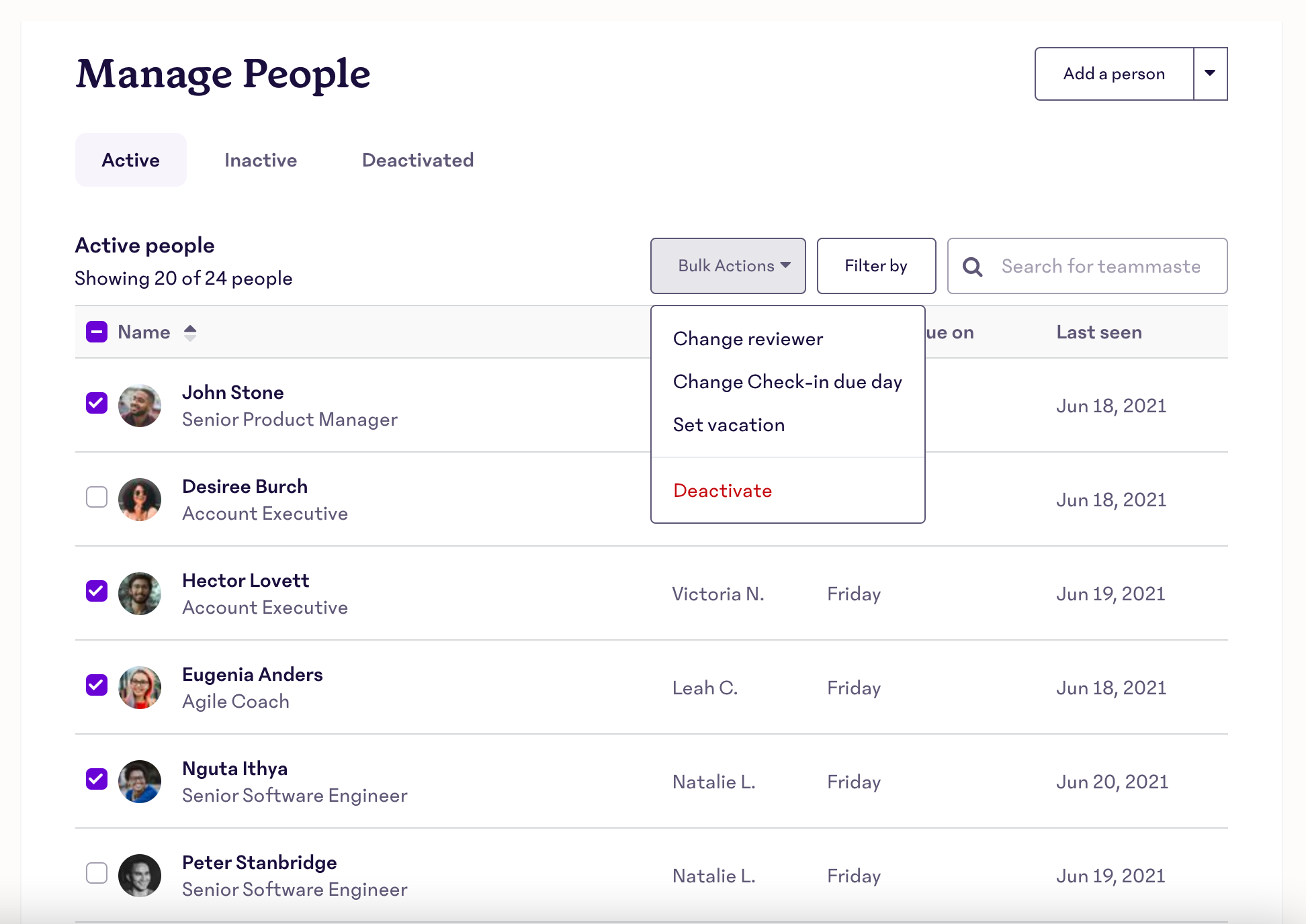 Note
On all three Manage people tabs, you can filter people by reviewer, by group, or by account administrators to help you find the person/people you're looking for.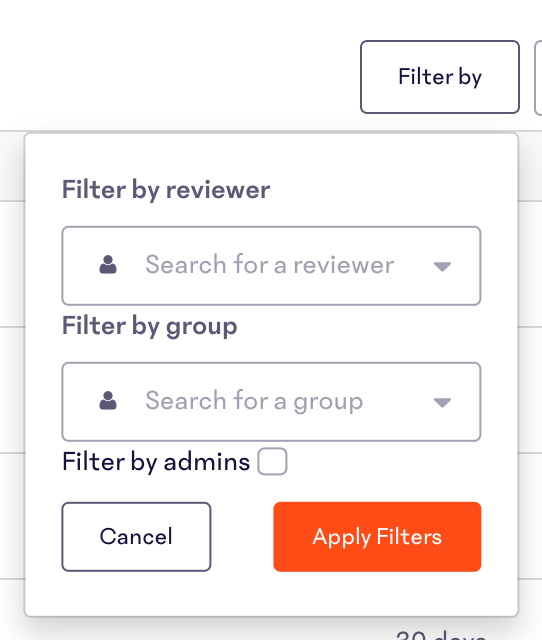 ---
Inactive people
There are two sub-tabs under the main 'Inactive' tab: Pending invitations and Created people. The 'Inactive' tab is where all people appear who have not logged into 15Five yet.
You will not be billed for any of these people—until they become active and move out of the 'Inactive' tab.
People who were once active, deactivated, and then reactivated will not appear here, but will instead go from Deactivated back to Active.
The 'Inactive' tab is for new users who have never logged into 15Five.
Pending invitations
The Pending invitations section is for people who have been added to 15Five and have received an invite email or will receive an invite email upon their start date. Think of this section as "invite email is sent or queued to be sent".
If you need to manually resend an invite email to someone in this section, you can do so from this section by clicking Resend invitation.
You can also cancel a pending invitation, meaning the person will not be able to log into 15Five using the invite that was previously sent, by clicking Cancel invitation.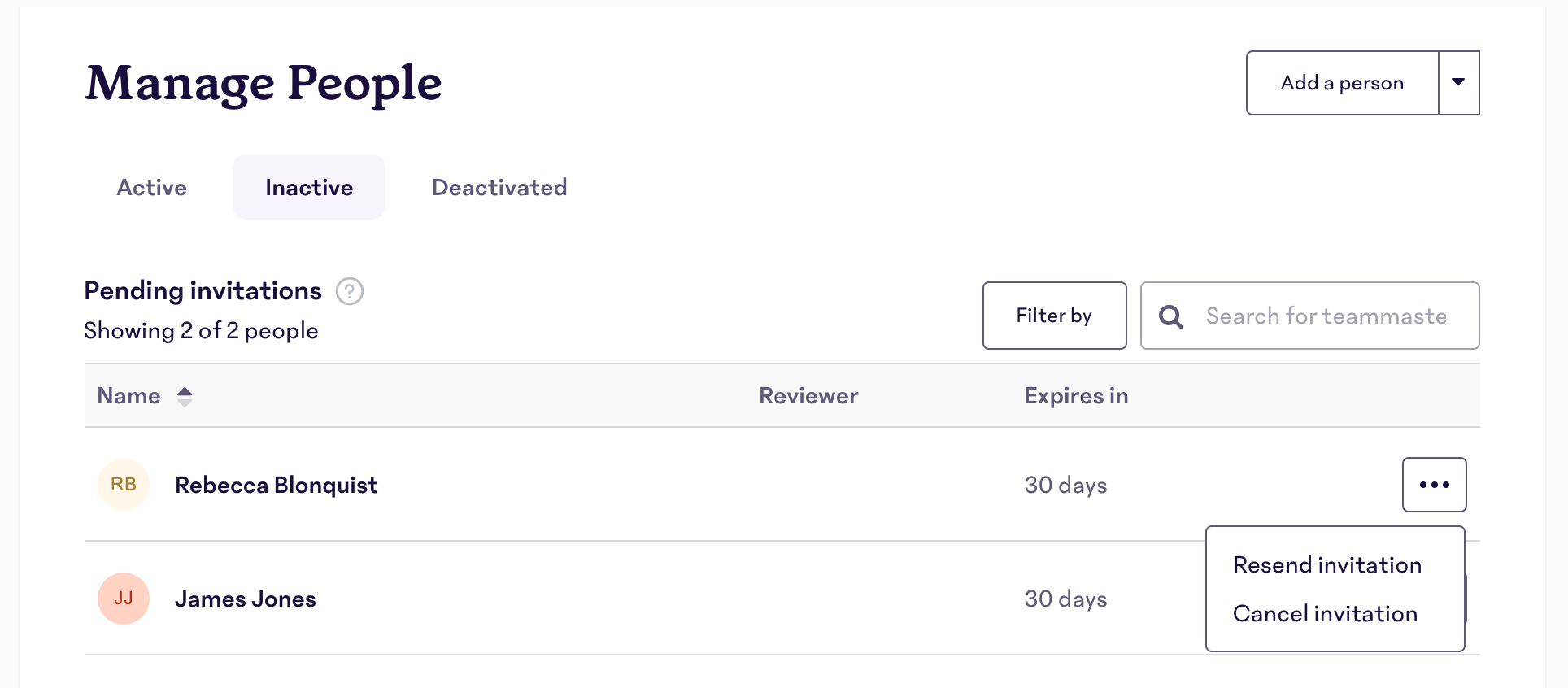 Created people
The Created people section is for people who have been added to 15Five and have NOT received an invite email and do not have an email waiting to be sent to them. Think of this section as "invite email needs to be manually sent when ready".
To send an invitation to one person, click Send invitation to the right of that person's name.
To bulk send invitations, multi-select the people that you want to send the invitations to, and click the top Send invitation button.
Once an invitation has been sent, the person will move to the Pending invitations section.

Tip
Individuals in the Created people section can be added to or included in (even though they have never been invited and have yet to log in):
Best-Self Review® cycles
Objectives
Engagement+ surveys
Groups and Smart Groups
---
Deactivated
The 'Deactivated' tab contains all people who were once active in 15Five, but have since been deactivated–whether manually or by HRIS/SCIM.
If you reactivate people from this tab, they will receive an email letting them know that they have been reactivated and be moved to the 'Active' tab.