Check-in questions are fully customizable and can be asked to the whole company, a group, or specific people. If you need some inspiration on questions, use our Question Bank which provides a variety of research-backed questions designed to increase your performance, engagement, and culture. Otherwise, here are some details regarding creating questions, types of questions that are available, frequencies for questions, and more.
Guide 📖: The Great eBook of Employee Questions
Video 🎥: Question Management Strategy: 101
Note
Only account administrators and reviewers will be able to change questions.
---
Create a new question
1. Click on Settings from the left navigation.
2. Then click on 'Check-in questions' to expand the question settings.

3. Last, click on 'Manage questions'.

4. Click on the Create a new question button.

5. You can choose from three options: Company-wide, Group, or Person.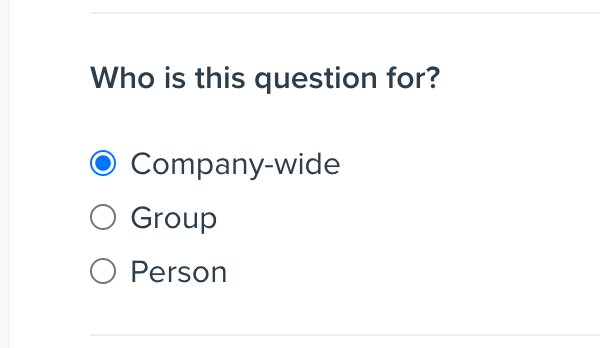 Company-wide: These questions are asked to all reporters. Only account administrators can ask company-wide questions.
Group: These questions are for specific groups and its members. Account adminstrators, reviewers, and group administrators can ask group questions.
Person: These questions are for specific people. Account administrators and reviewers can ask person specific questions.
6. Select a question type. Types Yes/No, Numerical, and Rating scale are all considered metric questions and allow you to pull Trend/Poll reports after answers have been submitted. Types Text and Question bank can be reported on in the Questions dashboard after answers have been submitted. To pull a question from the Question bank, select that option and a list of all available questions will appear to be added to Check-ins.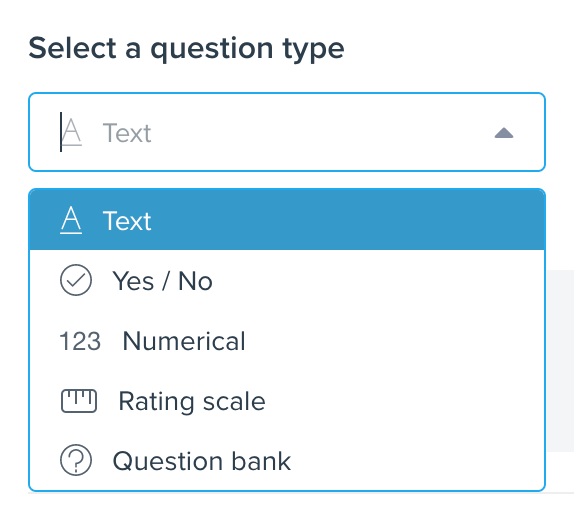 Text: These are regular plain text questions with no formatting.
*Yes/No: These questions are for simple Yes/No responses.
*Numerical: Metric questions are quantitative questions.
*Rating scale: Rating scale questions allow you to ask questions where the answer format is a range of options.
Question bank: We provide a list of questions for you to ask your team so you can always keep your questions fresh.
Account administrators & reviewers can see data from company-wide metric questions. Reviewers will be able to see data from their team's Check-ins, as well as anyone whose Check-in they have access to view. There are no private answers for metric based questions.
*Metric questions (Yes/No, Numerical, Rating scale) are only available on 15Five Plus and Enterprise. With 15Five Plus and Enterprise Plans you can ask, measure, and manage just about anything you can think of for your team.
Success Center article 🗒: Question types and examples
7. Ask your question in the 'Question' field. This field is free text and allows you to input questions in another language! Hints, notes, directions, URLs, etc can be listed here as well.

8. Choose your frequency for the question, "How often is the question asked?"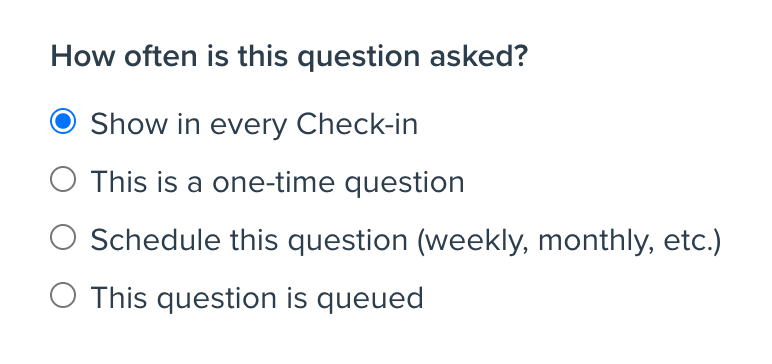 If you select Show in every Check-in, the question will appear on all check-ins for every reporting period, regardless of their frequency.
If you select This is a one-time question, the question will be added to all currently open Check-in reports. If someone has already submitted their current Check-in, the question will appear on their next Check-in and then disappear.
If you select Schedule this question, additional options will expand asking you how often you want the question to appear. Options include Weekly, Bi-weekly, Monthly, and Quarterly.
Keep in mind your reporters' frequencies when you schedule questions. If everyone has different frequencies, it may be difficult to schedule questions on a bi-weekly or quarterly cadence for example.
9. You can choose to make the question optional or even post it to Slack.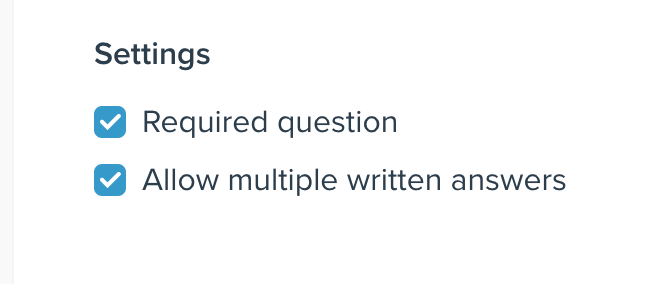 Success Center article 🗒: Integrate 15Five with Slack
10. Click Add new question.

---
Set up group questions
1. Click on 'Settings' from the left navigation.
2. Then click on '15Five questions' to expand the question settings.

3. Last, click on 'Manage questions'.

4. Click on the 'Create a new question' button.

5. Select 'Group' and then choose the group this question is for.

6. Complete the question fields and click on 'Add new question' to save. You can ask questions to a specific team only by using our group question feature. If you have not created a group yet you can do so
here
.

Tip
Ask no more than 5 questions total maximum to keep 15Five lightweight and true to its name.
Question Queues also have frequencies. Click on the gear to the right of your Question queue section to see current settings and update. For more information on Question Queues, check out this article.
Want to analyze your team's answer to a question? Run a report from the Questions dashboard.