Calibrations in 15Five allow designated calibrators to see the distribution of review ratings across team managers and adjust those ratings in real time. Once a calibration session has been created and manager reviews have been submitted in a Best-Self Review® cycle, it's time to begin holding calibration sessions.
In this article, you will learn...
Access and availability
⛔️ Required access to Best-Self Review® and Calibrations.
👥 This article is relevant to Review admins and Cycle collaborators.
📦 This feature is available in the Perform and Total Platform pricing packages.
---
Hold a calibration session
After the manager review deadline has passed, you can begin holding calibration sessions. Until then, calibrations will be greyed out and inaccessible so that managers have time to submit their reviews.
To begin, schedule a meeting that includes all calibrators. We suggest appointing a moderator or secretary for the session to help take notes and keep the meeting on track. This meeting should take place after the "Manager review due by" milestone passes to ensure that all manager reviews have been submitted.
Open the calibration session by clicking on Best-Self Review® in 15Five's main, left-hand navigation bar > clicking on the name of the review cycle > opening the 'Calibrations' tab from the top navigation bar > clicking into the name of the calibration session you want to work on.
During the calibration session meeting, use the tools covered in the next section of this article to make adjustments to manager review answers. You can also check out our Calibration Best Practices one-pager for tips on how to structure your calibration session.
Some key things to keep in mind...
If a participant is included in more than one calibration session, a number icon will appear on their avatar that indicates how many sessions they're a part of. Any changes you make to their review will be reflected immediately across all other calibration sessions they're involved in.

If a participant included in the calibration session had an additional manager in the review cycle, the additional manager's review results will also be shown in the calibration session. If a contributor makes a change to any manager review answers (whether that answer be on a primary or additional manager review), that change will be applied to all manager reviews for the participant.
In calibration sessions it is not possible to directly change a participant's performance rating. However, if changing an answer on a participant's review impacts their performance rating, that change will be automatically reflected in the 'Performance Ratings +' column of the Calibration Table, so contributors can see the impact of answer changes to the overall performance rating for an individual.

If you see a white horizontal row for a participant while viewing the Calibration Table, that means their manager review wasn't submitted. Answers will only appear in the list once the manger review has been submitted.
---
Interact with a calibration session
This section walks through the sections included in 15Five calibrations and how to interact with them. Please read this section in its entirety before making changes to best utilize the calibration session feature and your time.
Calibration session header

At the top of the page, you'll notice the name of the session and the contributors. Click '...' to the right of the session for options to edit, clone, or delete the cycle. Fields available for editing are: session name, which review sections are included in the session, contributors, and participants.
Note
Session contributors, review sections, and participants review data can only be edited before an answer has been calibrated. If you need to make changes to these settings once you've already calibrated an answer, please delete this session and create a new one.
Filter session by

Available actions in the Filter session by section include:
Use People & Groups to filter by direct reports, hierarchy, individual, and/or group type. You can select multiple filters here.

Use

Review section

to select which review section (Private Manager Assessment, Company Value ratings, Competency ratings, and Objective ratings) you want to view answers for on the Talent Matrix and Calibration Table. This filter will only appear if more than one section was included in the calibration session.
Talent Matrix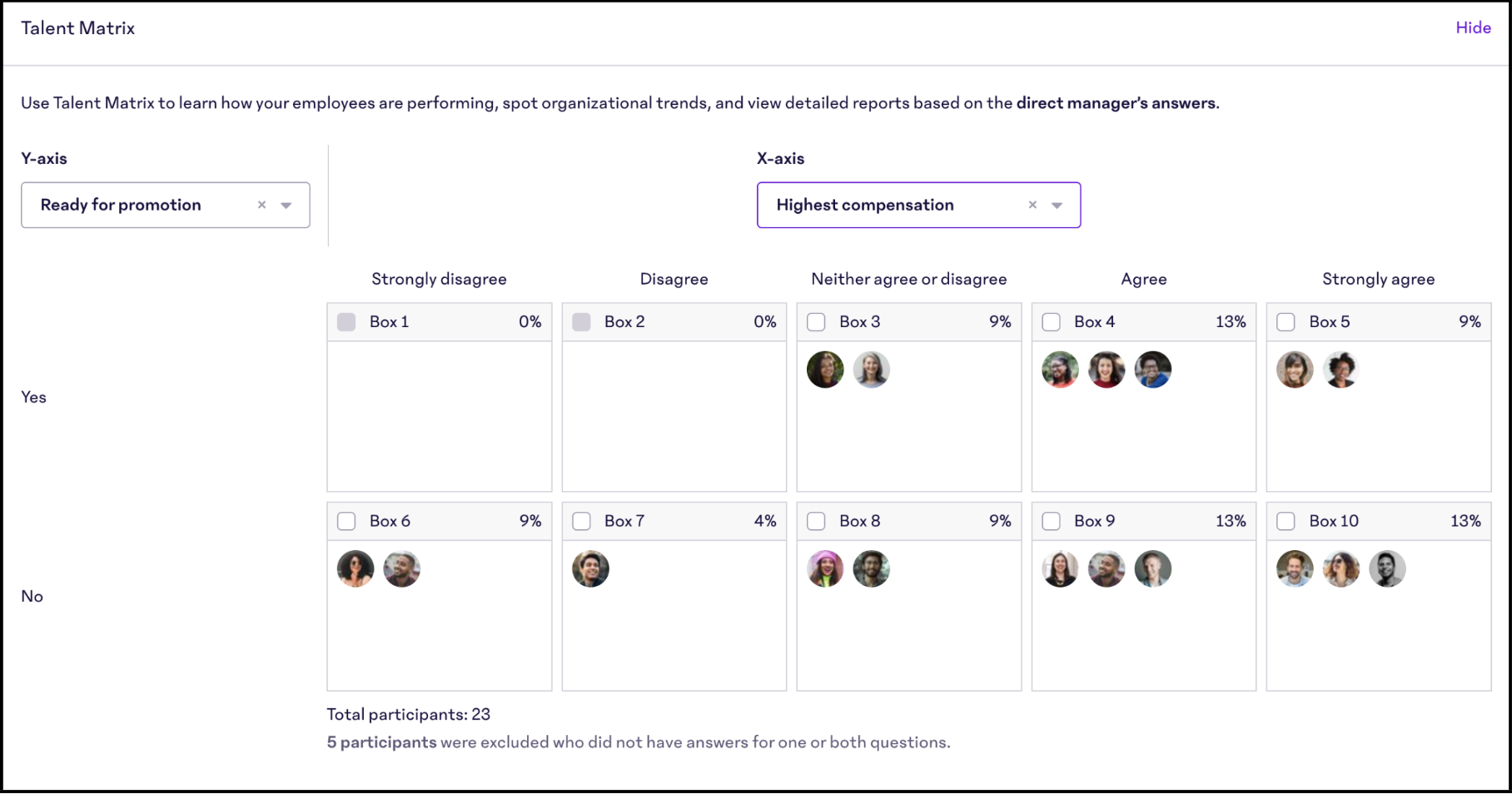 Click Show to expand the Talent Matrix for the calibration session. The Talent Matrix allows you to visualize how your employees are performing, spot organizational trends, and view detailed reports based on the direct manager's answers. You can also click Hide to remove the Talent Matrix from view.
Available actions in the Talent Matrix include:
Drag and drop participants to change review answers: Contributors can drag participants from one box to another. Any changes made in the Talent Matrix will automatically update in the Calibration Table below.

Filter by Talent Matrix "boxes": Check the box in the upper, left-hand corner of any "box" in the Talent Matrix to filter the Calibration Table below to display only answers reflected within that box. Multiple boxes can be selected at a time.

Calibration Table

As you scroll down, you'll see a list of cycle participants included in the session, as well as manager review answers written about them. This is the section in which you'll make changes to manager review answers. We save changes regularly while the session is open and changes are being made, meaning that if someone leaves the page while editing and comes back, the changes will remain.
Available actions in the Calibration Table include:
Change an answer. To change an answer in a calibration session, hover over the answer cell in the Calibration Table, click '...', then choose the calibrated answer. Once a change is made, the cell will become yellow and note the original answer (crossed out) and the calibrated answer. Changing an answer from either the direct manager or an additional manager will cause all answers to that question to change to the new answer.

Sort participants: All columns in the calibration table can be sorted in ascending or descending alphabetical using the arrow icon next to the column name. This makes it easy to organize by what answers were given to a question— for example, if you want to calibrate answers for everyone whose manager said 'Yes' to the question 'Is [Name] ready for promotion?' first, simply use the up/down arrow next to that question column.


Flag a participant: Flag a participant by checking the box to the left of their name, clicking the Actions button at the top of the Calibration Table, and selecting 'Flag' from the dropdown menu. Flagging a participant could indicate that a person has been discussed, that they're yet to be discussed, or that they need further discussion— but can be defined by the customer.

Bulk actions: Check the box to the left of any person or group of person's names then use the Actions button at the top of the Calibration Table to apply any of the following actions to them:

Remove participants from a session
Flag participants in a session
Remove flag from participants in a session

Open participant snapshot in drawer: Click on a participant's name to open their snapshot drawer. This drawer includes: important data points including: Job title, Reports to, Manager Review Written by, Additional Managers, Location, Last Cycle Rating, Hire Date, Group Memberships. A change log, which logs changes made on a participant in all calibration sessions for the current cycle. A See participant's review page link that takes you to their review results.

Show changes to performance ratings: If your company is using Performance Ratings+, the performance rating for a participant will update automatically when changes are made in the calibration session that impact their rating. This update will happen in real-time, so contributors can see the impact of answer changes to an individual's rating.

Filter participants by Talent Matrix boxes: When using the Talent Matrix, you have the option to filter the Calibration Table by one or more boxes in the Table Matrix so that only answers within those boxes are reflected in the Calibration Table. Simply select the boxes you want to see results for under "Filter participants by Talent Matrix boxes" (located in the upper, right-hand side of the table).

Activity feed

Any changes that you make will be logged in the activity feed at the bottom of the page. Contributors and anyone else who has visibility into a calibration session (that is, review admins and cycle collaborators) can use the activity feed to make note of what is changing and why, as well as hold discussions as needed. This information is extremely important, as it can be referenced by contributors and review administrators in the future.
Available actions in the Activity Feed include:
Leave a comment using the "Add a comment" field.
@mention other contributors, as well as review admins and cycle collaborators who are not appointed as contributors, in your comments.
Start a comment thread on a change or comment by clicking the dialogue bubble icon under a change in the activity feed.
---
Next steps
Now that the calibration session has been held and all desired changes to manager review answers have been made, your work in the session is complete. Your next step is to lock the calibration session. Until the calibration session is locked, managers will not see updated answers in the manager review or summary. Locking a session is the final step and all sessions should be locked before the 'Calibrations due by' date.
---
Check out these additional resources ⬇️