From your 'My profile' tab, you will see an overview of your most important items that have been captured by 15Five. Your profile page is interactive and allows you to update information about yourself, your to-dos, your wins & challenges, etc all from the same place. The 'My profile' page is not to be confused with your 'Account settings' page. Your account settings include your name, email, reporting period and due day, reviewer, etc and can only be managed by your reviewer or an account admin.
Some things you can do in 'My profile' are answer the prompts about yourself, review to-dos, mark priorities as completed, view objectives, see recent High Fives, check your Pulse trend, hold a Best-Self Kickoff meeting with your manager, update your Career vision and trajectory, manage your Wins & challenges, and the list goes on. Your profile is the hub for your personal 15Five activity.
Webinar 🎥: Your 15Five Home page: The feature you could be getting more out of
Highlights Tab
You are the only person who can see your Highlights tab.
To-dos: Use this list to keep track of upcoming items that are to be completed. Think of this section as items that need your attention. The list will include 15Five reminders, Priorities, 1-on-1, Objectives, and Best-Self Review™ to-dos.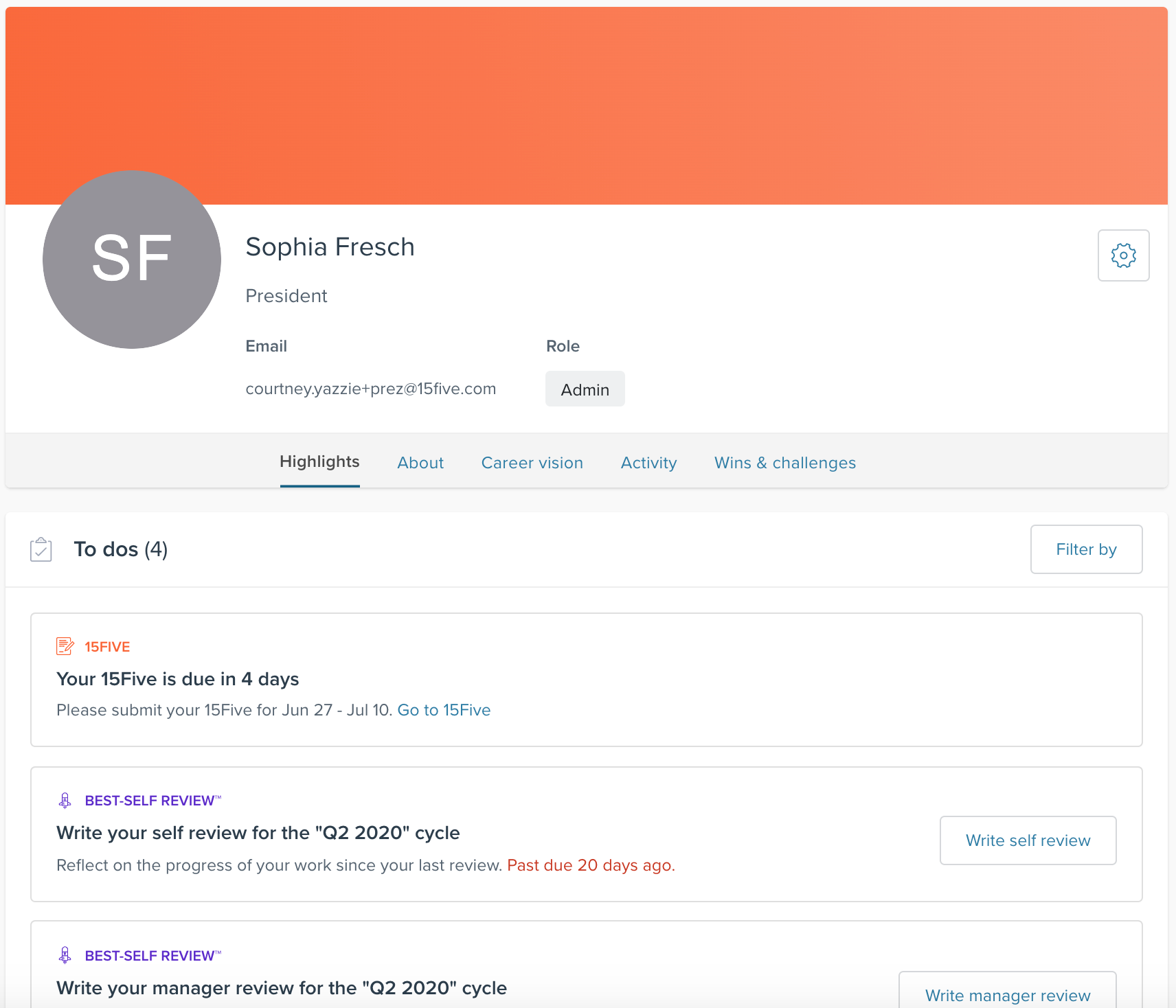 TIP 💡: Use the 'Filter by' option to pick and choose which items appear on your Highlights page.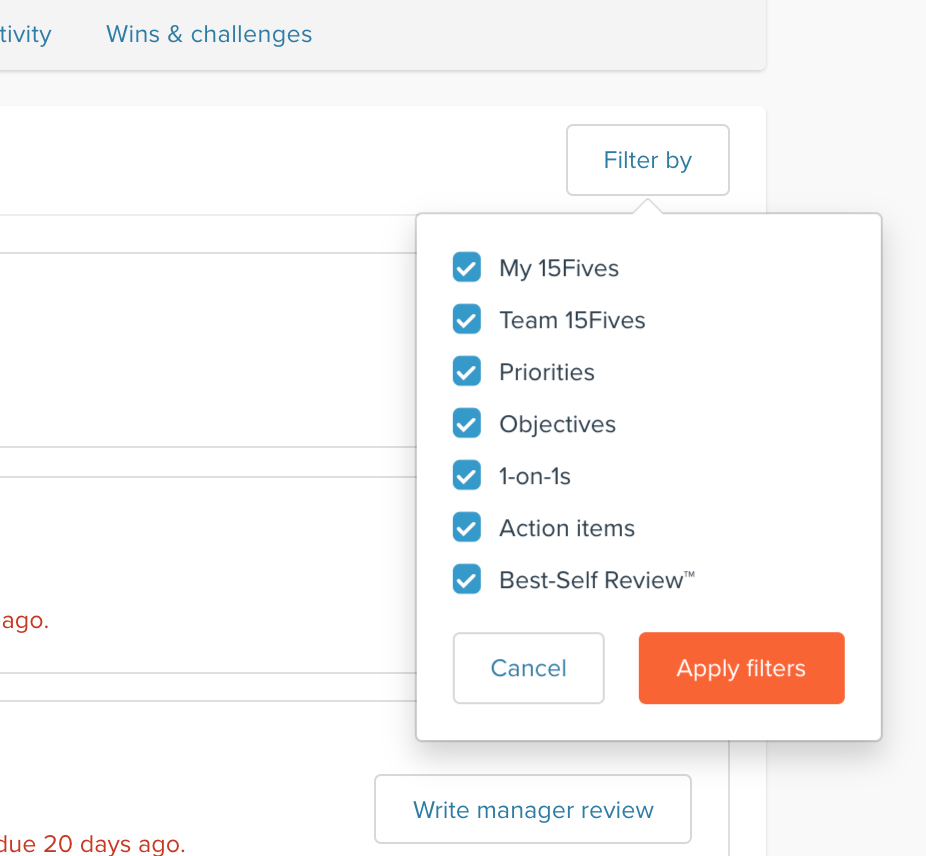 Objectives: Review your current objectives. If you need to edit an objective or mark one as complete, click on the objective name and make the changes. See more about managing your objectives here.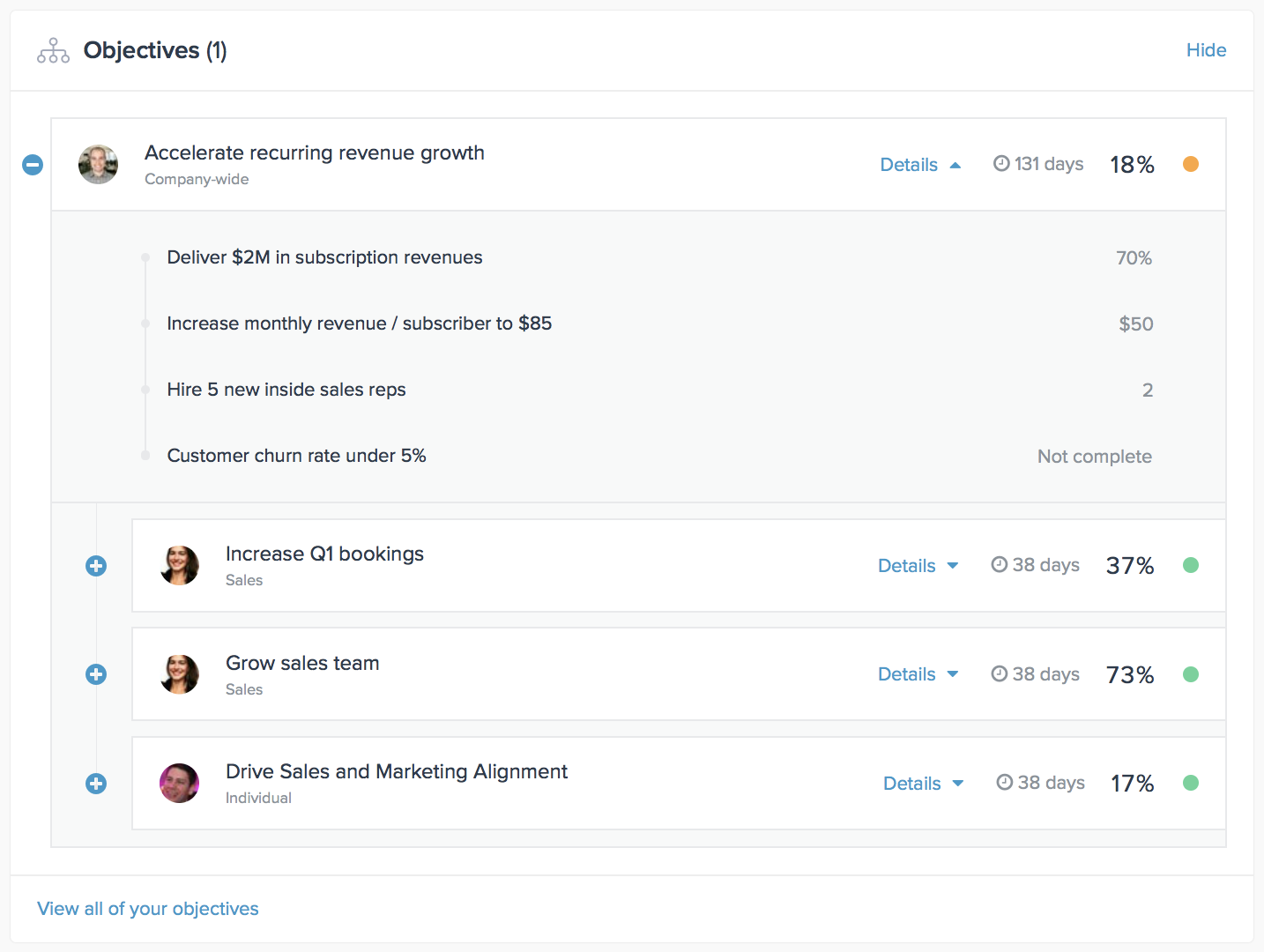 Recently received High Fives: View all High Fives that have been given to you. Remember, you really are awesome! You can like or comment directly from this page. Want to share the love? Learn how to give a great High Five!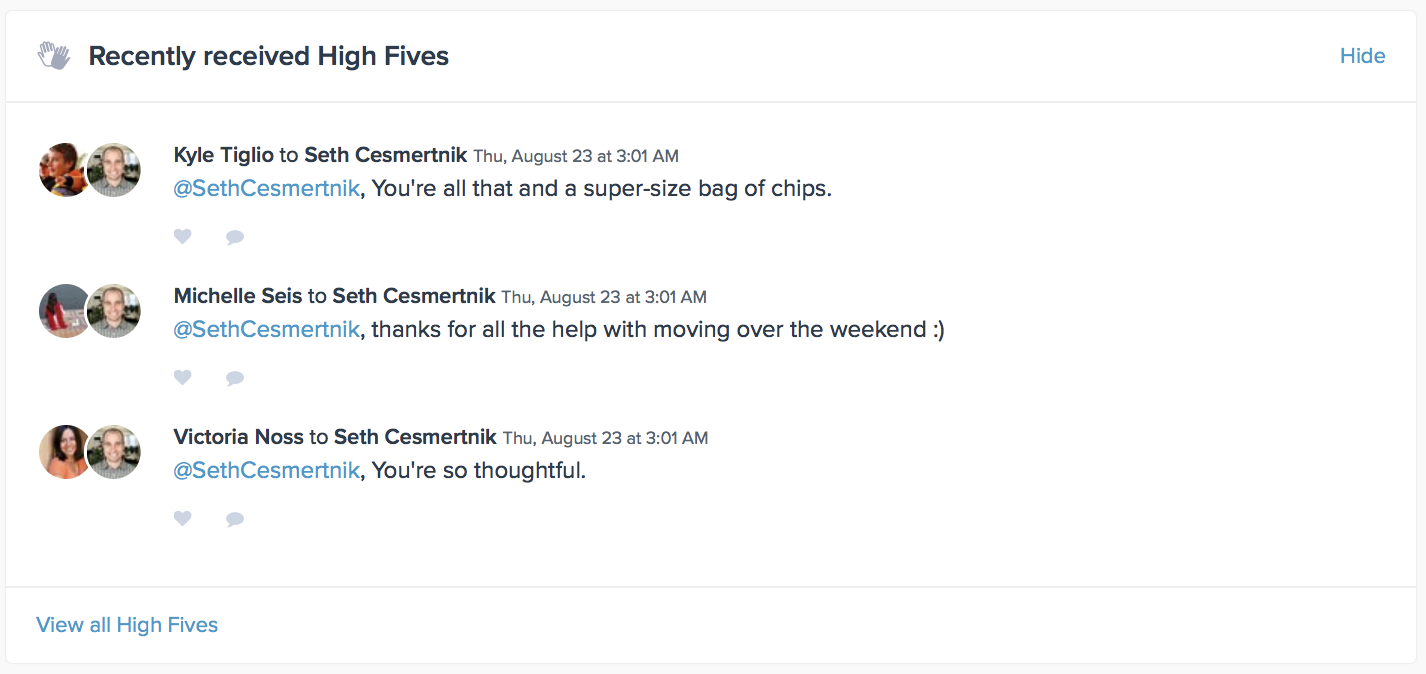 About Tab
Your About tab is visible to everyone in your company by default.
This tab consists of all questions/details that your account admins, reviewers, and teammates would like to know about you- so answer honestly. 🤓 Your 'About' page is visible to everyone in the company. Additionally, each individual has the option to make their answers to the About questions private to their manager only. Account admins control what prompts appear in this tab. Therefore, information on the 'About' page can change over time, depending on what your account admins want to know about you. Also included on the 'About' page is your team and/or group membership, if applicable.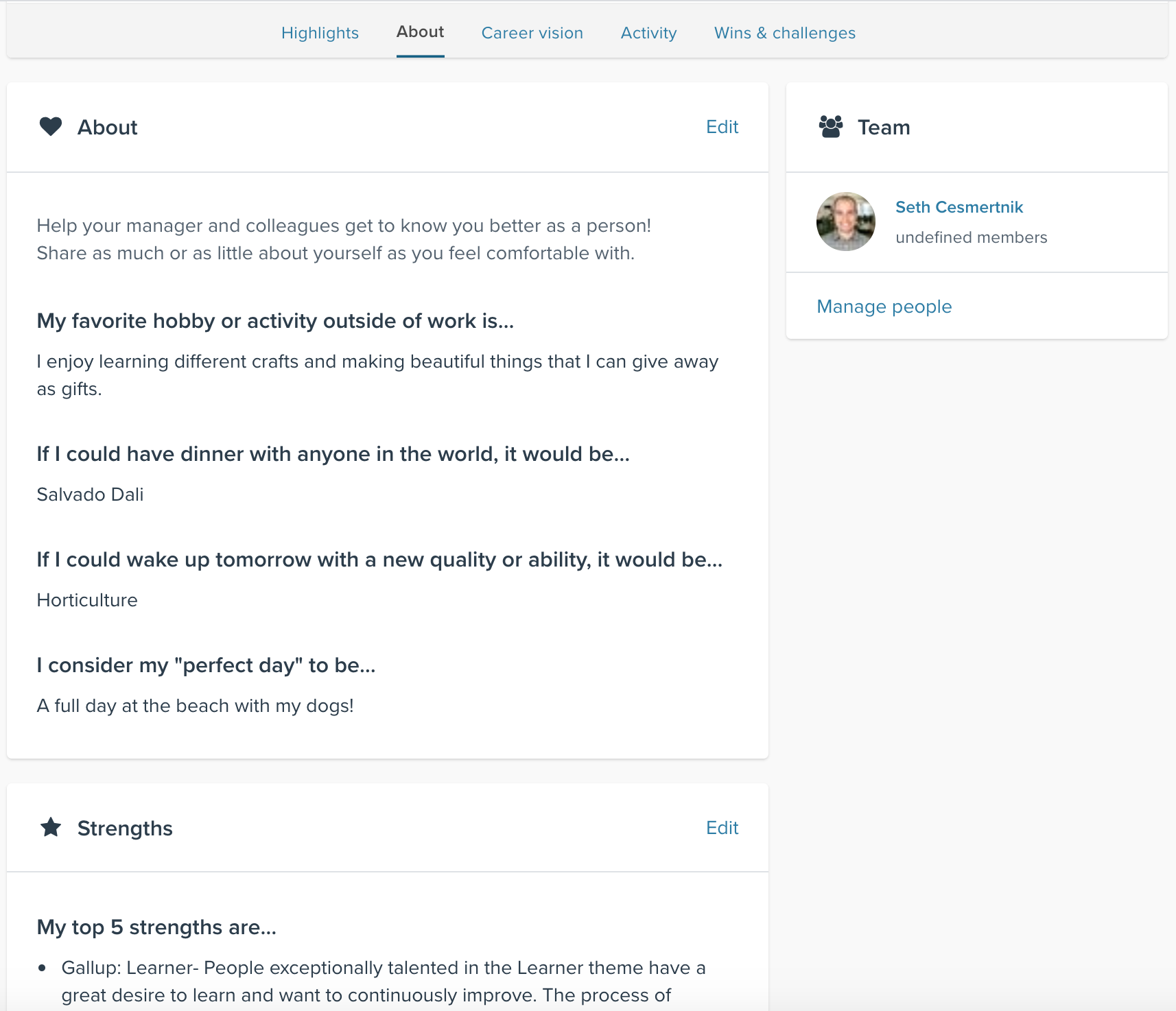 Career vision tab
Your Job title, Job description, and Strengths are visible to everyone. Career trajectory is visible only to you and your manager/reviewer.
The career vision tab outlines your current career information and your career trajectory. Be honest. It helps your manager develop a career path for you, knowing what your dream job title is. This tab can drive discussion when it comes time for quarterly or annual reviews. 15Five believes each individual has a "zone of genius", and our software gives you the platform to list your strengths and aspirations. You can edit these fields by clicking 'Edit career vision' in the top right.
Do you work closely with others in your company on a regular basis? If so, check out their strengths and job description to better understand their working style and responsibilities.
Video 🎥: The Missing Part of Your Employee Learning and Development Strategy: Strengths Discovery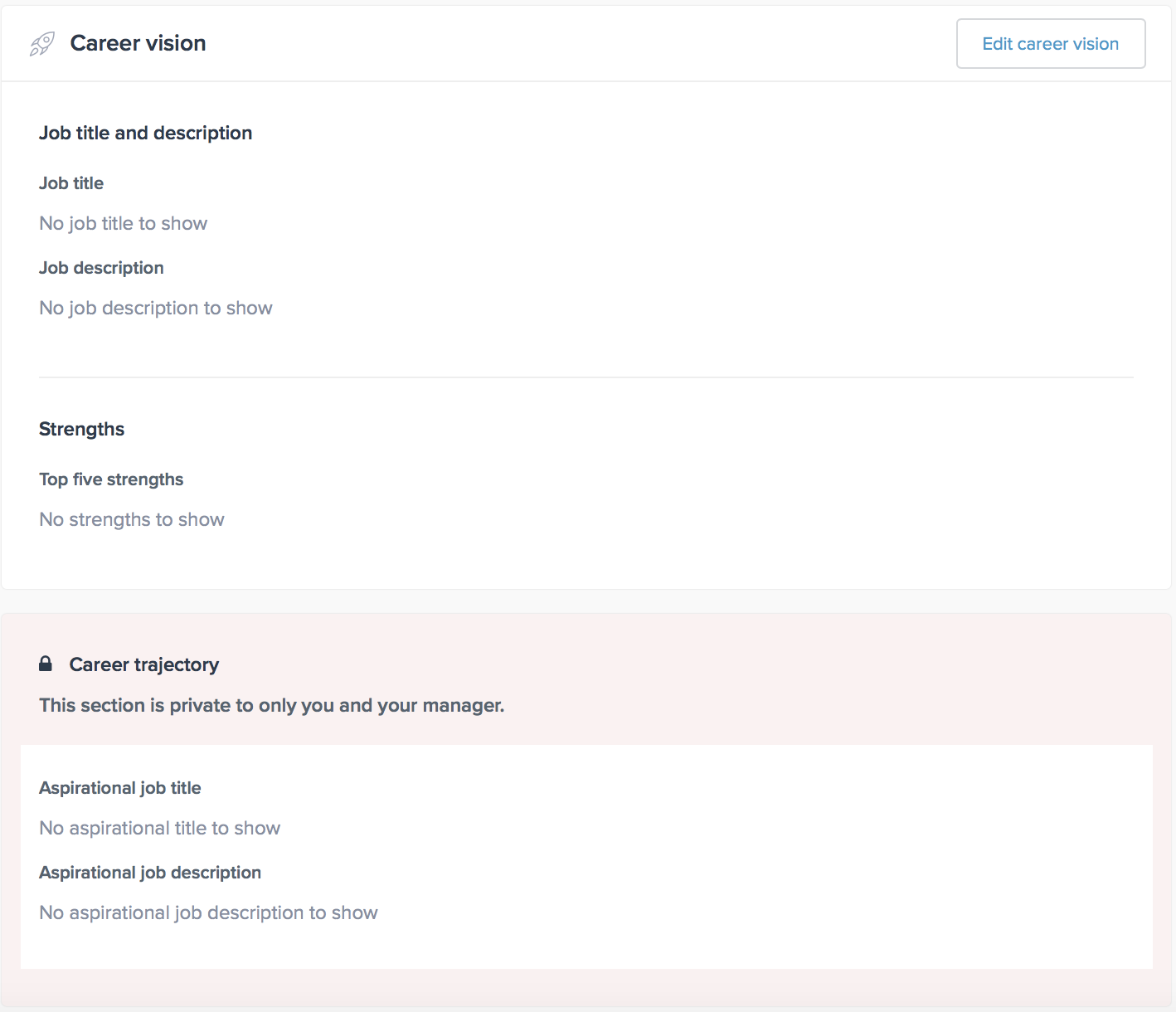 Activity Tab
Your activity tab is visible to everyone in your company.
Pulse trend: Review your past Pulse responses and comments. You can change the time frame that you would like the graph to display. If you see any outliers, reflect back to the corresponding 15Five and try to spot trends in high or low pulse scores.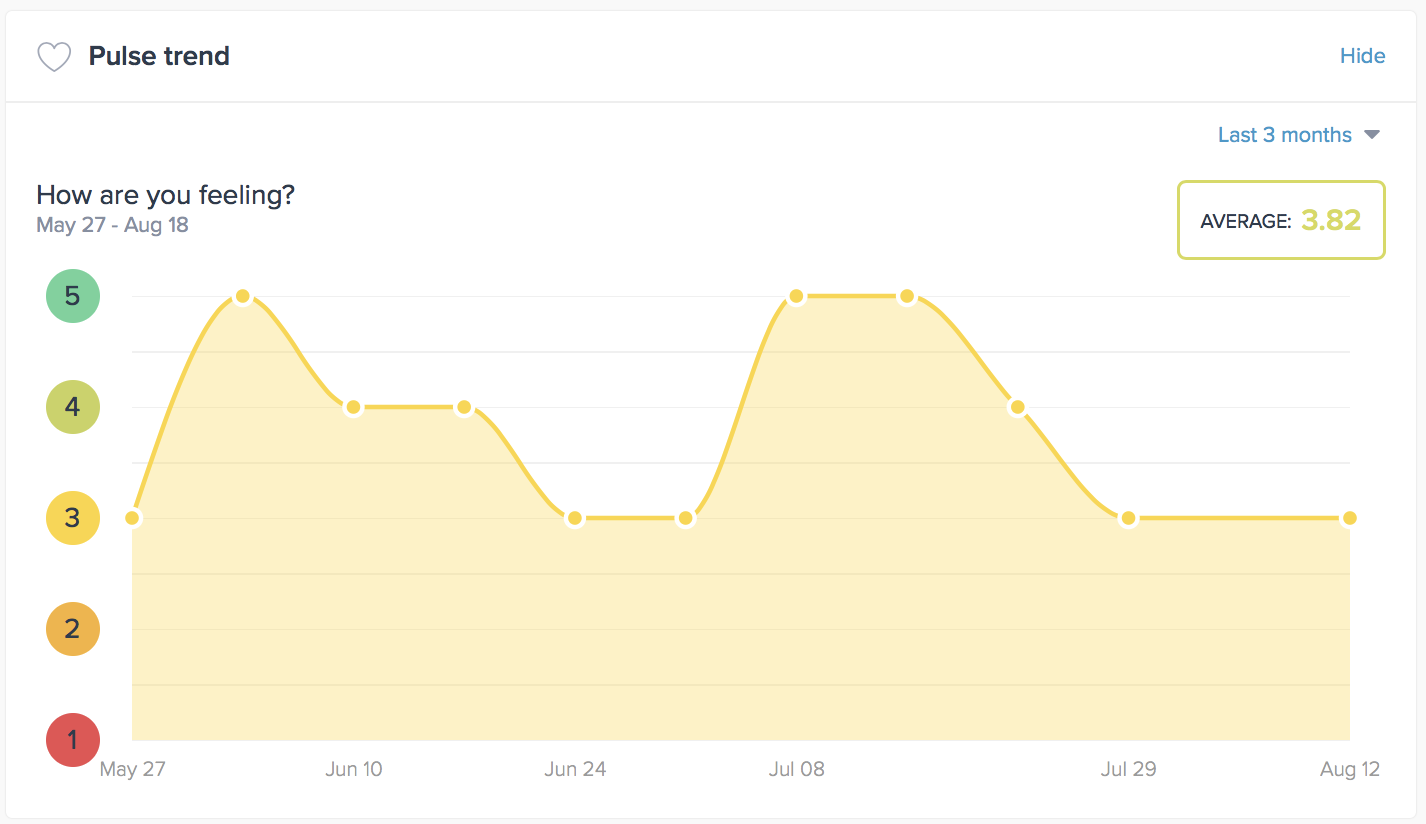 Objectives activity: Check out your objectives and their latest statuses. Click on one to open and edit. The time filter could result in closed or archived objectives appearing, depending on when they were closed or archived.

15Five activity: How are you doing with submitting your 15Fives? This section lists reports, their reporting periods, and the day you submitted each report. Missed a week? Learn how to go back and complete an older 15Five report.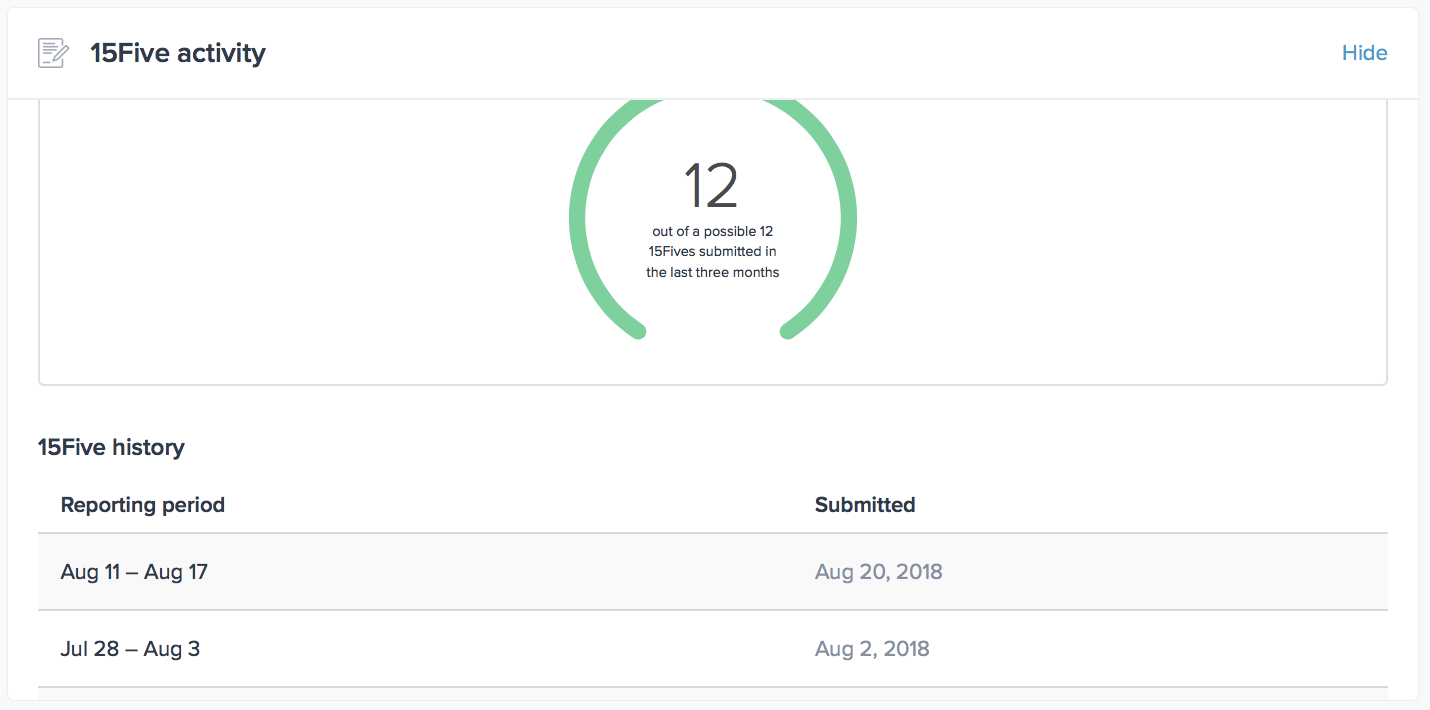 Questions asked: You can look at past questions that you have answered on reports, and know which report to open if you want to check your response.
This is a great place to check out your own questions, but also a good time to refer to your direct reports' profiles (if you have direct reports) and see if their questions are being changed up enough. Chances are, if your questions are redundant or irrelevant, their's are too!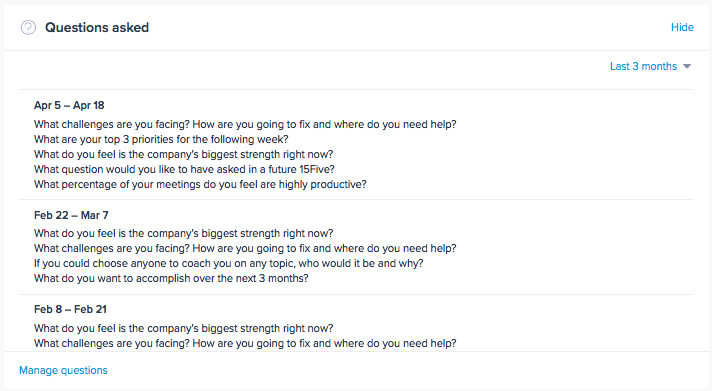 1-on-1 activity: View 1-on-1 meetings that have been held and ended, when the meeting took place, and who was involved.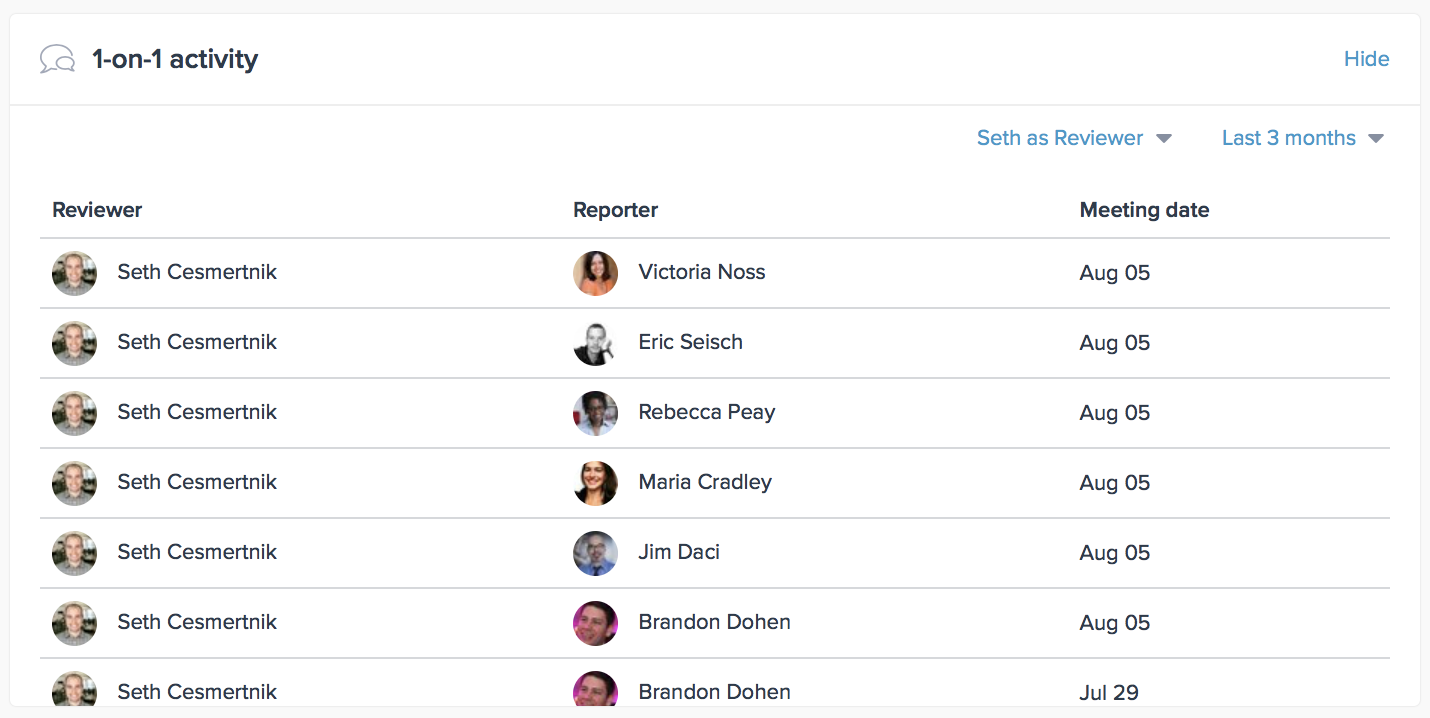 High Five activity: It is fun to read your past High Fives (given and received) from your profile. All High Fives that include you are listed in this section. Also, you can see how many High Fives you have given and received number wise. If your company has it enabled, you can also see all the high fives for your company on the Leaderboard. Let that gratitude inspire you!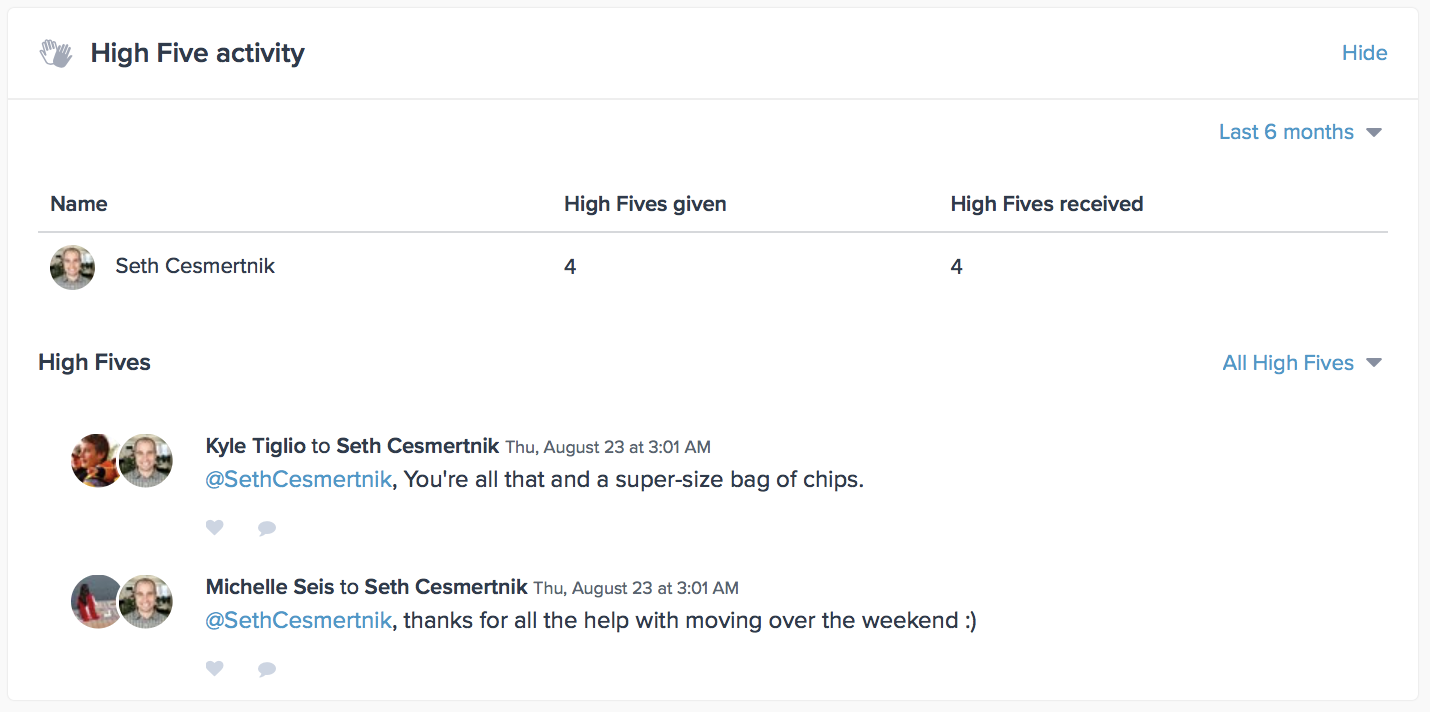 Wins & challenges
Your Wins & challenges tab is visible to you only. Your manager also has a Wins & challenges tab for you that only they can see. You cannot see what each-other adds to wins or challenges.
Wins & challenges is a space to collect and track the things that went great and the things that didn't go so well over time. You can add 15Five items to your Wins & challenges after you have submitted your check-in. Your reviewer can also add items to your Wins and Challenges, but they cannot see the items you have added and you cannot see items that they have added.
You can add a note from scratch using the 'Add a new note' prompt at the bottom of your wins or challenges section. This is also a great way to add additional color to a win or a challenge that was added from a 15Five.