Consistent communication through recurring and impactful 1-on-1s is the secret ingredient to effective leadership and engaged teams. Why? Because team members don't want to have development conversations just once a year. And managers don't want to wait until their next engagement survey to know where their team members are struggling.
Companies that continually focus on growth and development and regularly gauge employee morale through recurring and effective 1-on-1 conversations will be able to respond to employee challenges and triumphs in real time instead of only once each year.
Video 🎥: 1-on-1s: Proven Effective Since the Stone Age Webinar
---
Tips to make the most out of your 1-on-1s
1️⃣ Establish a regular cadence
Consistent check-ins are vital because open and regular communication are the building blocks a healthy relationship. Research from Gallup shows that employees are 3 times more likely to be engaged at work if they have managers who hold regular meetings with them. We've found that checking in with each team member for at least 30 minutes once a week or every other week works best.
You can set up recurring 1-on-1s with someone either by 1) setting up the Google Cal integration and selecting the 'recurring' option when creating the 1-on-1, or 2) creating a recurring Google Cal event and including a static 1-on-1 agenda link in the notes. Maintaining accurate information on each 1-on-1 agenda is crucial to ensure meetings are organized and tracked properly.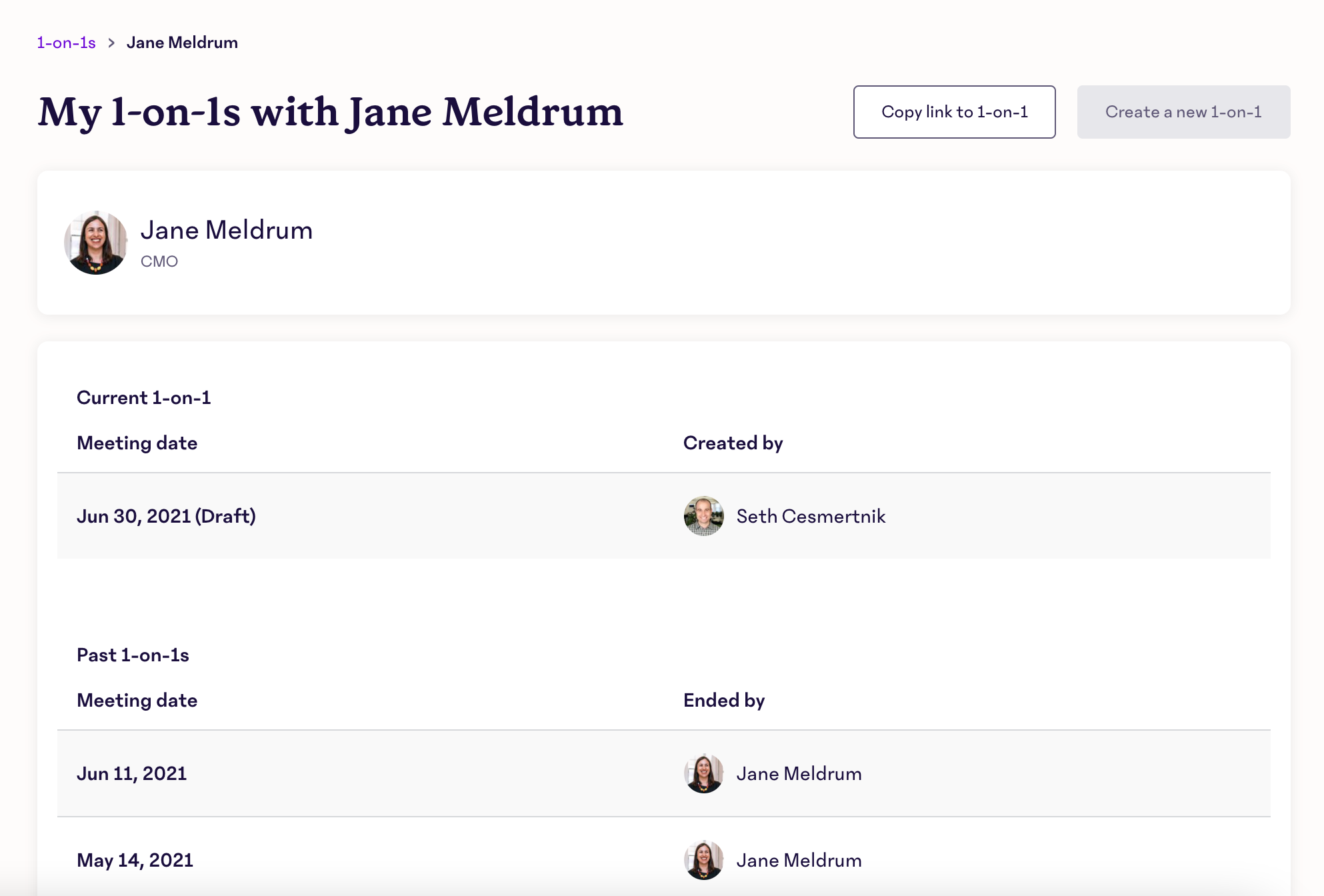 Along with establishing a cadence, we have an option to Copy link to 1-on-1 that can be found on your 'My 1-on-1s' page (see the screenshot below) or on any 1-on-1 agenda. What does it do? It copies a static link that will always take you and the other person to your current 1-on-1 agenda. This is especially helpful when the link is pasted into an existing calendar invite, as it will always direct both people to their current 1-on-1. Even better, do this for everyone that you have a standing 1-on-1 with so that you can easily get to your most current 1-on-1 agenda as soon as the meeting begins.

2️⃣ Collaborate
Effective discussions are two way. There's no one way street in 15Five. 15Five allows both you and your direct reporters (or your teammate) to add action items and talking points to your 1-on-1 agenda—notice how some items are added by the reporter, and some are added by the reviewer. No matter who adds items to the agenda, we'll update both people's agenda in real time and save your drafts along the way. This hammers home the idea that the agenda is collaboration between the two people. It's not a manager driven (or one sided) meeting by any means. In fact, the contrary is usually true.

Tip
Try adding a comment to a talking point or action item to ensure context from the 1-on-1 is captured in line with the item.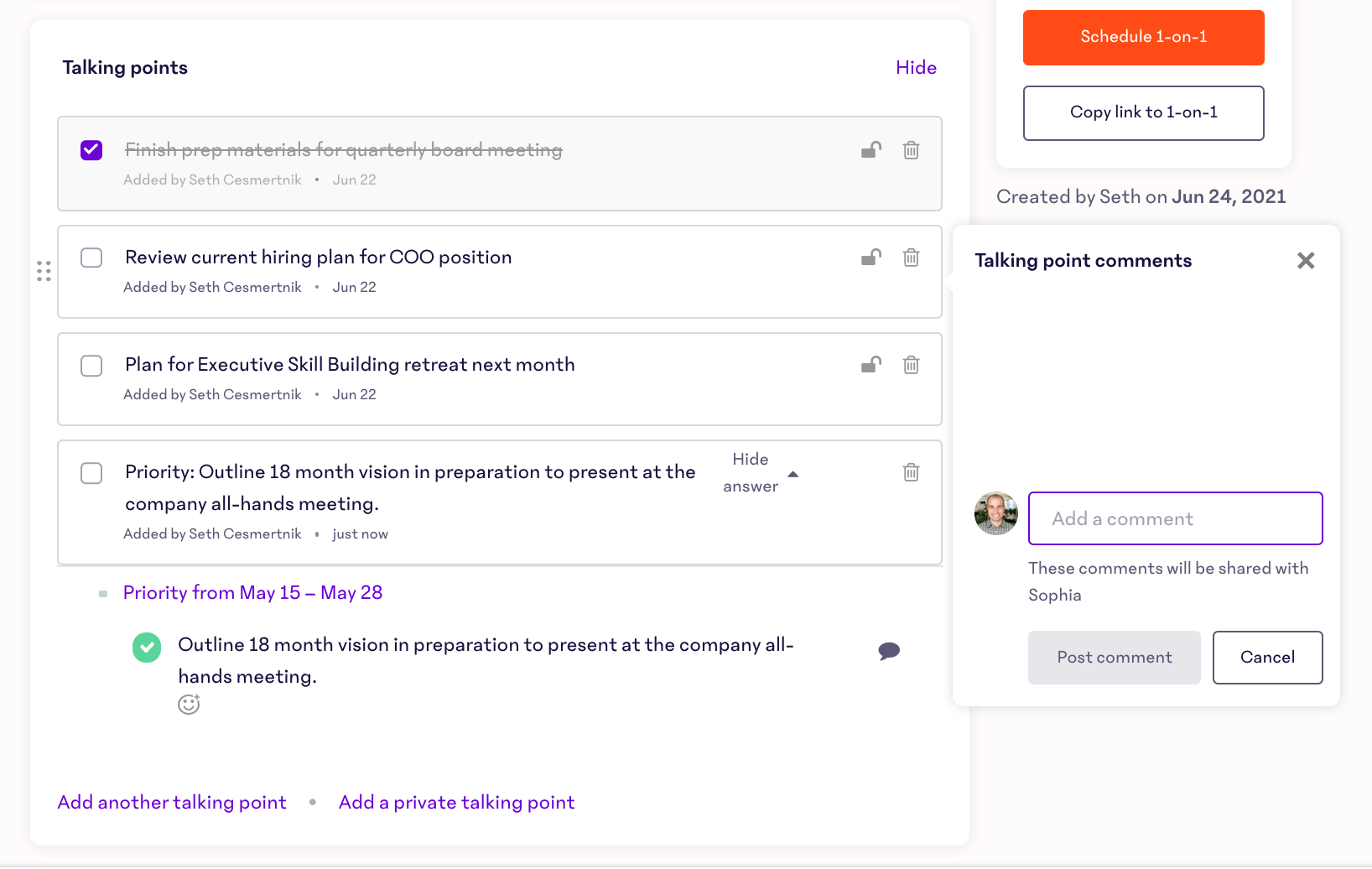 3️⃣ Focus on what matters
The most effective 1:1 conversations go way beyond status updates. 15Five makes it really easy and simple to strategize, focus, and prioritize talking points during your 1:1 conversation. Your team member will fill out and submit their 15Five before you meet in person. Once the 15Five is submitted, you and your team member can push the most important topics from the 15Five into the 1:1 agenda so, when you meet for your 1:1, you can focus on what really matters.
The answers from a 15Five that you add to the 1-on-1 agenda will appear under the 'Talking points' section. For more information on adding items to the 1-on-1 agenda, see this article.
For information on critical topics to discuss in your first 1-on-1, check out our interview with Kim Cameron, Ph.D., Professor of Management and Organizations.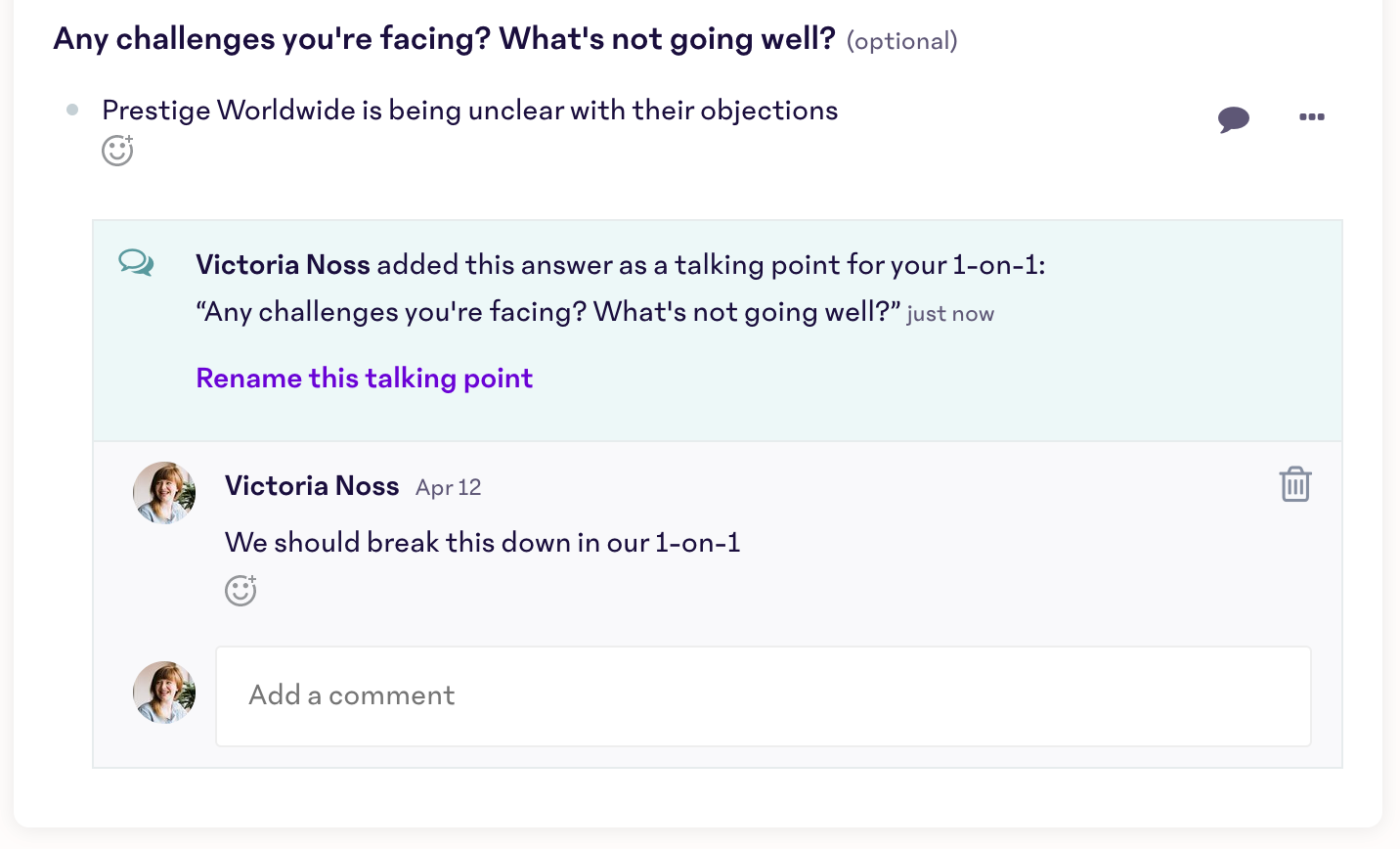 4️⃣ Enhance your content using formatting tools
There are ways to enhance your 1-on-1 agenda, allowing for deeper conversation and less tactical run around. The below enhancements exist across talking points, action items, and shared notes.
Make any talking point or action item private using the lock icon.
Use the text formatting options to bold or italicize text.
Add a hyperlink to your text by highlighting the word(s) and using the link icon.
Create a bulleted or numbered list.
Add an attachment to your agenda using the paperclip icon.
When all content is organized and outside resources are included, 1-on-1 conversations can flow more freely. Both people can come prepared and informed about what is to be discussed. Not only that, but you may find a way to format your 1-on-1 content week over week so that you have a sort of "template" ready for each meeting.
Blog Post 🗒: The Only 1-on-1 Checklist You'll Ever Need
Science 🔬: The science behind Check-ins and 1-on-1s