Sometimes goals are created from a "set it and forget it" mentality, but not in 15Five! 15Five makes it easy to track your progress on a regular basis so you can actually reach the finish line. In 15Five, we call shorter-term goals "priorities" and longer-term goals "objectives". Priorities are set regularly from within your Check-in. Objectives are usually set quarterly, bi-annually, or yearly, are updated via your Check-in, and are managed in our Objectives feature. Continue reading for more information on these options.
---
Priorities
Depending on your company and group settings, you may have a Priorities section on your Check-in. Priorities in 15Five are short-term goals or tasks that are set and managed in your Check-ins. Writing your priorities directly in your Check-in lets your manager know what weekly tasks you are prioritizing, and they too can track your progress toward accomplishing your goals.
Research shows you should select a few activities at a time to focus on—maximizing time and performance on those few things. The fresh start effect also shows that the best time to prioritize is Monday. A general rule of thumb is to open your Check-in at the start of every week, review the priorities you set for yourself, and identify anything else you want to focus on over the coming Check-in period. You can edit your priorities, carry them over to another Check-in, or add priorities that you forgot to add the week before using 'Add a new priority'.
Another useful function of the Priorities feature is the ability to link your priorities to your long-term objectives to ensure that your weekly tasks align week over week. This will help you break down tasks and focus on short term task goals as you work toward completing your longer-term goals.
Priorities from a sample Check-in: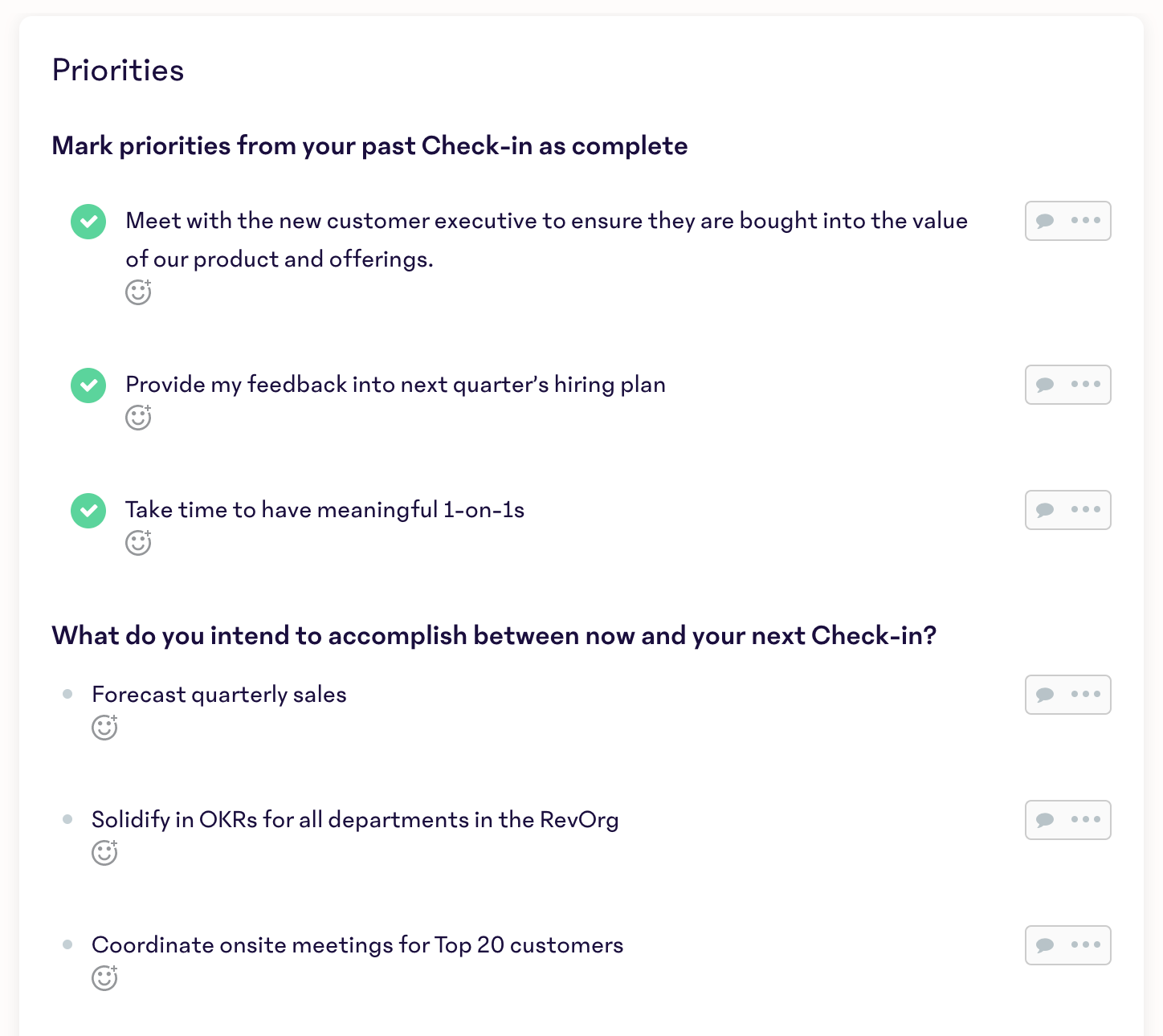 ---
Objectives
The Objectives feature in 15Five uses the OKR (Objectives and Key Results) Methodology which is a framework for defining and tracking business objectives and their outcomes. Objectives are long-term goals. In order to set objectives in 15Five, you will also need to create key results to measure your objectives and create checkpoints. Objectives are are typically qualitative or subjective, ambitious, and time-bound. In contrast, key results are concrete, specific, and measurable. Key results should describe how you'll accomplish the objective and help you measure whether you are on track, behind, or at risk of accomplishing an objective. For more information on the OKR methodology see Methodology Explained: OKRs article and the OKR Methodology science page.
We suggest that you set objectives with your manager on a quarterly basis. Align your individual goals to department objectives. The department's objectives should be aligned with the company objectives. You'll feel a greater sense of purpose in your work when you see how your contribution drives company goals forward. OKRs are most effective when they are personally meaningful, flexible, and can adjust during the quarter to match business needs. In 15Five, you can easily edit your objectives or add comments to the objective so your manager has the most up-to-date context.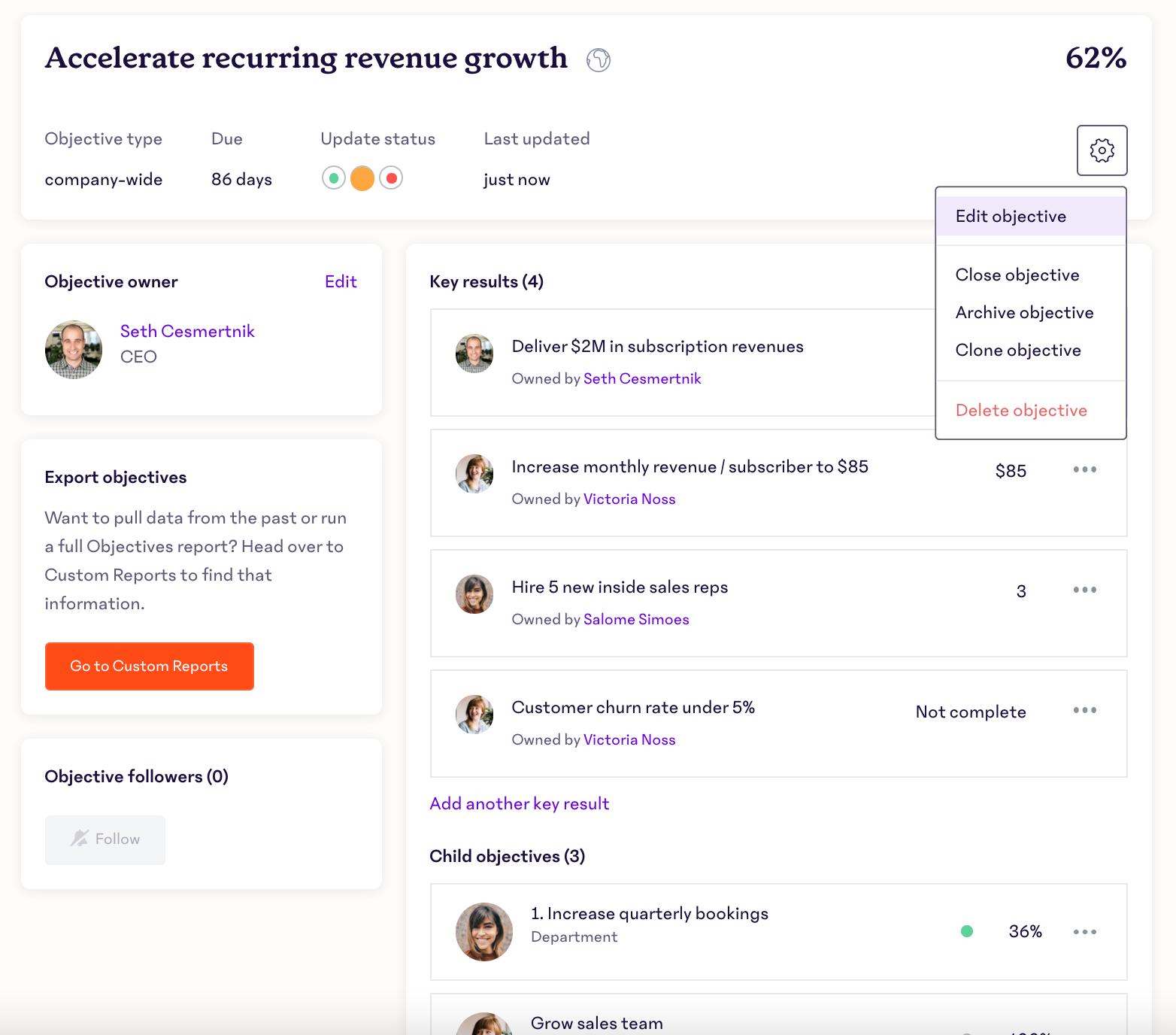 Objectives appear on each Check-in in order to update the progress on your objectives and key results throughout your Check-in period. We recommend leaving comments on your OKRs in your Check-in, so you can provide your manager with some more context on successes and challenges.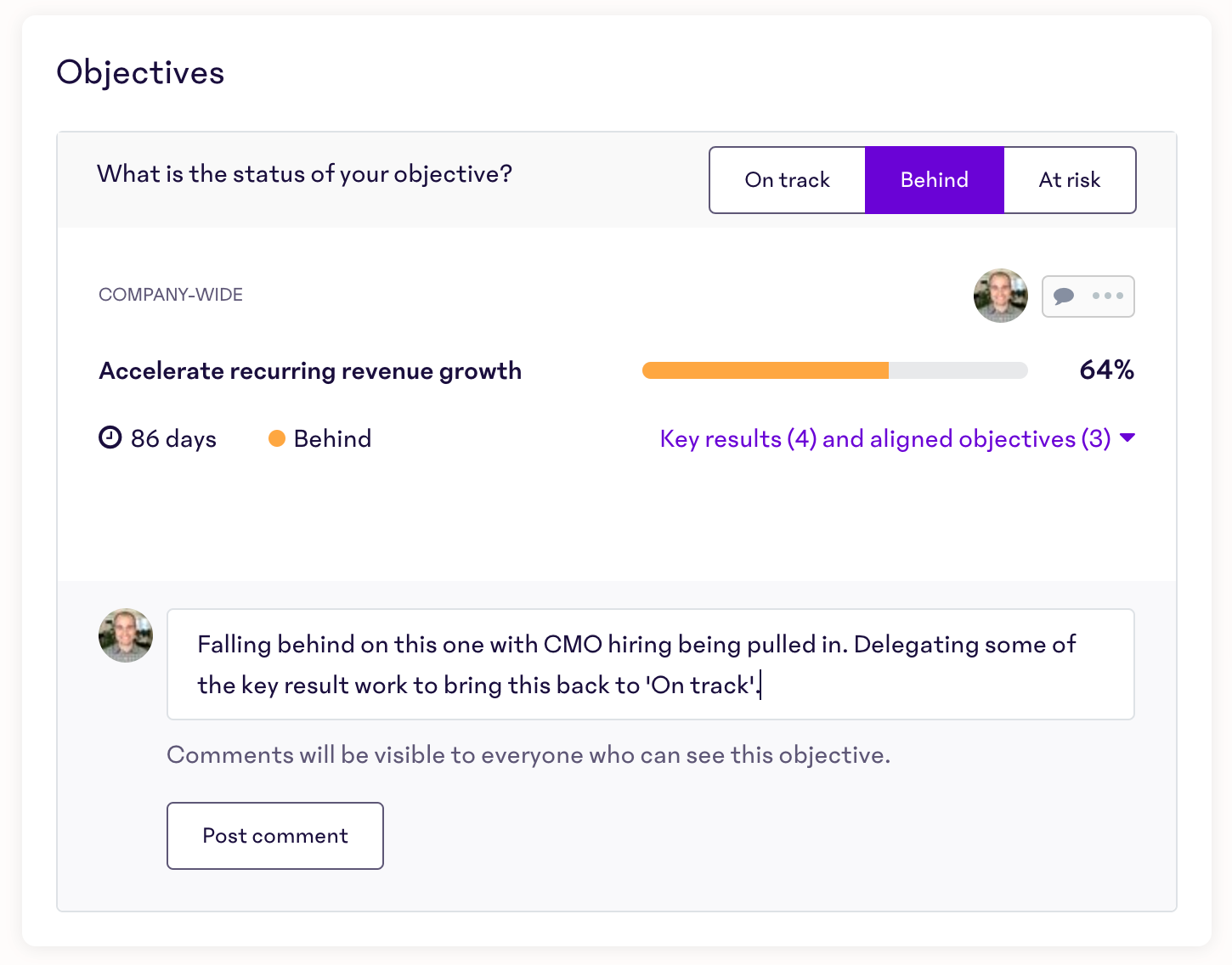 You can create self-development objectives in 15Five, as well! As you identify your skill gaps, create learning goals to keep your growth and development front and center. Self-development objectives allow you to prioritize these skill gaps that prohibit you from doing your best work. We recommend you set short-term and general "do your best" goals for self-development objectives. Specific and challenging goals have a negative effect on performance. More general learning goals increase the growth mindset, a belief that abilities are not fixed because then you won't worry about failure and instead see goal setting as a chance to learn.
Objectives list from the 'All objectives' page:
Use the 'My objectives' quick filter if you'd like to view all of the objectives you own in one list.