THIS EARLY ADOPTER PROGRAM IS NOW CLOSED. The features outlined in this article have been released to all customers. For information on the public release, see this article.
Announcing... 🔦
Today we're announcing early access to a feature that allows anyone to ask for feedback (outside of a review cycle) from their teammates. We are calling this feature 'Request feedback', and it has been thoughtfully designed with neuroscience-in-mind.

The goal of this new functionality is to allow feedback to happen outside of a peer/manager/upward review. With the shift from annual to continuous performance, real-time feedback is on the rise. Companies heavily invest in training managers to give more feedback; yet research shows that most of the time, feedback fails.
The fallacy of real-time feedback becomes apparent when systems of unsolicited, manager-driven feedback are implemented. These systems trigger the 'fight or flight' response when constructive feedback is unexpectedly received, making it unlikely that the person will act on it. Organizations can never completely avoid situations of unsolicited, manager-driven feedback; but they can increase the amount of effective feedback when there's a strong culture of asking for it. Rather than creating cultures of giving feedback, we need to be creating cultures of asking for it.

Request Feedback empowers employees to take charge of their own development by giving them the ability to actively seek feedback on what they want, when they want, and from whom they want. When employees initiate and drive the feedback agenda, they're much more likely to act on it. Unlike other provider's real-time feedback features, which can be anonymous, unsolicited, and unknowingly shared; 15Five's Request Feedback has been thoughtfully designed with neuroscience-in-mind.

Our in-app tooltips and question prompts guide feedback requesters and receivers with science-inspired advice on how to ask for and write responses that align with best practices, and all your feedback (given and received) housed in one convenient place. Through our research-inspired product development process, Request Feedback adds anytime feedback to our already robust Check-ins and Best-Self Review™ and helps your company create an effective feedback-seeking culture.
NOTE ✏️ : This feature release is a work in progress, hence the name 'Early Adopter'. You might come across minor bugs and notice some functionality that needs improvement. Please use the feedback survey to report bugs and functionality requests. If you feel the cons outweigh the pros after turning on these features, we are happy to remove them from your account until the feature is ready for all customers (tentative date: end of April).
___________________________________________________________________________________
How to become an 'Early Adopter'
If you would like to participate in this Early Adopter process, please reach out to support@15five.com and tell them you would like to turn on the Early Adopter features for your company. If you have a CSM, you can also request access by reaching out to them. You must be a company admin to request this access.
___________________________________________________________________________________
Tell us how we're doing- send feedback to 15Five for this feature
We would love your constructive feedback so that we can improve on this exciting new feature. To provide feedback, please fill out this two-minute survey.
___________________________________________________________________________________
What to expect, including the details
When you log into your 15Five account, you will see a new tab in your top navigation called 'Feedback'. This tab is your feedback hub and will contain a feed of all your given and received feedback.
What options do and don't exist within this new 'Feedback' tab?
The option to request feedback from anyone in your company that is a 15Five user

The option to provide feedback for anyone in your company that asks

There is not an option to provide feedback of someone without them first asking you

Feedback can be seen by the requestor, the teammate being asked to give feedback, and the requestor's manager (if the requestor chose the option to include their manager)
Feedback is independent of reviews, in-process, and visibility.
Notifications regarding Request feedback
Feedback has been requested of you (sent to teammate when feedback is requested)
Someone has responded to your feedback request (sent to requestor when feedback is submitted)
Your feedback has been shared with '________'s manager (sent to teammate when their feedback has been shared with the requestor's manager)
Someone responded to feedback I've shared with my manager (sent to requestor when manager comments on the feedback)
___________________________________________________________________________________
How do I request feedback from someone?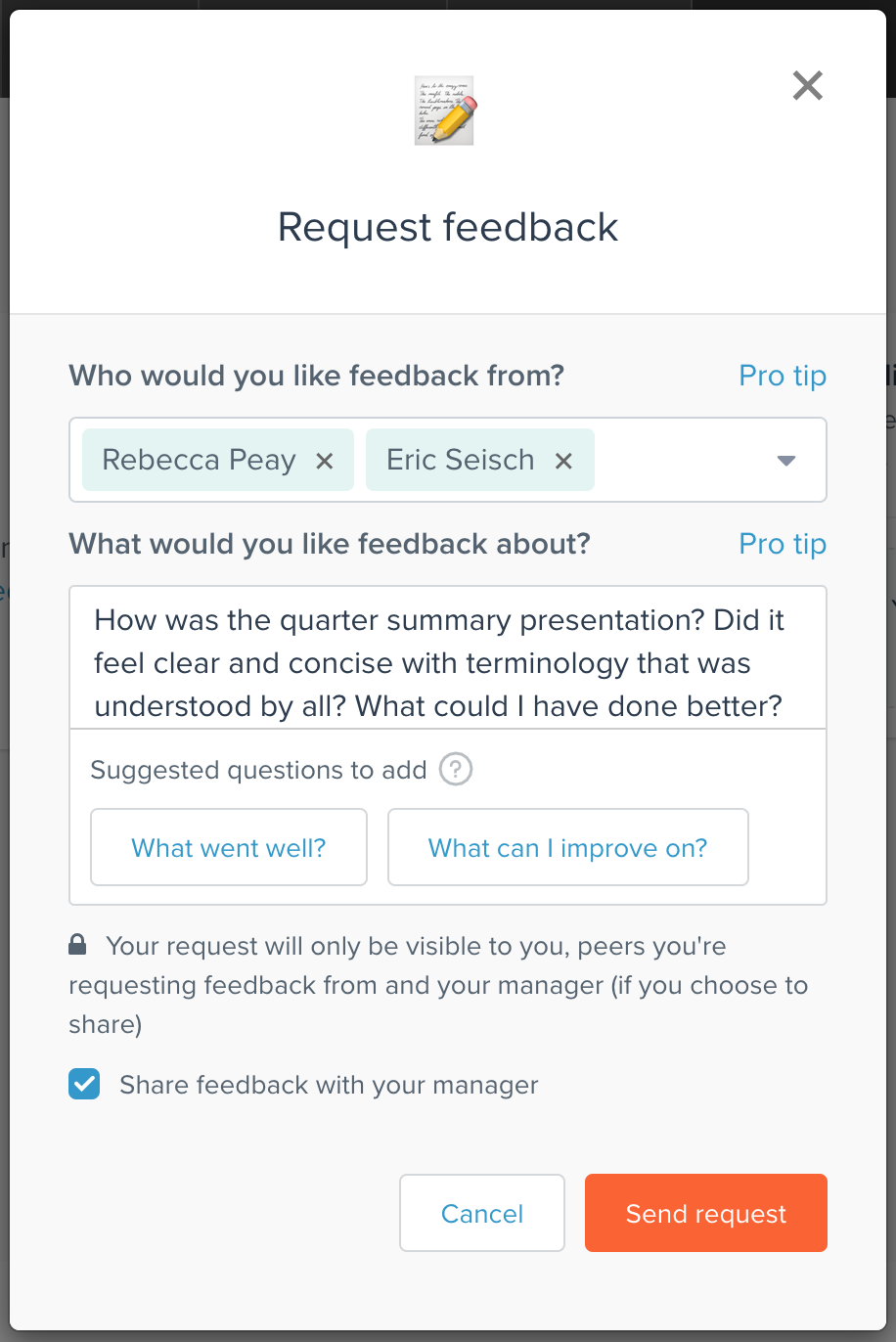 1. Click on the 'Feedback' tab in your top navigation.
2. Click on the orange 'Request feedback' button in the top right of your page.
3. Use the "Who would you like feedback from?" dropdown menu to select one or more person to request feedback from.
TIP 💡: In order to get the full perspective and an unbiased feedback loop, we suggest requesting feedback from multiple people about the same topic. Ask for feedback from people whose perspectives differ from yours and who will challenge you to grow.
4. Use the "What would you like feedback about?" field to describe what topic/project/presentation/etc you would like feedback on.
TIP 💡: We suggest adding questions to the end of your description to guide the responders- ask the hard question(s). It will only contribute to your growth in the end.
5. Choose whether you want your manager to be able to see the feedback or not. By default, only the person requesting and the peers giving the feedback will be able to see the results.
6. Finish the process by clicking 'Send request'. After clicking this button, the person(s) you requested feedback from will receive an in-app and email notification.
NOTE ✏️: If a feedback request has not been replied to within 14 days, the request expires.
___________________________________________________________________________________
How do I provide and send feedback when requested?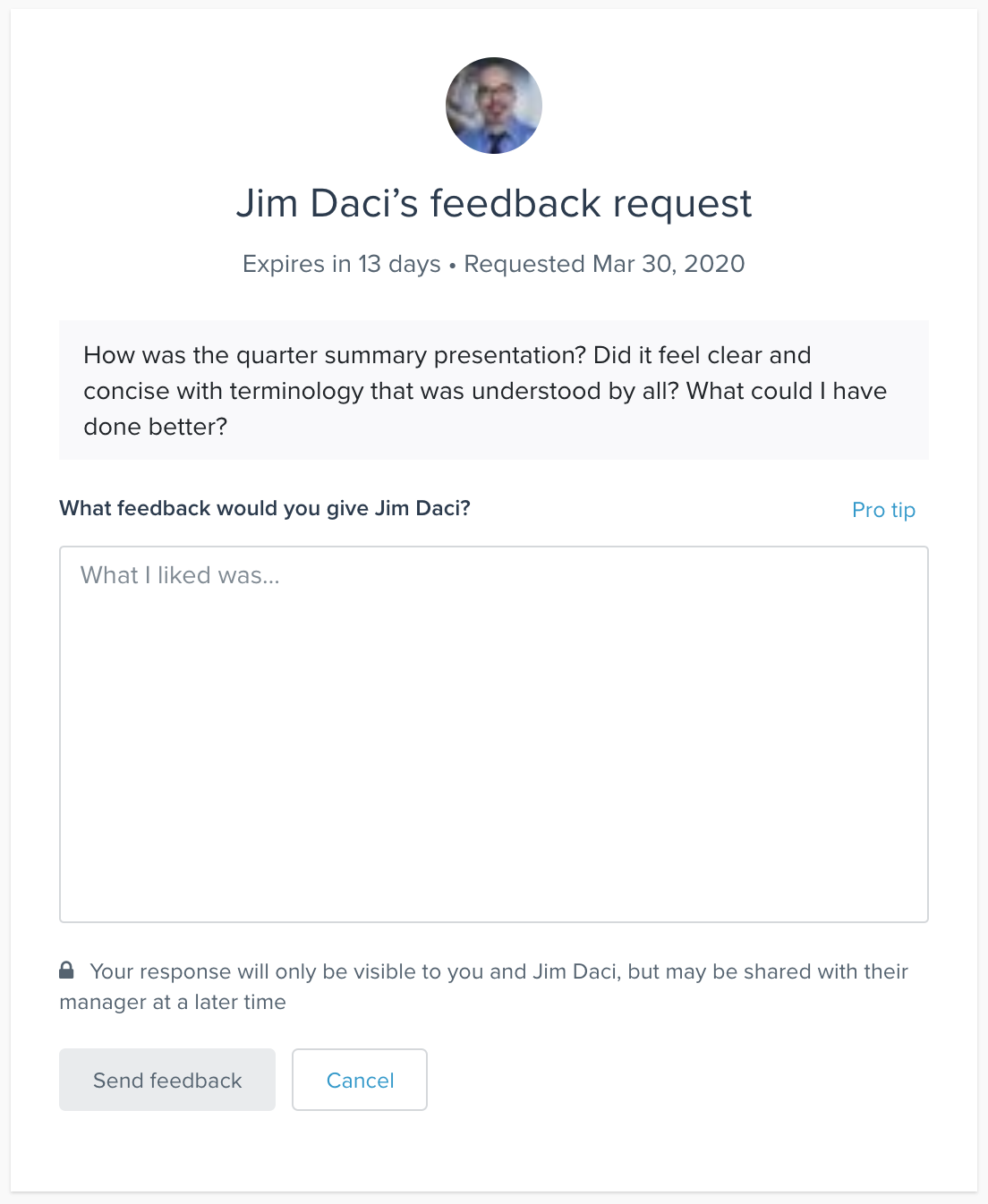 You can get to the feedback request from the in-app notification, the email notification, or the 'Feedback' tab in-app.
1. Click on the 'Feedback' tab in your top navigation.
2. You have two options to get to the specific provide feedback page.
Click on the '...' to the top right of the feedback request that you would like to complete. Then click 'Respond to feedback request'.
Click on the person's name who is requesting feedback from the 'Pending requests' widget on the far right.
3. After you open the specific request, complete the feedback form. The visibility of the request is noted below the feedback field. Feedback is not visible to the person's hierarchy or to global viewers.
NOTE ✏️: When you click on the link via the in-app notification or the email notification, you will land on this page.
4. Provide feedback to your teammate about the topic noted in the request.
TIP 💡: 1️⃣First, separate positive and constructive feedback. Surrounding constructive feedback with positive feedback may feel better for the giver, but is confusing for the receiver. 2️⃣Use this one sentence to make feedback 40% more effective: "I am giving you these comments because I have very high expectations and I know you can reach them." 3️⃣For feedback to be effective, keep it about the work not the person. First describe the situation, name your feeling ("I feel...") then make your request ("I need...").
5. Once you have written your feedback and are ready to send back to the requestor, click 'Send feedback'.
6. The feedback you gave will continue to appear in your own feed (as well as the requestor's feed) on the main 'Feedback' page.
⭐️We will soon be releasing filter options to the Feedback page, as well as ways to report/export on Feedback data.
___________________________________________________________________________________
Turn off the Early Adopter features
In the short term, if you prefer to go back to the original filter and sub-tab view, contact your Customer Success Manager or the Customer Support team at support@15five.com.