Check-ins are a powerful, two-step path to facilitate highly-effective conversations for your team. Utilizing Check-ins within your organization is an efficient way to support continuous growth, boost engagement, drive productivity, and motivate every team across your organization.
In this article, you will learn...

---
Benefits
Get Aligned: Focus your whole organization on the top priorities and goals.
Celebrate Wins: Know when your people make progress and achieve goals.
Improve Visibility: Gain insight on how your people are feeling and what they need to thrive.
Remove Roadblocks: Spot challenges quickly and help clear the path.
Stay Connected: Pose questions to your entire organization and respond with clarity.
Empower Managers: Increase manager effectiveness with better visibility and alignment.
---
What it looks like
Employees spend just 15 minutes each Check-in period to share how they're really doing with managers and work. During this process, people make updates and answer questions that uncover challenges, reveal wins, and track their progress toward individual and organizational goals. Then, their manager takes 5 minutes to review the Check-in. While reviewing their direct reports' Check-ins, managers can add items directly to their 1-on-1 agenda for further discussion, pass answers up to their managers for further visibility, or add items to the employee's Wins & Challenges, which they can use as a resource when completing manager reviews for their direct reports during Best-Self Review® cycles.
By default, Check-ins are due weekly on Fridays. However, account admins, managers, and group admins can change the frequency of Check-ins to weekly, bi-weekly, or monthly for the entire company, their direct reports, or group members (respectively).
---
Key sections in Check-ins
Pulse
We included a Pulse question, "How did you feel at work since your last Check-in?", in 15Five because identifying feelings is helpful for managers and employees: both professionally and personally.
Research shows it's important to become aware when we're happy at work so we can clearly identify the type of work that makes us feel great- which is usually work that builds on our strengths. This is why, in Check-ins, we start with assessing how we feel and then drill down into wins. Conversely, it's important to be aware of times employees are less happy, and identify the work and/or roadblocks employees are facing. This is why we start with assessing feelings and then drill down into challenges.
There's also great research that shows how identifying emotions can decrease stress, allowing us to think more clearly and making it easier to find constructive solutions. Self-awareness and feeling- awareness is also the first step in building Emotional Intelligence, a key leadership skill. Researcher Daniel Goleman shows that 2/3 of the effectiveness of business leaders come from Emotional Intelligence (EI), rather than Intelligence Quotients (IQ).

Objectives updates
Objectives are long-term goals. In each Check-in, you will be required to update the status and progress of any objective that you own. If you own key results on someone else's objective(s), those key results will also appear on your Check-in just below the objectives you own. Be sure to update the progress of those key results so that the objective owner knows how your work towards their objective.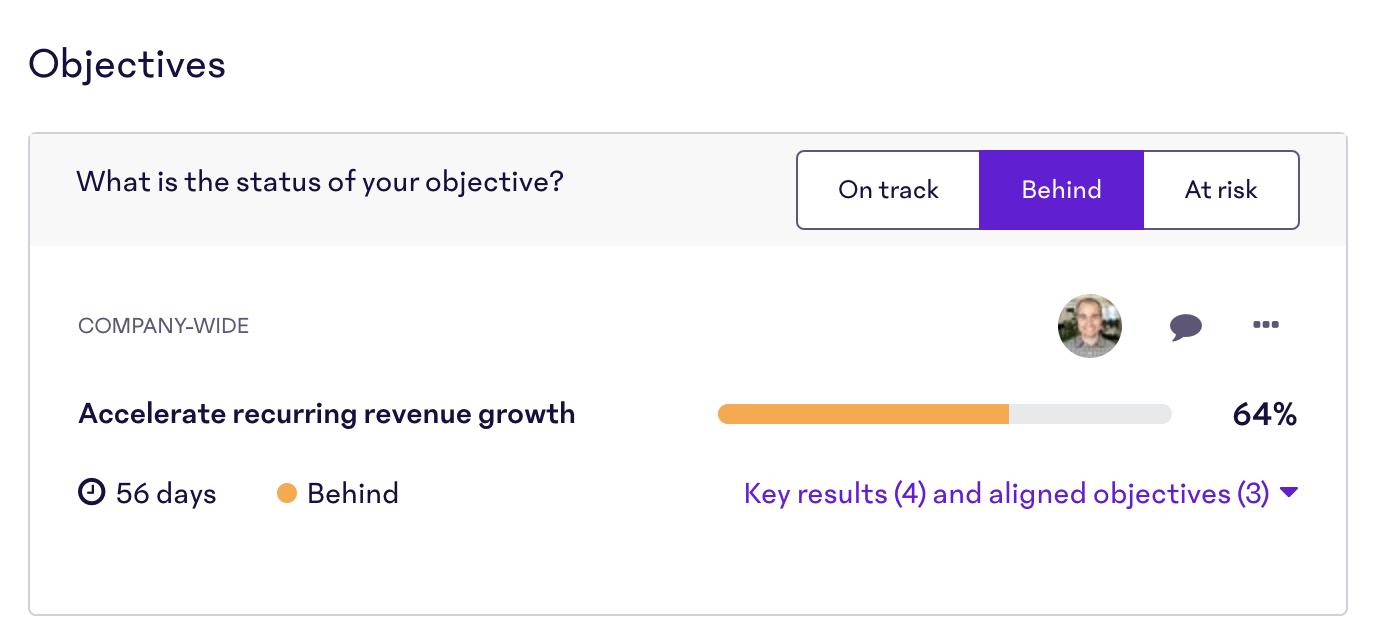 Priorities
Priorities are short-term tasks or goals set and maintained on your Check-in. These priorities can be linked to your objectives to create alignment between short and long-term goals.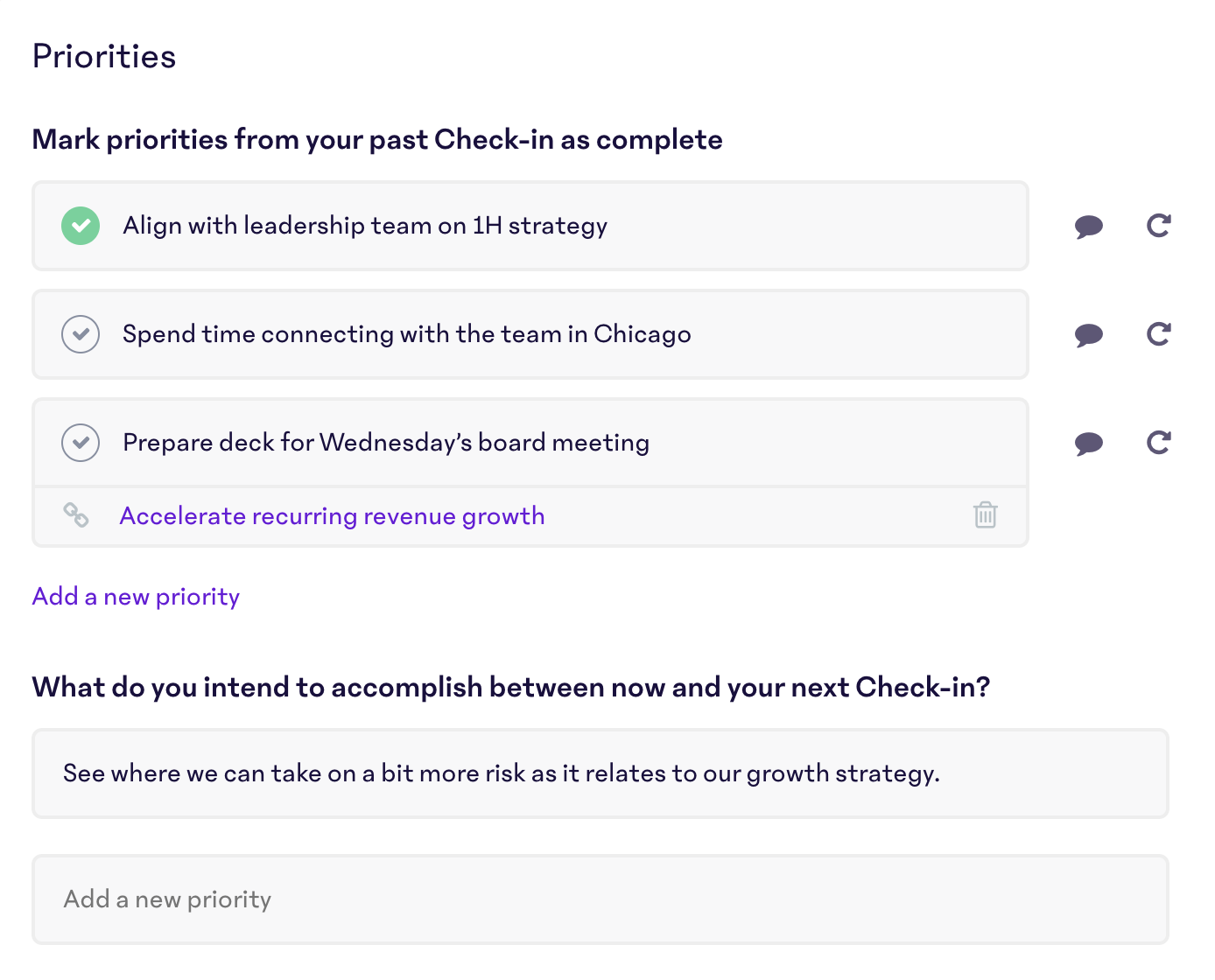 Questions
Questions are the meat of Check-ins. These are set up by your manager, group admin, and/or account administrators. Questions drive deeper discussion and increase connection within teams. Some questions may be optional. If you do not have insight on optional questions, feel free to skip to keep your Check-ins lightweight and easy.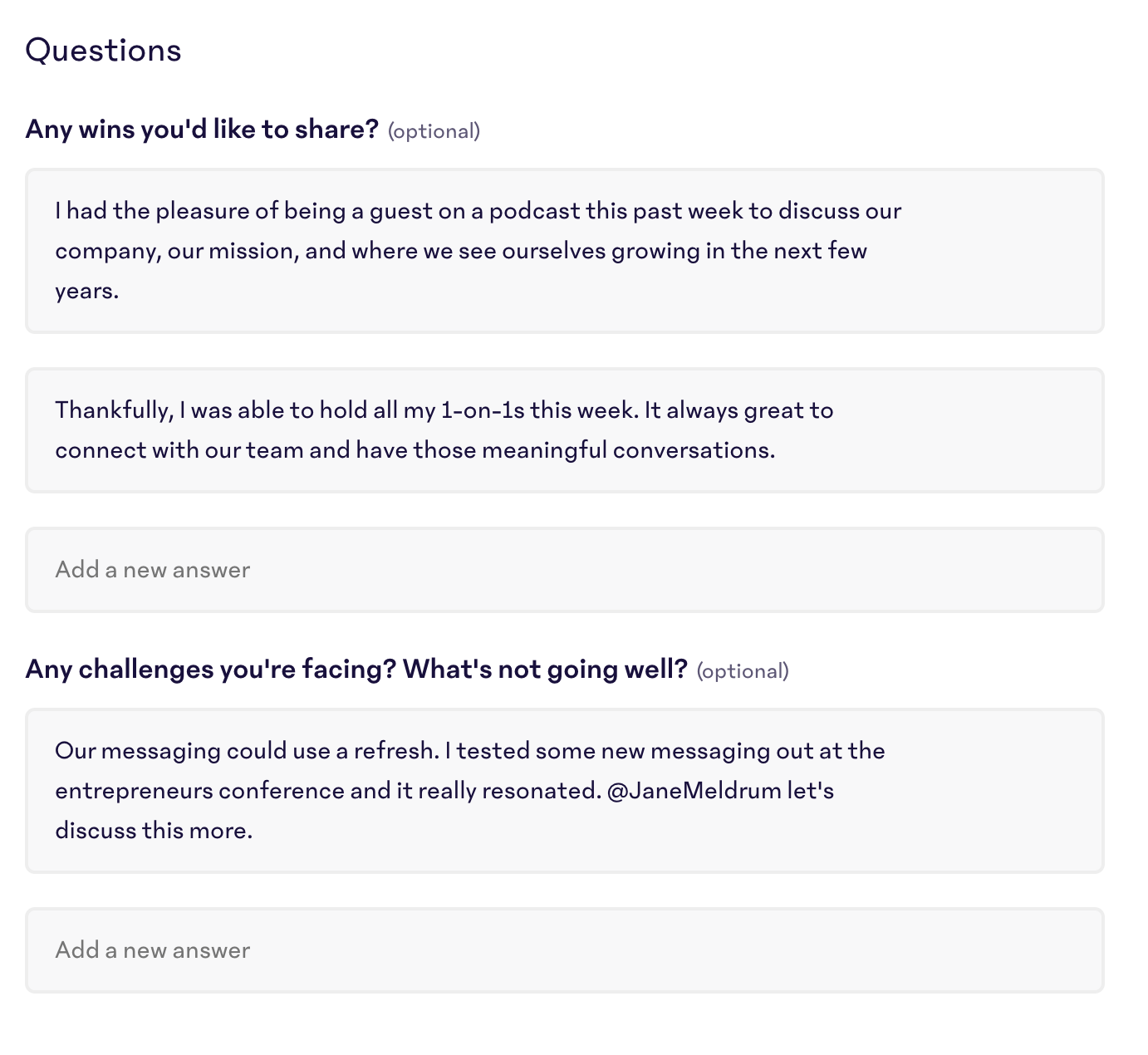 High Fives
High Fives give you the space to recognize a teammate that has been productive, courageous, or just plain awesome! This is your opportunity to show appreciation where it's due. Want to make sure you give a great High Five? Check out the High Five Best Practices!
---
Roles and visibility for Check-ins
Roles
Direct report/IC: Direct reports/individual contributors are expected to fill out a Check-in each Check-in period.
Direct manager: Direct managers are expected to review Check-ins for their direct reports each Check-in period. They can also create Check-in questions for their team.
Group admin: Group admins can create Check-in questions for members of their group.
Account admin: Account admins can create Check-in questions for anyone in the organization
CEO/top of hierarchy: CEOs don't have managers in 15Five and, thus, are not required to submit Check-ins...but that doesn't mean they shouldn't! If you're at the top of your company's hierarchy and still want to submit a Check-in, check out our "Submit a Check-in without a manager" Help Center article.
Visibility
Who can see my Check-ins?
Your direct manager and anyone above them in the hierarchy (that is, your manager's manager, their manager's manager, etc.) can view your Check-in. Additionally, people can view your Check-ins for the following reasons:
You're both in a group that has group drill-down or group viewing enabled
They follow your Check-ins—they're a follower
The person is a global viewer
You can see who has visibility into your Check-in by going to the "Who can view my Check-in?" page in 15Five.
---
Related articles 📖